United Kingdom Cole Porter, Kiss Me, Kate: Soloists, Chorus and Orchestra of Opera North /  David Charles Abel (conductor), The Lowry Theatre, Salford Quays, 13.11.2015. (RJF)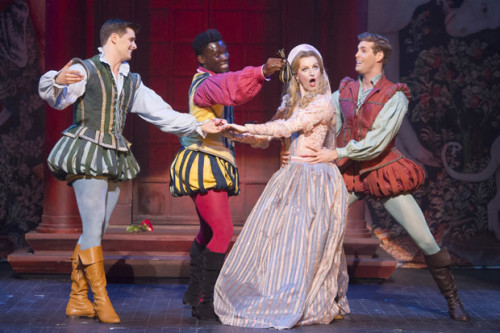 Porter, Kiss Me, Kate
Cast:
Fred Graham/Petruchio: Quirijn de Lang
Lilli Vanessi/Kate: Jeni Bern
Lois Lane/Bianca: Tiffany Graves
Bill Calhoun/Lucentio: Ashley Day
Paul: Wayne Robinson
Hattie: Katie Kerr
First Gunman: Joseph Shovelton
Second Gunman: John Savournin
Hortensio: Callum Train
Gremio: Emmanuel Kojo
Harry Trevor/ Baptista: James Hayes
Harrison Howell: Peter Harding
Nathaniel: Jacade Simpson
Gregory: Joshua Da Costa
Philip: Emile Ruddock.
Production:
Director: Jo Davies
Set & Costumes: Colin Richmond
Choreographer: Will Tuckett
Lighting Designer: Ben Cracknel
Sound: Nick Lidster.
The debate about whether our subsidised opera companies should be presenting so-called musicals has run for some time. The end now seems near with English National Opera, Welsh National Opera and even Covent Garden putting on shows. While all of those have been delaying, Opera North has built up a tradition of crossing the border from opera into Broadway musical theatre presenting works by Kurt Weill in his American period, and Gershwin as well as Richard Rodgers and Oscar Hammerstein's Carousel more recently. With appropriate, often spectacular, staging and casts they have put bums on seats as well as providing first class entertainment.
All of these qualities are evident in this production by Jo Davies whose Ruddigore for Opera North justifiably drew national plaudits in its first run and also the reprise. In my review of Carousel I noted that to complement the sets and costumes it is essential to have singing actors and actresses who can bring the characters alive. I might have added dancers, certainly vital in Cole Porter's take on Shakespeare's Taming of the Shrew. In this case the plot concerns theatre actor-manager Fred Graham and his leading lady (and ex-wife) Lilli Vanessi who are set for fights. Add his current love, Lois Lane, and her boyfriend Bill along with a couple of Mafioso type gunmen and the fun starts. The professional dancers, along with the opera and music stage singers – very different species – a superb stage set and costumes by Colin Richmond and a great evening was realised for a very full theatre whose show of appreciation at the end was thoroughly deserved. It's a pity Cole Porter isn't around to hear and see how his late (1946), near operetta, has fared in this production;  it would have gladdened his heart.
The importance of sung numbers is as significant in Broadway Musicals as arias are in opera. Here they are shared between opera singers and musical stage singers, the only difference being that the former needs amplification whilst the latter can be expected to fill a large theatre relatively effortlessly. The bad news about amplification of voices, and it sometimes happens in opera houses as well as music theatres, is relating the sound to the singer and the singer's position on stage and this was so in this performance. None the less there were no vocal weaknesses in the cast with Porter's famous songs and numbers such as Too Darn Hot and Where is the Life That Late I Led being shared between the voice types, all without vocal strain or weakness of characterisation and with the words coming over clearly. Particularly entertaining were the tall and the short in Brush Up Your Shakespeare. If the solo and chorus singing were good they were matched by the dancing. It is a long time since I saw tap and athletic male dancing in particular of this quality. Suffice to say that conductor David Charles Abel kept it all together as to the manner born.
The production is shared with Welsh National Opera. When they get round to staging it, it will provide a genuine Broadway Musical alternative to their recent somewhat gruesome Sweeney Todd.
Robert J Farr