Argentina Gounod, Faust: Soloists, Chorus and Orchestra of Buenos Aires Lírica, Conductor: Javier Logioia Orbe. Teatro Avenida, Buenos Aires. 8.4.2016. (JSJ)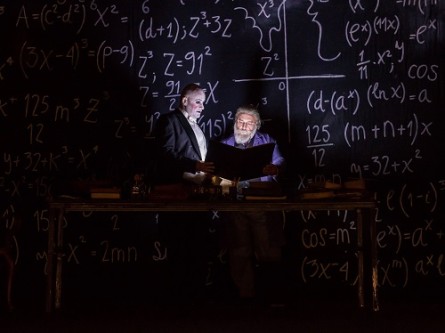 Gounod, Faust
Production:
Director: Pablo Maritano
Sets/lighting: Enrique Bordolini
Costumes: Ramiro Sorrequieta
Chorus: Juan Casasbellas
Cast:
Faust: Dario Schmunck
Marguerite: Marina Silva
Méphistophélès: Hernán Iturralde
Valentin: Ernesto Bauer
Siebel: Cecilia Pastawski
Wagner: Juan Font
Marthe: Virginia Correa Dupuy
Buenos Aires Lírica makes a point of bringing some of the lesser performed repertoire to the local stage and this year is a real tour de force with no less than four works that haven't been seen in recent years.
And to start the season, Gounod's Faust – the most popular of the composer's 13 operas, if not the only one that most opera goers know of – which is based on the best known, Goethe's, version of this classic German legend.
This is Buenos Aires Lírica's second production of this work, the last 10 years ago, but this is a new version in a co-production with the Teatro El Circulo in Rosario (there is a remarkable number of opera productions in cities around Argentina, which go a long way to keeping local singers in work).
Director Pablo Maritano apparently sets this version in second World War France, according to an interview he gave with Clarin newspaper. But there is no Nazi element and it is more the atmosphere of the time, one of hope in a time of uncertainty, rather than any particular event that comes across. The symbols and formulae on his wall characterise Faust as the ageing metaphysician, but it is Marguerite who is seen as the central character.
Certainly the young soprano Marina Silva presents a convincing Marguerite – her Jewel Song a highlight. But the passionate Faust of Dario Schmunck and especially the seductive Méphistophélès from Hernán Iturralde are no less notable.
Nor for that matter the rather serious Valentin from Ernesto Bauer and Cecilia Pastawski's wide eyed interventions as Siebel.
Javier Logioia Orbe kept a sure hand on the orchestra, and as usual Juan Casasbellas's well trained chorus performed at its best.
Unusually for Buenos Aires Lírica, this time the action was extended into the auditorium, particularly for Méphistophélès as if representing the darker world he inhabits, and the sound of the chorus from the upper circle in the final scene was quite ethereal.
Jonathan Spencer Jones