United Kingdom Halka, Escuer, Contreras, Dzubay, Ortiz, Luna: Ónix Ensamble (Alejandro Escuer [flute], Fernando Domínguez [clarinet], Abel Romero [violin], Edgardo Espinosa [cello] & Edith Ruiz [piano]), National Sawdust, Brooklyn, New York. 9.9.2016. (BH)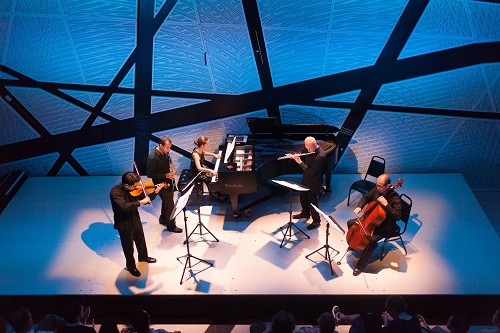 Charles Halka – Por la fuerza las tierras (2010)
Alejandro Escuer – Kaze (2015)
Juan Pablo Contreras – Silencio en Juárez (2011)
David Dzubay – Kukulcan II (2007)
Gabriela Ortiz – Tepito: Barrio de resistencia (2015)
Armando Luna – Pasatiempo Concertante (2010)
It is no secret that Mexico—one of the world's great cultures—has been battered in the last few decades by crime, to the dismay and anger of its citizens and of those worldwide who admire the country's rich heritage. Responding can be difficult, but that is what artists try to do. Based in Mexico City, the Ónix Ensamble opened the new season of Music of the Americas with Furia y silencio (Fury and Silence), a sober yet tingling program at National Sawdust.
Some of the titles made explicit references, such as Juan Pablo Contreras' Silencio en Juárez, a eulogy to fifteen young people in that city who were murdered at a birthday party in 2010. From its sorrowful opening with echoes of Messiaen, to the rhythmically punchy finale, 'La Injusticia', the result paid homage to an event no one wants to remember—but needs to.
In Tepito: Barrio de resistencia, Gabriela Ortiz reflects the strength and force of the titular neighborhood in Mexico City. Charles Halka's Por la fuerza de tierras ("[to take] the lands by force") had the rollicking spirit of a Roadrunner cartoon scored by Schnittke, which might have belied its serious subject, the Mexican Revolution.
Not all was grim. Alejandro Escuer performed his own Kaze (Japanese for 'the wind'), an absorbing catalogue of kinetic effects for solo flute—flutters, pops, and clicks—showing the world-wide prevalence of extended techniques for that instrument. David Dzubay's Kukulcan II, an ode to the Temple of Kukulcan in the Mayan ruins of Chichén Itzá, with writing that by turns evoked ominous ceremonies and awestruck worship.
And to end the program, Armando Luna's delicately entertaining Pasatiempo Concertante reminded listeners of the country's vivid approach to color. In addition to Escuer, the other four musicians—all excellent—were Fernando Domínguez (clarinet), Abel Romero (violin), Edgardo Espinosa (cello), and Edith Ruiz (piano), each completely immersed in politics, but also in craft and artistry. There was fury and silence, but also playfulness and humanity.
Bruce Hodges