United Kingdom Various composers, Carlos Acosta: The Classical Farewell: Carlos Acosta and guest soloists, Robert Clark (piano), Gina McCormack (violin), Rowena Calvert (cello), Katie Trethewey (soprano), Greg Skidmore (baritone), Pegasus Chamber Choir and orchestra / Paul Murphy (conductor). Royal Albert Hall, London, 3.10.2016. (JPr)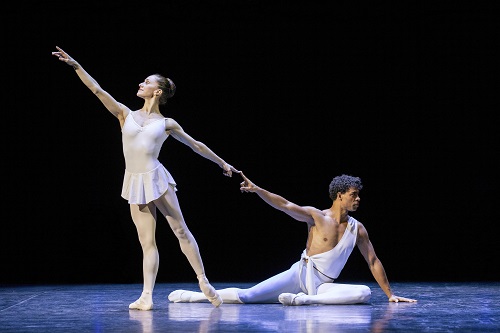 Dancers – Carlos Acosta with Marianela Núñez, Yuhui Choe, Sarah Lamb, Gabriela Lugo, Laura Morera, Ryoichi Hirano, Luis Valle, Valentino Zucchetti
Choreographers – Kenneth MacMillan (Winter Dreams, Manon, Mayerling, Gloria, Requiem), Michel Fokine (Dying Swan, Scheherazade) Frederick Ashton (Rhapsody), Marius Petipa & Carlos Acosta (Don Quixote), George Balanchine (Rubies, Apollo), Raúl Reinoso (Anadromous), Miguel Altunaga (Memoria)
Entr'acte music from Tchaikovsky performed by Robert Clark (piano)
These performances are described as 'the final shows in his Classical Farewell tour which has covered, Cuba, the UK, Abu Dhabi and Hong Kong and bring the curtain down on his classical dancing career.' He intends to concentrate on more contemporary work with his own dance company, Acosta Danza, and his International Dance Foundation for young dancers. In a longish life I have seen enough 'farewells' to take them with a pinch of salt and the lines anyway between 'classical' and 'contemporary' are increasing being blurred. Witness how well Akram Khan's new Giselle for English National Ballet has been received and the mostly twentieth-century choreography we were presented here.
Digressing about farewell performances, I once saw the singer, Elkie Brooks, proclaim she was on her last ever tour and decades later she is still performing around the country. For everyone like her, there are those sadder memories such as the last time Nureyev appeared in the UK – it was not possible to call it 'dance' – at London's Wembley Conference Centre in 1991.
The promotors of this event seem to have been as equally over-ambitious as those Nureyev performances which were half-empty. At the huge Royal Albert Hall – which was totally the wrong venue for such an intimate evening of dance – there were also rows of unfilled seats especially in the dearer parts of the auditorium. Costa deserved better though he seemed genuinely moved to tears by the well-deserved standing ovation from nearly all those who were present.
The good news was the music was live from the unnamed – so presumably 'scratch' – orchestra playing up where the choir usually sit, leaving the platform free for the dancers. Though costumes were mostly appropriate throughout, there were only some minimal attempts at scene setting such as for Scheherazade, Manon and Mayerling. Elsewhere Chris Davey's lighting helped create some atmosphere, though still the Royal Albert Hall dwarfed what I was seeing even sitting about two-thirds the way back in the stalls. Another problem was that too many excerpts were wrenched out of context from the ballet themselves and you needed to be familiar with the plots to appreciate what was being seen as more than a 'dance spectacular'. I didn't see too many around me studying their programmes, maybe they were all experienced balletomanes though I doubt it.
The best news since 'forties are the new thirties' is that Carlos Acosta remains the virtuoso performer he always was. Yes, he may not jump quite as high as he once did, but few these days could better what he can still do and his spins are exhilaratingly swift, his partnering totally assured. Perhaps his need to set his classical ballet career aside is exactly for the reason he has said: 'How many Swan Lakes can you do?'
He was joined by dancers from the Royal Ballet and the National Ballet of Cuba. There was a low key start with the pas de deux from Winter Dreams which Acosta and the always exquisite Marienela Núñez danced affectionately: they were – and still are – one of ballets greatest partnership. Totally unnecessary was yet another Dying Swan; Sarah Lamb is a fine cerebral and technical dancer but does not express enough emotion for me. Yuhui Choe and Valentine Zucchetti didn't make much impact in the Ashton's Rhapsody pas de deux, despite his dazzle and all her graceful lyricism. Taken out of context, the famous pas de deux from Scheherazade looked rather odd. Just as their colleagues in some of the other excerpts we saw, Gabriela Lugo and Luis Valle (looking like a younger Carlos Acosa) moved a little carefully across the floor and perhaps this will get better as the week of performances goes on. Lugo did not ooze the sultry exoticism of some nor was Valle sufficiently explosive. Laura Morera was gorgeous in the Manon bedroom pas de deux though there was no great passion from Ryoichi Hirano and this seems to be the problem with a number of the current Royal Ballet male principals. The first half left the best till last when Núñez and Acosta returned for the Don Quixote pas de deux which again is over familiar, but with Acosta rolling back the years and Nuñez being her usual captivating self it was what I will remember most from this evening.
An extended section from the conclusion of Mayerling opened the second half and was a curiously downbeat selection for such a celebratory evening, ending with Crown Prince Rudolf shooting Marie Vetsera and then himself. Zucchetti as Bratfisch whirls around entertaining them before the drug-fuelled tragic denouement though many in the audience must have been totally confused. There was great intensity and commitment from Morera and Acosta for the sexual frenzy inherent in their pas de deux. Lamb and Hirano performed the Domine Deus duet from Gloria that lacked the pathos and grief Katie Trethewey's plaintive soprano voice had. Acosta and Yuhui danced a very tender and beautifully controlled pas de deux from Requiem that was full of longing. Lamb returned now partnered with Zucchetti and there was a change of pace and style for Rubies which again was 'too cool for school' and not sparkly nor flashy enough. Acosta was again the personification of refined magisterial grace in the duet from Apollo, joined once more by Nuñez, theirs was a captivating and scintillating partnership. Lugo and Valle presented next an abstract and ethereal duet from young Cuban choreographer, Raúl Reinoso. This perhaps hints at the direction Acosta will now go with Acosta Danza as did the closing Memoria with Acosta alone in the spotlight.  This rhythmically powerful contemporary piece is also somewhat autobiographical and brings reminders of when Acosta grew up breakdancing in the streets of Havana.
At the end of Memoria Acosta slowly returned to the chair we saw him on at the start of the evening, towelled himself off, put a top on, changed his shoes, packed his dance bag, ruminates, and poignantly leaves his ballet flats on the chair before slowly walking away. The Royal Albert Hall erupted, there was one loud 'Thank You Carlos!' followed by the standing ovation. Do go if you can afford it, but don't worry he'll definitely be back!
Jim Pritchard
For details about the remaining performances visit the Sadler's Wells website information.