United Kingdom Janáček, From the House of the Dead: Soloists, Chorus and Orchestra of Welsh National Opera / Tomáš Hanus (conductor), Wales Millennium Centre, Cardiff, 12.10.2017. (GPu)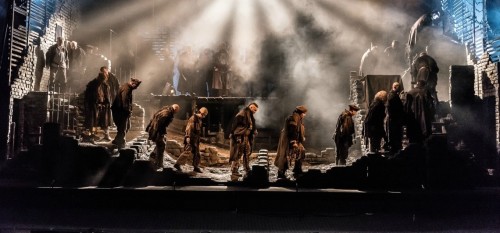 Cast included:
Goryanchikov – Ben McAteer
Luka Kozmich Filka Morozov – Mark Le Brocq
Aleya – Paula Greenwood
Commandant – Robert Hayward
Skuratov – Alan Oke
Aleya – Paula Greenwood
Chekunov – Alastair Moore
Shiskov – Simon Bailey
Kedril – Simon Crosby Buttle
Shapkin – Adrian Thompson
Big Convict – Paul Charles Clarke
Small Convict – Quentin Hayes
Drunken Convict – Michael Clifton-Thompson
Young Convict – Adam Music
Production:
Director – David Pountney
Designer – Maria Björnson
Lighting Designer – Chris Ellis
Chorus Master – Stephen Harris
If you visit the opera house purely for entertainment and for conventionally beautiful music, then steer clear of this!  If, on the other hand, you are happy that your operatic diet should include works which offer an unflinching confrontation with human life at its basest, with all that that reveals (good and bad) about what it is to be human, then make every effort to see this revived Welsh National Opera production of Janáček's From the House of the Dead. It is remarkable.
Dostoevsky's The House of the Dead is very unlikely choice for a fictional operatic 'source'. It has little in the way of large narrative shape, no dominant characters and relatively little incident (except of a repetitive kind). Set in a Siberian prison camp under the Tsars (something of which Doestoevsky had personal experience), when I first read the novel, as an undergraduate many years ago, it seemed to me akin, oddly, to Waiting For Godot, in both texts the characters – a good deal more numerous in Dostoevsky! – have to find ways of 'passing the time' and have a compulsion to tell their stories. It is on the convicts' telling of their stories that Janáček focused in the preparation of his libretto. It is in those stories that the power of the work exists, in a textual sense. Such a power however pales before that of Janáček's own astonishing music. In this production, which benefits greatly from being the first to use John Tyrrell's critical edition of the score, which strips away well-intentioned but damaging additions and accretions made by Břetislav Bakala and Osvald Chubna in the years after Janáček's death in 1928, the orchestral writing speaks with a raw power and immediacy which are at times caustic and searing, but also, in some moments, strangely uplifting (In his score Janáček wrote the words "In every creature a spark of God", and those "sparks" were now more audible than ever before, in my experience .
The conducting of Tomáš Hanus (born and brought up in Janáček's own city of Brno) was utterly committed and hugely perceptive, and he drew some wonderful work from the WNO orchestra. In an opera which doesn't really have star roles for individual singers, it is tempting to say that Hanus was the star performer of the evening. Perhaps his one serious rival for that accolade was David Pountney, whose direction of a work by no means easy to stage effectively, was relentlessly compelling. (There was perhaps just one minor weakness, of which more later.) The all-pervading brutality – of the guards, and to a lesser extent, of the prisoners – was put before the audience forcefully, without recourse to cheap or merely sensational effects; tiny details were meticulously observed in the (very) large picture; the sense that this prison was, in effect, an emblem of the world outside it, was reinforced time and again, but, one more, without over-emphasis. All this was enriched and complemented by the marvellous set designed by the late Maria Björnson, who died suddenly in London at the age of only 53 in 2002, and by the highly intelligent lighting designed by Chris Ellis.
There are no 'star' arias or duets in From the House of the Dead, but there is a series of powerful monologues, delivered in a kind of pitched speech, as much as 'sung'. This performance was sung in English. Surtitles were provided in both English and Welsh, as is the custom in Cardiff. Those in English were, as far as I was concerned, largely redundant, the diction of the soloists being uniformly clear and comprehensible. Though this is essentially an 'ensemble' work, a few individuals in the cast cannot be allowed to go unmentioned. As Skurakov, Alan Oke created a character whose accounts of his past, mixing, surely, reality and fantasy, were potently disturbed and disturbing. Simon Bailey, in the role of Shiskov, was a commanding presence both physically and vocally. Adrian Thompson's Shapkin was eloquent and amusing (in absurdist fashion), in his account of how a magistrate violently pulled his ears. Mark Le Brocq's Luka Kuzmich was moving in his narrative of his earlier prison experiences, which culminated in his killing of a violent officer. As Goryanchikov, Ben McAteer has less to do and sing than one might have expected, given that the character's experience, in a sense shapes the work, he is there as a political dissident, not as a thief and/or a murderer like most of the others, and the work begins with his entry into the prison and ends with his release from it; even so, McAteer made one warm to the character's dignity and humanity, both in the way he resisted the taunts of some of the other prisoners and in the kindness of his treatment of Aleya. In Dostoevsky, Aleya, also referred to simply as Ali, is the youngest of three Muslim brothers imprisoned, of whom the novelist says this boy was, inexplicably, able to "preserve his tender heart, his native honesty, his frank cordiality", despite his brutalised surroundings. Paula Greenwood's embodiment of Aleya was moving and persuasive and the beauty of her soprano voice was important in doing justice to Janáček's score. Several other roles were taken (excellently) by members of the WNO chorus, such Chekunov and The Priest by Alastair Moore, the Drunken Convict by Michael Clifton-Thompson and Kedril by Simon Crosby-Buttle.  This is testimony – should any additional testimony be needed – as to the quality of many of those who sing in the WNO chorus, one of the company's consistent glories.
The climax of Janáček's opera, when both Goryanchikov and the Eagle, imprisoned by the prisoners – and, significantly, referred to as "the Tsar of all the forests" – are both released, the one by the authorities, in the person of the Commandant of the camp, the other by the prisoners was robbed of something of its power by the eagle's departure and flight being represented by a projection onto the set. The projection inevitably lacked immediacy and impact, and jarred with Björnson's set. I didn't see this production when it was first staged back in 1982. I'd like to be able to claim that I was too young at the time, though I think the truth is that I was abroad on holiday. But I have been told that then a live falcon was used, that flew into the wings when released. That bird is now dead and, apparently, an intended replacement broke a leg – presumably amongst birds of prey, this opera is referred to by some sort of euphemistic title, much as actors refer to 'the Scottish play'. Though I found the projected imagery rather lacking in impact, the way in which the prisoners' excited shouts of "Freedom, New Life" were immediately followed by their being forced to walk in single file, their chains audible, around the huge set, like mice in a giant cage, offered a good deal by way of dramatic and theatrical compensation,
This production, in doing justice to Janáček's opera, may not offer much in the way if 'easy listening' – or, indeed, easy watching – but it makes for fiercely powerful theatre, theatre which compels every member of the audience to search his or her soul, to think about how genuinely compassionate they are, how complicit they are in the kinds of cruelty of which Janáček, in words and music, creates a burning and devastating image, from which he doesn't allow one to look away. This is an outstanding achievement by Welsh National Opera. By the time you read this review the production will be touring. Catch up with it if you possibly can.
Glyn Pursglove
For more about Welsh National Opera click here.