United Kingdom Ravel and Janáček: Soloists, Chorus, and Orchestra of Opera North / Martin André (conductor), The Lowry Theatre, Salford Quays. 16.11.2017. (RJF)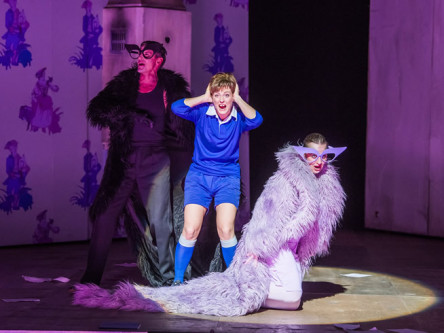 Ravel – L'enfant et les sortileges
Cast:
The Child – Wallis Giunta
His Mother / Chinese cup / Squirrel – Ann Taylor
Fire / Nightingale / Princess – Fflur Wyn
Grandfather Clock / Tom Cat – Quirijn de Lang
Armchair / Tree – John Savournin
Tea Pot / Tree Frog / Arithmetic – John Graham-Hall
Louis XV Chair / Female Cat / Owl – Katie Bray
Production:
Director – Annabel Arden
Set Designer – Charles Edwards
Costume Designer – Hannah Clark
Lighting Designer – Charles Edwards
Choreographer – Theo Clinkard
Janáček – Osud
Cast:
Míla Valková – Giselle Allen
Živný – John Graham-Hall
Míla's Mother – Rosalind Plowright
Dr. Suda – Peter Auty
Lhotsky – Richard Burkhard
Konečký – Dean Robinson
Miss Stuhlá – Ann Taylor
Doubek – Bryn Mashburn
Production:
Director – Annabel Arden
Set Designer – Charles Edwards
Costume Designer – Hannah Clark
Lighting Designer – Charles Edwards
This duo was the second programmed offering in Opera North's season of so-called The Little Greats at the Lowry, each a double bill of short works. Of the three pairs of works offered, this pairing could be seen, because of the rarity of performances of the works themselves, as the most esoteric and daring in terms of possible audience numbers So it turned out, albeit I have seen the theatre far emptier on other occasions. I hope that indicates that Opera North have built a loyal audience over the past years at Salford following their desertion of central Manchester's Victorian period theatres with their uncomfortable seats.
Over the years Opera North have championed Janáček's operatic works more than any other UK regional opera company. Its choice here was particularly brave considering the period in which it was written was the sparsest in terms of opera as I outline further below. It was perhaps inspired thinking to cast it alongside Ravel's more light-hearted look at life's problems and musically of a more romantic idiom in Ravel's L'enfant et les sortileges. With both works involving, as children or adults, and in very different ways, the pains of maturation, having Annabel Arden as director of both was a masterstroke that contributed significantly to the evening's success. The first offering of the evening was Ravel's story of a child's temper tantrum, or hissy fit as the contemporary term seems to be, L'enfant et les sortilèges. The music is romantic as the child, superbly acted and sung Canadian Wallis Giunta, a graduate of the Metropolitan Opera's Lindeman Programme and a perfect fit physically. She brought an appealing vocal tone to her singing and acted the role superbly. As the child sought to wreck the place in her tantrum the furniture items came to life in costumes coloured or textured to match. A difficult concept to bring off that the production team achieved with aplomb aided by well sung and acted portrayals by Fflur Wyn, Quirijn de Lang and John Savournin, with John Graham-Hall giving a contrasting view of his skills compared with what he was to offer in the second half of the evening.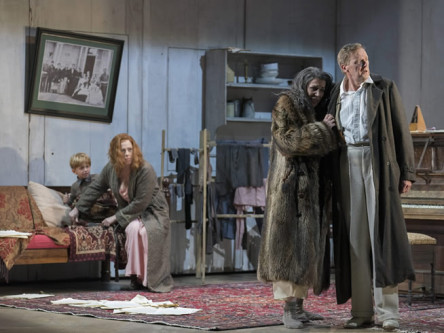 That second part of the evening involved the even more esoteric, and longer offering, of Janáček's Osud, or Destiny, composed in 1904 in an operatically spartan period of his life. It did not receive its stage premiere until 1958, long after the composer's death. No British regional opera company has done more to promote and stage the composer's operatic works than Opera North, but this obscure three-act work of his operatic barren period is a particular achievement. The story relates to the composer Živný and his association, first as lover and later, much later, husband of Míla Valková, daughter of a vicious and deranged mother and as importantly his inability to complete a major work, even when their child has reached maturity and his mother is dead after being pulled from a balcony by her deranged mother.
The director excels herself in her work in this opera assisted in a major part by the masterful sung and acted interpretation of John Graham-Hall as the composer. He gave one of the most convincing sung and acted interpretations than I have seen for many a year on the operatic stage, wholly memorable and commendable. As his lover, later wife, Giselle Allen brought the same strong vocal and acted skills to the role as she had the previous evening as Santuzza in Cavalleria rusticana (review click here). Similarly, as her mother, Rosalind Plowright was austere and formidable in Act I and portrayed the deranged assassin in Act II with professional skill and aplomb. Their child was sung and acted quite outstandingly by the young Bryn Mashburn.
Martin André made a masterful contribution to the matching of these diverse works. The only downside of the evening came via Janáček's story necessitating two intervals, during which the audience had to sit quietly having already enjoyed the pleasures of an interval break after the shorter Ravel work.
Robert J Farr