United Kingdom Mozart, Così fan tutte: Cast and Chorus of Northern Ireland Opera, Ulster Orchestra / Nicholas Chalmers (Conductor), Grand Opera House, Belfast, 17.11.2017. (RB)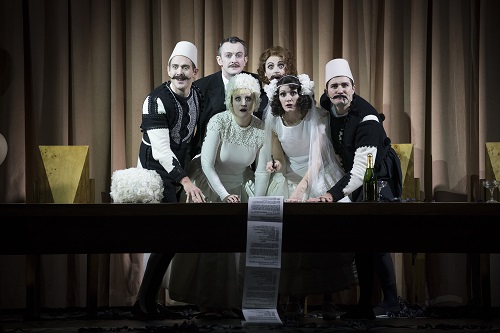 Cast: 
Fiordiligi – Kiandra Howarth
Dorabella – Heather Lowe
Guglielmo – Samuel Dale Johnson
Ferrando – Sam Furness
Despina – Aoife Miskelly
Don Alfonso – John Molloy
Production:
Director – Adele Thomas
Set and Costume Designer – Hannah Clark
Movement Director – Emma Woods
Lighting Designer – Kevin Treacy
Repetiteur/Assistant Conductor – Tim Anderson
Assistant Director – Danielle Urbas
Fight Director – Kev McCurdy
Così fan tutte was Mozart's final collaboration with Lorenzo da Ponte and in this most sublime of operas he explores the transience of human emotions.  Da Ponte's sisters appear superficial on the printed page, but Mozart's music lends the characters extraordinary emotional depth and in so doing exposes the frailty of the human condition.  Mozart asks how real are these grand emotional commitments we make to other people and how free should people be to change their minds.  The opera has been subject to accusations of misogyny, but the male characters are just as entangled in Alfonso's partner swapping deception as the female ones.
Da Ponte and Mozart place the action in 18th Century Naples in and around the home of Fiordiligi and Dorabella.  Adele Thomas' production transfers the action to the US of the roaring 1920's.  In the programme notes Thomas wrote that she grew up watching silent comedies and that the world she was recreating was 'not a real America but an America recognisable in silent cinema of the 1920's'.  Fiordiligi, Dorabella and the other female cast members were transformed into flappers and the male cast members into upper class yuppie types.  A convivial party atmosphere permeated the action with the supporting cast dancing the Charleston, forming a Conga line and enjoying a garden party with bottles of Champagne and balloons.  Cast members at various points provided us with silly, exaggerated gestures that seemed to come straight from the silent film era particularly in the scene when the sisters first encounter their lovers disguised as Albanians.  Hannah Clark's costumes really captured the period while the dance sequences gave the production an upbeat feel helping to enhance the froth and exuberance of some of the opera's comic numbers.
The 1920's was a time of great sexual liberation for women so it provides an excellent fit with the action for the opera.  The glitz and superficiality of the period create a suitable backdrop where the feelings of Fiodiligi and Dorabella can easily shift.  It was also a nice touch to transform two of the supporting cast members into a gay couple and again it fits neatly with some of the opera's more contemporary themes.  The silent film sequences certainly added to the comic froth of the opera and they were well received by the audience.  My one niggle was that this sometimes made the characters seem a little too cartoonish and detracted from the very real feelings of the four main participants.
The cast for the most part did a good job with their respective roles.  Fiordiligi is a very demanding part with its awkward leaps, wide vocal span and tricky coloratura and Mozart's writing is very exposed.  Australian lyric soprano, Kiandra Howarth, appears to be growing into the part but was not completely on top of the role.  She captured the initial steadfastness of the character well and her subsequent submission to Ferrando in the great love duet in Act II was entirely believable.  Her singing was at its best in the Act II aria, 'Per pietà', where she conveyed Fiordiligi's suppressed feelings to perfection.  However, her performance was patchy in Act I where some of the top notes sounded forced and there was a marked weakness in the lower vocal register in 'Come scoglio'.  I last saw Sam Furness in Offenbach's Tales of Hoffmann and I was impressed with his portrayal of Hoffmann.  In this production he gave a rounded, convincing portrayal of Ferrando and showed considerable comic flair in Act I.  His tone sounded a little thin at the start of the opera but improved as his voice warmed up.  He invested 'Un'aura amorosa' with a gorgeous lyrical bloom while in Act II's 'Fra gli amplessi' his seductive entreaties ignited the glowing passions of the couple.
I was particularly impressed with the Australian baritone Samuel Dale Johnson who gave a virile, laddish portrayal of Guglielmo while also throwing himself into the comic high jinks of Act I.  His tone was excellent throughout and his Act II aria was delivered with braggadocio swagger all while mixing a cocktail.  Heather Lowe also did a very good job in the role of Dorabella and the character's shift from resolute paragon of virtue to free and easy woman about town was captured well.  Occasionally, I would have welcomed a little more projection and vocal colouring but some of the singing was excellent and her Act II aria was an absolute delight.  John Molloy's Alfonso was a cool and calculating customer and he blended well in the ensemble numbers.  Belfast born soprano, Aoife Miskelly, captured the earthy, streetwise Despina to perfection and the quack doctor in Act I and notary in Act II were characterised brilliantly.
Nicholas Chalmers did a good job keeping the cast, chorus and orchestra on track throughout.  There was some accomplished playing from the Ulster Orchestra in the overture although I would have welcomed a more muscular approach and more projection of the sound.  Chalmers's tempi seemed spot on the pacing of the opera was very good.  There was some very fine playing from the Ulster Orchestra's woodwind in Dorabella's Act II opera and from the horns in Fiordiligi's 'Per pietà'.  The two love duets in Act II were gorgeous and the Act I finale was a comic romp full of zest and energy.  There were some minor balance and timing issues in some of the other Act I ensemble numbers but for the most part they worked very well.
Overall, this was a highly imaginative, exuberant production from Northern Ireland Opera containing some very fine singing and playing.
Robert Beattie 
For more about Northern Ireland Opera click here.