Finland Verdi, Il trovatore: Finnish National Opera Chorus and Orchestra / Patrick Fournillier (conductor). Finnish National Opera, Helsinki, 23.3.2018. (GF)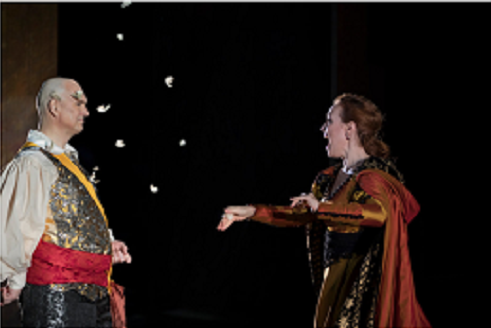 Production:
Director and Set Designer – Joan Anton Rechi
Costumes – Mercè Paloma
Lighting design – Albert Faura
Video design – Project II
Cast:
Leonora – Elena Stikhina
Azucena – Sari Nordqvist
Count di Luna – Claudio Otelli
Manrico – Aquiles Machado
Ferrando – Heikki Aalto
Ines – Elli Vallinoja
Ruiz – Ilkka Hämäläinen
Old gypsy – Koit Soasepp
Messenger – Juha Riihimäki
Goya – Timo Paavola
Young girl – Elina Orpana
This is a fairly traditional production, with costumes from an unspecified historical period and entirely neutral sets. A quantity of chairs are put forward and taken away, signalling changes of scenes, as well as providing a bonfire for Azucena in the third act. What makes the production stand out is the presence of an added silent role, the painter Francisco Goya, who is introduced before the performance begins and then proceeds to appear here and there as an observer. Of course, Goya (1746 – 1828) was not a child of the civil war (1410 – 1412) which is the historic background for Verdi's opera, but director Rechi explains his thoughts in the programme booklet: 'In early October, Goya travelled to Zaragoza at the request of General Palafox to produce a series of patriotic pictures depicting the Spanish Civil War. The things he saw shocked him profoundly, and his images of the devastation are now considered precursors to photojournalism. It is interesting that all this took place in Zaragoza and its surroundings, one of the settings of Il trovatore. I like to leave things to chance, and even this time I started to wonder what it would mean if Goya were the spectator of this story. He would be the narrator … who, with his brush, shows us the tragedy of love, revenge, war and death, along with the destruction brought on by war – from the Middle Ages to the present day …'. The outcome is a fascinating production with projections of Goya's pictures filling the stage in an almost surrealist way. The titles of the art works are projected as well, though in Finnish only, and I believe this information challenges what happens on stage. The story is still incoherent, contradictory and illogical, but, as Rechi writes, 'that is how war is: full of incredible situations that become reality in a desperate struggle for survival'.
Compared to Rigoletto and La traviata, the music in Il trovatore is rather crude and unsophisticated – very much on a level with the cruelty of the plot – and Patrick Fournillier does not play this down. The soldiers' chorus is primitive and brutal, with evocative lighting creating frightening shadow images on the background. To onlookers this conveys a sense of being close to the front line of combat. There are also a several scenes of raw sexual abuse – an all too well-known phenomenon in times of war. Here it is very explicit, even offensive to some, I suspect. Is it really necessary?
Vocally I have few objections. The only native singer in the central quartet was Sari Nordqvist as Azucena and she was magnificent. Her vibrato is nowadays a bit too wide but her acting and the intensity in her singing are truly compelling. The young Russian soprano Elena Stikhina was a lovely Leonora and her exquisite singing of the two arias, in particular the one in act four, were the highlights of the performance. There she excelled in ravishing pianissimos. Claudio Otelli has stage presence as do few others and a magnificent voice to match, but I wish he had been able – or willing – to scale down to a more intimate level in 'Il balen'. It is after all a love song. Venezuelan tenor Aquiles Machado was finalist in the 1997 Cardiff Singer of the World and the same year also in Plácido Domingo's Operalia competition. His debut role in 1996 was as Nemorino in Donizetti's L'elisir d'amore and his voice is still more lyrical than spinto. He sang well and 'Ah, si, ben mio' was well shaped and nuanced, while 'Di quella pira' needs more heft and brilliance than he can muster. Heikki Aalto has been seen in a number of minor parts through the years – I remember a fine Nightwatchman in Die Meistersinger some years ago – but here he had a golden opportunity to blossom in his narrative to the soldiers in the first act. There is really no dearth of good basses in Finland, so they can even afford to cast the great Koit Soasepp in the role of the old gypsy in the second act.
Il trovatore may be crude in plot, but the well-known melodies never fail to reach listeners' hearts, and with singing of the calibre this premiere has to offer, a visit to the Finnish National Opera is no waste of money. Book and enjoy!
Göran Forsling