United Kingdom Crawford Seeger, Kerr, Feshareki and Lutosławski – Consciousness: Ligeti Quartet (Mandhira de Saram, Patrick Dawkins [violins], Richard Jones [viola], Val Welbanks [cello]). Hall Two, Kings Place, London, 9.5.2019. (CC)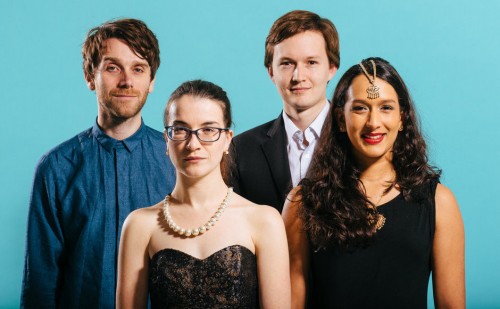 Crawford Seeger – String Quartet (1931)
Cliff Kerr – Brainstaves for string quartet and EEGs (2019 Ligeti Quartet commission)
Shiva Feshareki – Venus/Zohreh (2018)
Cliff Kerr – Brainstaves for string quartet and EEGs (second performance)
Lutosławski – String Quartet (1964)
This concert, entitled Consciousness, was given as part of the 'Venus Unwrapped' series at Kings Place.
If proof were needed that the spirit of adventurous programming is alive and well, this was it. Composer and neuroscientist Cliff Kerr has composed a piece that, via EEGs, interacts in real time with the four performers on stage. The 'raw material' is created by the performers in one sense: 'the algorithms 'guess' what notes the performers 'should' be thinking at every instant based on their brain activities and write down these notes just in time for the performers to read them (and, with luck, play them).' A screen behind the performers displays four staves with musical material plus the EEGs themselves, with a photo of each performer to show which EEG belongs to which player (the first violin, Mandhira de Saram, made the mistake of complaining about her photo after the first account so it was playfully replaced by that of a cartoon dinosaur for the second half). Unsurprisingly, there was a pronounced gestural element to the musical result, textures often busy in a not-quite-as-busy–as-Xenakis sort of way, the piece ending with a lovely strong first violin pizzicato, while sections were clearly delineated. Whether repeating the work at the beginning of the second half was a good thing is another matter: one might posit a more folky element to some moments, perhaps, but might just as easily claim the novelty was wearing off. Even with the repetition, the concert finished early, so one has to wonder if this was a determining factor. A fascinating experiment involving a variegated musical surface, though – and one must applaud the sense of enquiry at work here.
Ruth Crawford Seeger's 1931 String Quartet is a magnificent work, and one that really should get out more. It is modernist of bent – not for nothing was it coupled with works by George Perle and Milton Babbitt on an old Nonesuch LP. This was a terrific performance that opened the evening. The Ligeti Quartet offered a rightly uncompromising performance, fully relishing the emotional freedoms of the first movement's Rubato assai marking, nailing the technical challenges of the second movement (Leggeiro) before taking us into another world with the keening gestures of the Andante. The finale found the first violinist, Mandhira de Saram, against the three other instrumentalists, the solo violin raw, the response whispered. In all, terrifically imaginative quartet writing, brilliantly realised. And, if the first violinist's surname seems familiar, it is because Mandhira's uncle is Arditti Quartet cellist Rohan de Saram – contemporary music and quartet playing clearly runs in the family.
Following on from the first performance of Brainstaves was a meditative work by Shiva Feshareki called Venus/Zohreh, a co-commission between the Ligeti Quartet and Sound UK. Venus suffuses the background to the piece: 'Zohreh' translates as Venus, but the inspiration also came from EnVision, an international UK-led mission due to depart for Venus in 2029. Feshareki's piece is scored mainly for open strings and, while it does eventually build to a climax, it is in its ability to evoke a meditative state in the listener that its value lies. The performance was superbly, and intelligently, sustained.
After the second account of Brainstaves, Lutosławski's String Quartet felt a little like coming back to the mainstream. With its controlled aleatorism, the idea of the interaction between players and score was further examined; it was nice that while we got a small spoken introduction, there were some string 'doodlings' in the background so that it became impossible to tell, when it came to it, when the piece actually started. What was clear about this performance was the players' ability to project a sense of discovery: although written in 1964, it had a freshness that could have found the date of composition as yesterday. A violin duet at one point had an intensely lyrical basis, while some passages were on the edge of audibility, any sustained stasis heard-earned. A truly impressive performance crowning a truly impressive evening.
Incidentally, part of the Ligeti Quartet's modernism is that they use iPads instead of conventional paper manuscript for their performances – something brought to my attention initially only because I noticed players – as I thought – tapping their feet. In fact, they were turning pages on those iPads … mea culpa.
Colin Clarke
For more about what's on at Kings Place click here.