United Kingdom Bliss, Venables, Gurney: Andrew Randall (baritone), Eric McElroy (piano), Carducci String Quartet (Matthew Denton & Michelle Fleming [violins], Eoin Schmidt-Martin [viola], Emma Denton [cello]). Ivor Gurney Hall, King's School, Gloucester, 11.5.2019. (JQ)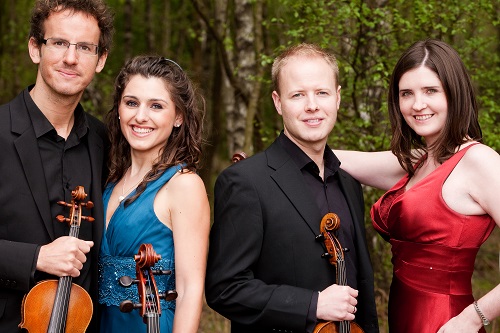 Bliss – String Quartet in A major, Op.4
Ian Venables – The Song of the Severn Op.43
Gurney – The Western Playland (and of Sorrow)
This recital, entitled 'Sounds and sweet airs', was given under the joint auspices of the Ivor Gurney Society and The Arthur Bliss Society and with financial support from the Ivor Gurney Trust and the Bliss Trust. It would be hard to think of a more appropriate venue than the small concert hall at the King's School, Gloucester, since Gurney was once a pupil at the school.
The hall itself looks from the outside like a Gothic Revival chapel – without a spire. Formerly known as the Old Schoolroom, it was used for tuition in the Victorian period – and possibly right up to Gurney's own days at the school. The last time I went inside it was fully twenty years ago when, as I recall, it was being used as a gymnasium. Refurbished and re-purposed as a small concert hall and performing space it was opened in its present guise in February 2016 and named after Gurney, though I'm slightly embarrassed to admit that this was my first visit to it in this concert hall incarnation. The conversion has been very nicely done, though there were times today when the physical space and therefore the acoustic seemed a little small to accommodate a piano quintet.
Proceedings opened with a performance of the early String Quartet in A major by Bliss. The composer wrote two mature quartets – No.1 in B flat major (1941) and No.2 (1950) – but these were preceded, I believe, by a Quartet written in 1923 and the present work, composed in 1913. I learned from Giles Easterbrook's valuable programme note that the A major Quartet was among the pre-War compositions that Bliss suppressed after his war service. Only in 1993 was Lady Bliss persuaded to sanction a private performance of the work together with the Piano Quartet, Op.5. Impressed by what she heard, Lady Bliss overruled her late husband's withdrawal of both works. I had heard neither of them until encountering the Quartet today but on the evidence of this performance we can be grateful to Lady Bliss for a wise decision.
The Quartet, which took some 25 minutes to play, is cast in three movements, Moderato ma tranquillo – Andante sostenuto – Allegro vivace con grazia. This performance revealed it to be a score of genuine substance. The first movement is primarily lyrical with excellent melodic invention. The layout for the four instruments seemed entirely convincing – it was, as Giles Easterbrook commented, as if Bliss had been composing for the medium of the string quartet all his life. The textures seemed to me to have an transparent feel to them and the writing for and interplay between all four instruments was most effective. In particular, there were several notable cantabile opportunities for the cello which were gratefully received by Emma Denton. The slow movement opened with a winning melody for solo viola, which formed the basis for the movement. The tune had a folk-like quality to it and it was especially rewarding to hear on the occasions that Bliss entrusted it to the cello. This was an entirely charming movement, deliciously played by the Carduccis. The finale impressed as a cheerful creation. At times there may have been a slight Irish accent in the melodies but what particularly caught my attention was the energy of the music, which benefitted greatly from the Carducci's animated performance. I believe this Quartet is new to their repertoire. I hope they will continue to play it and also, if they have not already done so, to delve into more of Bliss's chamber music. I was very glad indeed to encounter this attractive piece for the first time. I think I'm right in saying it has yet to achieve a commercial recording. I hope that might be possible before long so that the work gains wider attention.
For the remainder of the programme the Carducci Quartet was joined by baritone Andrew Randall and the American pianist, Eric McElroy. Both are fairly recent alumni of the Royal Birmingham Conservatoire; Before beginning to sing, Andrew Randall requested our indulgence if he took occasional sips of water, explaining that he had been unwell in the days leading up to the concert. He did indeed take frequent sips of water but otherwise I noticed no signs that illness had hampered his vocal production. Eric McElroy fitted seamlessly into the ensemble with the Carduccis. I believe he was playing on a Yamaha piano, the tone of which was quite lively. Truth to tell, there were some occasions when the five instrumentalists threatened to overcome the singer – though from where I sat that never quite happened. However, I don't blame the players for this. The acoustic was not as large as the sound of a piano quintet needed in which to expand fully. Had the players opted to play down that would have sounded mealy-mouthed and not at all satisfactory.
In 2013 I attended the first performance of Ian Venables' song cycle, The Song of the Severn, in which the Carducci Quartet took part (review). Subsequently they recorded it (review) and on both occasions the singer was the baritone, Roderick Williams.  I was delighted to have another opportunity to hear this fine work but I must admit that I was somewhat surprised to discover that this was only the second UK performance, though I understand it has been heard in the USA. It's astonishing – and very disappointing – that a work of this depth and quality has had to wait six years almost to the day to achieve a second UK performance. I don't believe for one moment that this is any reflection on the merit of the music. Rather, I suspect that the reasons may be practical. In particular, to perform this cycle a singer needs to find not just an excellent pianist but also a quality string quartet that is willing to invest the time needed to learn the work.
In this cycle, Ian Venables set out to portray some of the history of the River Severn and to give a sense of its place in the landscape as it flows through his adopted home county of Worcestershire. With his customary literary discernment, Venables ranged widely in his selection of five texts to set. Two of the songs set lines by John Masefield. 'On Malvern Hill' speaks of the epic struggle between the Briton soldiers of Caractacus and the Roman Legions. It is often a dramatic setting and today's performance was suitably committed. Andrew Randall quickly revealed his vocal qualities. He has a wide vocal compass, ranging from a firm, well-focussed lower register to a fine, easily produced top register. I admired the clarity of his diction, both here and throughout the recital. In quieter passages of music, the light carry of his voice was very pleasing but he also had ample reserves of vocal strength when the music demanded it. That latter quality was required quite a bit in this first Venables song. 'How clear, how lovely bright', which comes next, is a Housman setting. It opens lightly and optimistically but the musical skies then darken and the piece becomes more impassioned. In his notes accompanying the CD of the cycle, Ian Venables pointed out that the poem reflects Housman's angst over his unrequited love for Moses Jackson. This song was given the powerful performance it needs.
The third song, 'Elgar's Music' sets part of a sonnet written in 1935, the year after the composer's death, by John Drinkwater (1882-1937). A remarkable feature of this song – related in the notes accompanying the CD – is that without initially realising what he had done, Venables composed into the accompaniment a motif that one hears in the orchestra (or piano) in 'Sea Slumber Song', the first of Elgar's Sea Pictures. Venables' music enhances Drinkwater's words, resulting in an eloquent elegy for Worcestershire's great composer. Here, Randall's impressive top register was a decided asset. At the very end, perhaps making the allusion to 'Sea Slumber Song' more explicit, the viola plays the singer's first phrase from that Elgar song. Venables returned to the poetry of Masefield for 'Laugh and be merry'. This is an ebullient, lively song. Eschewing the obvious, Venables wrote it using the irregular time signature of 7/4, which keeps everyone on their toes. Randall and his colleagues articulated the music extremely well. The cycle concludes with 'The River in December', a setting of lines by Philip Worner. This is a very expressive musical landscape/riverscape which was eloquently performed. The end is very imaginative with a sevenfold repetition of the words 'remember me', the music gradually diminishing in volume. Here, it seems to me, Venables illustrates the river gradually flowing out of our sight yet, as water continues to flow from its source, the Severn is replenished and therefore always remains present.
I understand that this was the first time that Andrew Randall had performed The Song of the Severn. One would not have known; such was the assurance of this committed performance. I hope he will retain it in his repertoire. More than that, I hope other singers will be emboldened to take it up for this cycle contains five marvellous songs which deserve to be well-known and widely appreciated.
Many of Ivor Gurney's songs have become staples of the art song repertoire but I don't think The Western Playland comes into that category – indeed, I think this was the first live performance I have experienced in more than five decades of concert-going. Once again, I suspect that the practicalities of recruiting a piano quintet are partly responsible. Like Ian Venables, Ivor Gurney was a discerning selector when it came to choosing texts to set to music. In this cycle, however, he confined himself to one poet, A E Housman, setting eight of his poems. We heard it today in a newly revised edition by Philip Lancaster, who also furnished the programme note. In the note Mr Lancaster explained that it was the impact of hearing Vaughan Williams' On Wenlock Edge that impelled Gurney to write two Housman song cycles with similar accompaniment to that used by VW. First came the wonderful Ludlow and Teme (1920) for tenor voice, followed swiftly in the same year by The Western Playland for baritone. In fact, as the Gurney biographer, Michael Hurd pointed out, two of the songs in The Western Playland – 'Loveliest of trees' and 'Is my team ploughing?' – were originally composed as early as 1908 but then revised prior to inclusion in the cycle.
If I am honest, I don't think that Gurney's setting of 'Loveliest of trees', good though it is, quite matches the sense of wonder that George Butterworth conveys in his great setting. However, Gurney's version, initially suffused with melancholy and then becoming more impassioned, is a strong musical response to Housman's lines. Here it received a lovely performance.  'Is my team ploughing?' presents an interesting contrast to the more familiar settings by Butterworth and Vaughan Williams. Where those composers produced deeply poignant settings Gurney surprises by adopting, at least initially, quite a brisk tempo. Perhaps inspired by the references jingling harness, it seems as if he has the team of horses setting out at quite brisk trot. Later, the setting becomes slow and more emotionally charged with Housman's last two stanzas set in a mood of poignant heartiness.
Elsewhere, I liked the gentle melancholy of 'Golden friends', which was very well done by singer and instrumentalists. The relaxed simplicity of Gurney's setting of 'The Aspens' benefitted from Randall's lightness of vocal touch while the accompaniment was most sensitively etched in. The yearning sense of longing in 'The Far Country' was beautifully realised. The cycle closes with 'March'. Here, much of Gurney's music is passionate and declamatory and there was a ready response to this both from Randall and the players. The song has a surprisingly long, purely instrumental coda which is gently rapturous. Here it was beautifully delivered by Eric McElroy and the Carduccis, bringing to a fine conclusion an excellent performance of Gurney's cycle.
This was a splendid and often compelling concert. I was delighted to hear unfamiliar English music in such expert and stylish performances. It was an ideal way to pass a Saturday afternoon and to judge by the warm reception accorded to the performers the capacity audience shared that view.
John Quinn