United Kingdom THREE/8:38/SEVEN: Viviana Durante and Company, Wilton's Music Hall, London, 8.5.2019. (JB)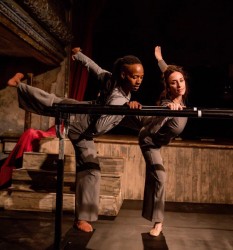 Creatives:
Producer/Director – Viviana Durante
Co-Producer – Nigel Cliff
Choreographer – Javier de Frutos
Music director – Robert Clark
Lighting – facilitated by Joe Crossley, advised by Rick Fisher
Wendy Dawn Thompson's outfits by Preen by Thornton Bregazzi
Wigs – Bridget Foster
Musicians: Robert Clark, Robert Bridge and Joe Richards 
Music:
Songs from The Threepenny Opera (Kurt Weill and Bertolt Brecht)
September Song (Kurt Weill)
The Seven Deadly Sins (Kurt Weill and Bertolt Brecht)
Cast: Viviana Durante, Mbulelo Ndabeni, Wendy Dawn Thompson, Stephen Brown, Peter Van Hulle, Timothy Dawkins and Charles Johnston
Whenever I'm faced with the choice of two sins, I always pick the one I haven't tried. So said Mae West. It is a pity she didn't sign up to the Church of Rome, who would have made an instant offer of seven sins, all deadly to boot. Given Mae's appetite, and reputation for sin, Rome may not have been enthusiastic in accepting her as a communicant. However, keep in mind that another great wit, Muriel Spark, in mid-life, converted to the Church of Rome. But she did this like she did everything else –on her own terms. For instance, she abhorred church homilies.  So if for Dame Muriel, why not for Ms West?
The Viviana Durante Company seems to have got itself into a spot of bother as to which sins to stage.
The originally announced programme was Kenneth MacMillan's choreography of the Weill-Brecht Seven Deadly Sins, to be staged and redirected by Viviana, but without the great ballerina's participation. Now we are offered a whole new triple bill of Weill-Brecht, including the Seven Deadly Sins, directed by Viviana, who also, with her partner, Mbulelo Nbabeni, dances in the second of these three pieces… And here comes the best feature of the new programme: it will be choreographed by Javier de Frutos (Spanish, Venezuelan), surely the most inventive choreographer in today's world of contemporary dance. So bye for now, Sir Kenneth, and welcome Maestro de Frutos.
A quick word about Wilton's Music Hall. This late Victorian theatre has been restored in all its original detail. You can't any more throw rotten tomatoes at acts you don't like, and the chairs are these days in rows, not around tables which accommodated food, drink and tobacco. But there are still Wilton shows where audience participation – all-together-now! – is encouraged. James Hawes made his excellent film, Miss Marie Lloyd partly at Wilton's, where that Queen of the Halls had made her earliest appearances. Watch this on YouTube.
The Viviana Durante Company should be advised to watch it too. There are huge problems in presenting a 1920s Weimar Berlin to a twenty-first century British audience. The latter are more used to enjoying political protest through the sharp wit of W. S. Gilbert with the charm of Arthur Sullivan's melodies. Contrast that with Lutheran philosophy (itself a protest movement) from which the Weimar protests are born.
England can easily find Weimar theatre heavy and stodgy, with its humour consequently misplaced. All my German friends continue to enthuse about Weill/Brecht – Hans Werner Henze was over the moon about their work. Their theatre has always fared better in America. That is probably because there is a strong puritanical foundation in that country too.
To explain the titles of the three sections: THREE refers to the four songs from The Threepenny Opera; 8:38 is the date when September Song launched the career of Lotte Lenya (Weill's wife) on Broadway (it was more frequently secured a place in American repertory by Cathy Berberian's taking it into her repertory); the SEVEN of the final section refers to the deadly sins.
W. H. Auden's translation of Brecht's libretto of the Sins with his lifetime partner, Chester Kallman, is truly masterly (Auden died in Austria) and even manages to introduce German cadences into the English language. In an arrangement for two pianos and percussion by Jonathan Greer (a UK premiere) it was magnificently sung by Wendy Dawn Thompson, who however, also took on the role of Anna II, which is a dancer's role. And while Ms Thompson's dancing skills are more than passable, they are not to be compared to her delightful singing. The scant audience were confused, and no wonder! The Auden/Kallman translation should have been used as surtitles, thus providing the audience with the aural experience of Brecht's original.
After the show it was a pleasure to run into again the original dancer of MacMillan's choreography, the ever gracious, Anya Linden (now Lady Sainsbury), who was careful to focus her praise of Ms Thompson on her singing. She was more wholesome in her praise of Viviana Durante's dancing in 8:38 (set to music including the Kurt Weill/Lotte Lenya classic September Song).
But there were problems here too. It is absolutely possible to make a comeback on a stage as Viviana was doing after a break of ten years. Magda Oliviero proved this possibility when she made a comeback with a second career, eventually making a triumphant debut at the Met in Tosca in her sixties and continuing to perform with her solid technique in place into her nineties!
And there was choreographer, Javier de Frutos, to greatly aid – and even celebrate – Viviana's comeback. The stage is set with two  exercise barres at the front for 8:38, with Viviana at one, her partner, Mbulelo Ndabeni at the other. If ever a pas de deux was conceived to show the poetry underlying all such partnerships, this was it. The two of them took us into another world.
Ndabeni is South African and carries the pride of this heritage into his dancing. De Frutos calls for some restraint. But the very restraint calls out to us from Ndabeni's soul. His muscular energy is executed with such ease and grace that he convinces us that he is the most gentlemanly person in the room. Confirmed in a brief conversation I had with him afterwards. He could easily, clumsily, have stolen the show. He doesn't. He wears his beauty lightly. I had many conversations with Rudolf Nureyev, who wore his beauty weightily, 24 hours a day, and because he had no need to. And what is more, he knew that he had no need to. That comparison is telling.
There is one moment when the two dancers leave the barres, and he lifts Viviana up into the heavens which feel like eternity. Grace again from the gentle giant. And grace too in the bends of the dancer he is holding. Space is the essence of dance, and above all how dancers move through it. At the barre, Viviana showed us how she is total Master of that space, moving through it (not in it) with gestures which are so natural – so uniquely of herself – that their perfection is the essence of the most glorious musicianship. (All performing arts are music: a matter I have discussed elsewhere.) She must please have no doubt that a second career calls.
Lindsay Kemp was the great master of interweaving drama, acting, mime, dance, singing, instrumental performance and lighting design. Alas he is no longer here to advise. However, there are videos of his work which Viviana Durante Company might do worse than ponder for their indicators.
Jack Buckley     
THREE/8:38/SEVEN is on until 18 May and for more information click here.