Switzerland Verdi, Un ballo in maschera: – Soloists, Chœur du Grand Théâtre de Genève, Orchestre de la Suisse Romande, Pinchas Steinberg (conductor). Grand Théâtre de Genève, 7.6.2019. (ALL)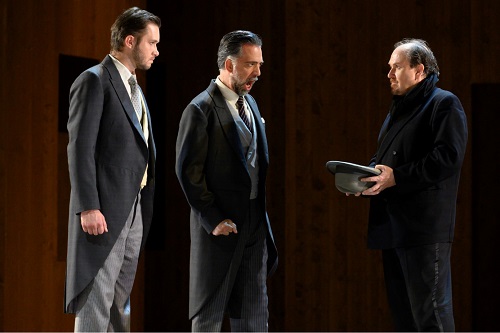 Production:
Director – Giancarlo del Monaco
Settings – Richard Peduzzi
Costumes – Gian Mauricio Fercioni
Lighting – Caroline Champetier
Cast:
Gustavo III — Ramon Vargas
Anckarström — Franco Vassallo
Amelia — Irina Churilova
Ulrica — Judit Kutasi
Oscar — Kerstin Avemo
Count Ribbing — Günes Gürle
Count Horn — Grigory Shkarupa
This is the last production of the Tobias Richter era. The Geneva Grand Théâtre director ended his tenure which began ten years ago with Simon Boccanegra, another Verdi masterpiece, which enabled Geneva to hear Krassimira Stoyanova as Amelia.
Geneva should be grateful for the many things Tobias Richter has achieved. He successfully managed the transition to the temporary Théâtre des Nations, and this was no easy task. Showcasing the recent series of Wagner's Ring cycles was a gigantic effort. He also regularly managed to bring in productions by the likes of Robert Carsen or David Bösch. His Figaro trilogy had originality and was well-executed. He ensured that the repertory was covered. The Grand Théâtre celebrated its 5,000th subscriber last month.
But there were some productions that felt a little tired. Too often, Richter relied on artists he had regularly worked with and who were probably past their prime. This was true of singers, conductors and producers. And sadly, this production was no exception.
Central to the problem was Giancarlo del Monaco's uninspired staging. There was no concept and no personenregie. The characters were static and left to their own devices. The settings were unimaginative. For the Ulrica scene, dark costumes against a dark background did not help. The use of artificial fog was unfortunate, with a dark curtain dropped at the murder of Gustavo that made it difficult to see. As a result, we were constantly reminded that Un ballo in Maschera's libretto is a sentimental melodrama, whereas a good staging usually manages to transcend weak stories when the music is of great quality
The singers were mixed, the best in vocal terms being Judit Kutasi as Ulrica. She has pleasing dark tones, great vocal projection and phrases well. If only she had been allowed to act a little bit… Kerstin Avemo does not have the ability to project for a place the size of Geneva's Grand Théâtre. Irina Churilova has a solid middle range but struggled for the higher tessitura; thus she was unable to sustain and develop the important Verdi line overall.
Of the men, Ramon Vargas may no longer have the same golden tone we remember from the past but his phrasing remains of great elegance. Franco Vassallo, who conveyed such a strong Rigoletto in Geneva in 2014 (but with another producer), still managed to cut a forceful figure. He was well attuned to his two sonorous sounding co-conspirators Günes Gürle and Grigory Shkarupa.
In the pit, Pinchas Steinberg, former music director of the Swiss Romande Orchestra, gave us a dynamic reading that did justice to Verdi's sense of architecture and drama.
We all appreciate the strength of the work done by Tobias Richter but it is time to look forward now to the next season with a new director, Aviel Cahn, and a radically new artistic line.
Antoine Lévy-Leboyer