Germany Mozart, Die Zauberflöte: Staatsopernchor and Staatskapelle Berlin / Alondra de la Parra (conductor), Staatsoper Unter den Linden, Berlin, 28.9.2019. (JMI)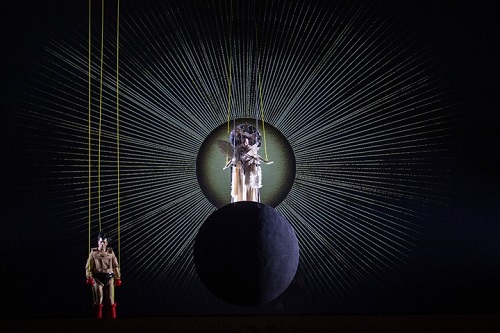 Production:
Director – Yuval Sharon
Sets – Mimi Lien
Costumes – Walter Van Beirendonck
Lighting – Reinhard Traub
Cast:
Tamino – Julian Prégardien
Pamina – Serena Sáenz
Papageno – Florian Teichtmeister
Sarastro – Grigory Shkarupa
Queen of the Night – Nicola Proksch
Papagena – Álfheiour Erla
Monostatos – Florian Hoffmann
The Speaker – David Ostrek
Three Ladies – Adriane Queiroz, Natalia Skrycka, Constance Heller
The Staatsoper Berlin's Ring cycle is coming to an end, but in between Siegfried and Götterdäammerung we had this Magic Flute as an appetizer. The production premiered this past year, and I had a chance to see it in March. The result then was disappointing and, unfortunately, history has repeated itself. It's an unsatisfactory show in a first-class theater, and my opinion of it remains unchanged: (review)
As on the previous occasion in March, conductor Alondra de la Parra was in the pit. I was not convinced by her reading then, and I am not now either, although it seemed to me that she was better this time around. In any case, I don't believe this production could be saved even by a genius of musical direction. Both the orchestra and chorus did well, as unusual.
Tamino was again played by tenor Julian Prégardien, whose voice is unexceptional. Soprano Serena Sáenz as Pamina was also appearing again, and she did it properly, but her voice does not really go beyond that of a soubrette.
Florian Teichtmeister, who repeated in the part of Papageno, is not a singer but rather an actor who takes refuge in a pure parlando. The program indicates it is intended to follow the tradition of Emanuel Schikaneder, the first Papageno, but it would be better to forget about traditions of this kind.
The Queen of the Night was sung this time by soprano Nicola Proksch, who has a rather small voice in the center range although it opens up at the top. Bass Grigory Shkarupa was the new Sarastro, and he was unconvincing both as a singer and an interpreter. Kwanchul Youn did much better in the part last March.
Florian Hoffmann as Monostatos and David Ostrek as the Speaker handled their roles well, but the Papagena of Álfheiour Erla held little interest. The Ladies of the Queen of the Night did fine, as did the three young spirits, soloists from the Tölzer Knabenchor.
José M. Irurzun