United Kingdom AKA Trio: Antonio Forcione (guitar), Seckou Keita (kora), Adriano Adewale (percussion). Dora Stoutzker Hall, Royal Welsh College of Music, Cardiff, 16.11.2019. (GPu)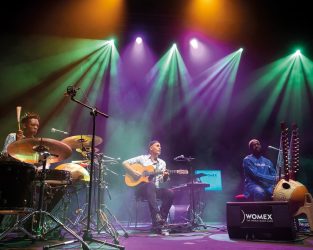 An ensemble made up of acoustic guitar, kora and miscellaneous percussion may not be anything like as unimaginable as it would have been a few years ago, but it is far from familiar even now. Yet, given that each instrument was played by an acknowledged master – the guitar by Italian Antonio Forcione (who has played with many luminaries, from Charlie Haden to Catrin Finch, Angelique Kidjo to the Soweto Choir), the kora by Seckou Keita from Senegal (he, too, has worked with Catrin Finch, the Cuban pianist Omar Sosa and the Irish accordionist Sharon Shannon, inter alia) and the percussion by the Brazilian Adriano Adewale (who has been based in London for some time and is a ubiquitous figure there) – and add to that the knowledge that these three have played together, on and off for some 20 years, and the prospect became very enticing. They did not disappoint, to put it mildly.
How to describe the resulting music? How indeed to 'label' it, if label it we must? Both Duke Ellington and Rossini are credited with the observation that 'There are only two kinds of music, good and bad'. But if it isn't enough simply to call this 'good' music? I have deep-rooted antipathies to the use of both 'world music' and 'fusion' in a context such as this. Provisionally I'd like, after listening to the AKA Trio's first CD, Joy, and experiencing this concert, to call what this trio does 'world unity' music. I hope, in what follows, to make clear what I intend by that term.
This concert, part of what is, in effect, a launch tour for the aforementioned album (Joy, on the Benigedig label), largely consisted of music from the newly-issued; it was when audience demands encouraged them to play on for almost 30 minutes beyond what they had announced as being the 'last number' of the concert (an announcement greeted by groans of disappointment from the audience) that they went beyond the repertoire on the CD).
Anyone who hadn't heard this trio before might, on looking at the set-up on stage before the concert began and seeing the huge array of Adewale's percussion armoury, might have expected the ensuing music to be percussion heavy. Such an expectation would have been misplaced. Adewale did not dominate proceedings; indeed there was no dominant figure in the trio; this trio (while being made up of 'stars') has no star. The trio's music is truly ensemble music. Antonio Adewale was as important as the other two, but his contribution was subtle and, if the adjective isn't oxymoronic where percussion is concerned, 'gentle'. He didn't 'drive' the music's rhythms so much as 'encourage' them, as well as providing a great range of colours behind the strings of the other two. Piece after piece incorporated musical dialogues between two or three of the musicians, and extended solos were very few in number.
Some pieces were 'group composed', such as 'Joy' itself, others were written by just one member of the trio, but the level was uniformly high and all left room for improvised 'dialogue'. This was music which integrated the traditions out of which each musician originally 'grew'; yet, naturally enough, there were differences of emphasis – as in the distinctively Brazilian, yearning-filled idiom of Adewale's 'Saudade', or the Cuban-influenced 'Baracoa', Forcione's tribute to the Cuban city of that name, written after several musical visits to Cuba. Or, to take an example from the tunes not on Joy, Forcione's 'Mandiba's Jive', a tribute to Nelson Mandela, recorded on Forcione's Sketches of Africa (2012) with different musicians, though Seckou Keita plays on some tracks. This was utterly infectious in its rhythms – even I, with only one functioning leg, felt the urge to dance!
In trying to describe the music of the AKA Trio, I have found myself using a word like 'integrated'. A word used by Forcione in describing the nature of their joint project was 'Empathy' – which also serves as the title of a piece recorded on Joy. Certainly, the interaction between these three musicians spoke eloquently of their mutual empathy, but I found myself thinking also of another word etymologically grounded in the Greek pathy, 'sympathy' and its cognates, not least in the phrase 'sympathetic strings'. This, in short, was music grounded in a respectful empathy for other musical idioms than that in which one grew up, allowing processes of shared learning through which something which is indivisibly its own musical language has been, and is being (the process is by its nature well-nigh endless) created. It is a unity created from distinct (but at root related) musical idioms from different parts of the world. Hence my suggested term 'world unity' music. But the AKA Trio and its music are about 'world unity' in another sense, too.
It is sadly ironic that at a time when many artists – poets and others as well as musicians – are enthusiastically undertaking inter-cultural projects, so many politicians should be concerned to divide rather than unify. I described this as an 'ironic' situation, but perhaps it is really a matter of cause and effect. As politicians promote division and separation, artists respond by consciously seeking – and sometimes achieving – a unity in 'opposition', as it were, to such activities. In their music itself – and in their 'story', how the three members of the trio were able, after some years of struggle, to get the ensemble 'on the road' – the AKA Trio are exemplars of the drive towards unity. The shared happiness evident in their demeanour as they played and in their spoken introductions and conversations between pieces 'spoke' in a thoroughly unforced fashion of their unity. Whether musically or in their shared love of cooking and of football – this last celebrated in their piece 'The Beautiful Game' their presence is heart-warming and thought-provoking. At the purely musical level one delights in the glorious sound of Secko Keito's kora – with its richly resonant bass notes and its brilliantly sparkling upper register – as well as in Forcione's complex guitar lines and Adewale's often feather-light percussion. The trio exudes – the word is inescapable – a 'Joy' which they communicate and share with their audience: the joy of unity.
Glyn Pursglove