United Kingdom Purcell, Handel, Rameau: Lucy Crowe (soprano), Reinoud Van Mechelen (tenor), LSO Chamber Orchestra / Emmanuelle Haïm (director). Milton Court, London, 15.12.2019. (CC)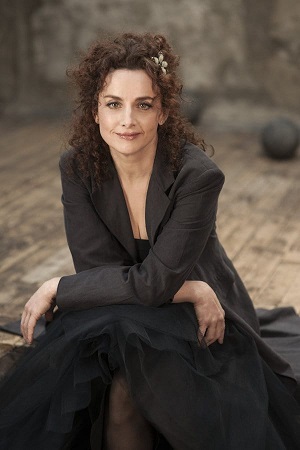 Purcell – The Fairy Queen: Suite (1692)
Handel – Water Music, Suite No. 1, HWV348 (1717)
Rameau – Two Arias from Castor et Pollux (1737); Dardanus: Suite (1739)
In a brief interview in the programme booklet, Emmanuelle Haïm discusses the validity of period performance practice with modern instrument ensembles to bring Baroque composers back into their repertoires.
So it was that modern instruments (including valved brass) snuggled up to two harpsichords (one for Haïm herself) in performances that shone with life. The addition of a recorder (the fine player Héloise Gaillard) added an extra layer to the wind contributions while the use of lute (Eligio Quinteiro) brought variety to recitative sections.
Purcell's The Fairy Queen Suite includes three vocal numbers. Even Haïm's slender textures could not quite defeat the Milton Court acoustic, as in the First and Second Musics prior to the Overture there was some blurring of detail. Reinoud Van Mechelen's clean and clear tenor enabled 'If love's a sweet passion' to caress our ears sweetly; but it was Lucy Crowe's Plaint, 'O, let me forever weep' that confirmed her status (Purcell writes the equivalent of a sigh into her vocal line, beautifully realised here, and beautifully echoed by the violin of Guest Leader Igor Yuzefovich). Crowe, whose Eurydice at Covent Garden in 2015 was so impressive (review), is one of the finest sopranos around today, and she shone here. Handel's First Suite from Water Music found the London Symphony Chamber Orchestra in more robust form; particular mention should go to Olivier Stankiewicz's florid oboe solos. Bright horn trills and fanfare figures brought with them a sense of the ceremonial and the festive. A life-enhancing account directed with enthusiasm by Haïm.
After Lully's Isis at Versailles very recently, it was good to continue the line of French opéra with a second half comprising  purely of Rameau (if one discounts the encore). Memories of Grimeborn's Hippolyte et Aricie came flooding back (although the standard of instrumental playing here at Milton Court was in a different league) in two delicious airs from Castor et Pollux, the first 'Tristes, apprêts, pales flambeaux' graced by simply perfect pitching and attack from Crowe, and with a magical pianissimo on the reprise; the second a fine, strong 'Séjour de l'étournelle paix' from Mechelen. The much longer Suite from Dardanus offered a feast of Rameau's charm and elegance. Here the technical challenges for the orchestra were significant, strings perfectly unanimous in the swift allegro of the 'Ouverture' and 'Tambourins'; in contrast were the quieter moments such as the lovely 'Menuet tendre'. Again, the vocal contributions tended towards the faultless, although Mechelen did have to work in his recitative and air. Perhaps most memorable of all though was the vocal duet between Iphise and Dardanus, 'Des biens que Vénus nouse disperse,' a moment of exquisite beauty before the final gracious and noble Chaconne.
An encore was inevitable, especially perhaps given the early finish at 9.10pm, and so it was to be: a refreshing, fizzy 'Happy we!' the young lovers' duet from Handel's Acis and Galatea, HWV 49.
Colin Clarke