Canada Boulez, Ravel, Saint-Saëns, Berlioz: István Várdai (cello), Vancouver Symphony Orchestra / Jun Märkl (conductor), Orpheum Theatre, Vancouver, 26.1.2020. (GN)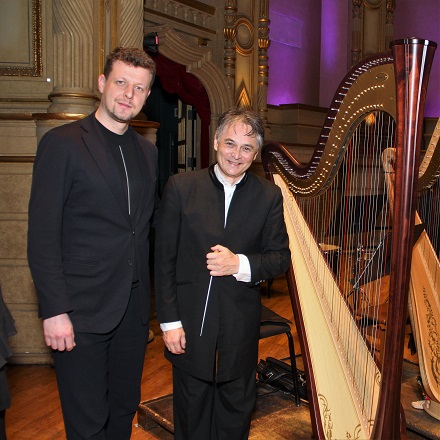 Boulez – Mémoriale (…explosante fixe…Originel)
Ravel – Pavane pour une infante défunte
Saint-Saëns – Cello Concerto No.1 in A minor Op.33
Berlioz – Symphonie Fantastique Op.14
Conductor Jun Märkl has been a frequent visitor to the VSO, and previously gave a sample of his talent in French repertoire with Debussy's Images pour Orchestre. He recorded the complete Debussy orchestral works for Naxos and, more recently, has carried on with Saint-Saëns. This time it was an all-French programme, ranging from Berlioz's Symphonie Fantastique through Saint-Saëns and including short pieces by Ravel and Pierre Boulez. The Fantastique was the big item, and the conductor did not disappoint, offering an interpretation that was cogent, powerful and individual in its focus on the work's darker elements. Hungarian cellist István Várdai displayed his skills in Saint-Saëns' popular Cello Concerto No.1.
It was both unexpected and refreshing to start the programme with Pierre Boulez's Mémoriale (… explosante fixe… Originel), a refined and haunting work for flute and eight instruments that was originally composed to commemorate the death of Igor Stravinsky. This version (with revisions) dates from 1985. The piece specifies definite registers in which each instrument can move and interact, but the evolving textures of the quiet strings combined with the sensitive and precise flute of Chris James yielded a satisfying and transparent result here. Ravel's Pavane pour une infante défunte followed with the full orchestra. This was an attractive makeweight, except that Jun Märkl endowed it with slightly more sensuality and structural heft than it needed: it did not flow as innocently as it might.
It was a pleasure to see young cellist István Várdai again (he last appeared here in 2016), and his gain in maturity is noticeable: he has more technical ease and composure than before. His full range is tonally gorgeous, and the rich, burnished weight at the bottom is quite astonishing. He was a joy to watch throughout the Saint-Saëns Cello Concerto, though I am not convinced that he always got his characterization right. The work requires a certain litheness and sparkle in its motion, and the cellist did not completely find this. In the opening Allegro, his technical agility was disarming but he seemed to lack piquancy and charm. The following movement had some ravishing playing but also some expressive bulges which seemed excessive, while the finale was occasionally foursquare and heavy, not fluid enough. These points are minor in some ways, but they were enough to make me think that the composer's elegance and lightness of spirit were not fully exposed here. Still, this was cello playing of a very fine order, and the performance was enjoyable.
Märkl's Symphonie Fantastique was distinctive in its emphasis on symphonic character, having less airiness and caprice than usual but still managing its own type of ebb and flow. 'Rêveries' started deliberately, building slowly to its first passionate climax, then subsiding to a type of uncertain stasis before slowly building up again. The emphasis was on the methodical nature of this progression more than moment-to-moment volatility. For those who might have difficulty in seeing a threatening element in the work prior to the closing two movements, this was certainly not true here. An emphasis on the sinister lower strings (especially the basses) was everywhere, full of demonic thrust and projection and always colouring the development with strangeness and foreboding.
The Waltz was also taken at a deliberate speed. It was nicely idiomatic in shape but more sober than usual, less given to spontaneous flights of fancy. Rather than a pastoral conceit, the Adagio had greater structural severity and drama: the English horn and oboe projected their lines so explicitly and at such strong volume levels that it almost seemed that a warning or testament was being delivered to the protagonist. After the imposing timpani rolls at the movement's end, the verdict was near. The closing 'March to the Scaffold' and 'Witches Sabbath' had unforgiving force, giving great emphasis to the lower brass and basses. I have rarely heard the bass drum reinforce the insistent rhythms at the end with so much menace.
It was a darker reading than one usually hears, and one where the darkness carries from beginning to end. For all the deliberate speeds and perhaps a trace of calculation here and there, Märkl's experiment had considerable cumulative reach. It turned the work's content into something more consistently threatening and less fantastic, while revealing its structure to be more uncompromising. The orchestra ably assimilated this approach, having only a few executional difficulties in the Adagio.
It's nice to have a truly French evening.
Geoffrey Newman