United Kingdom Various composers – Hibla Gerzmava (soprano) and Ekaterina Ganelina (piano): Cadogan Hall, London, 13.2.2020. (JPr)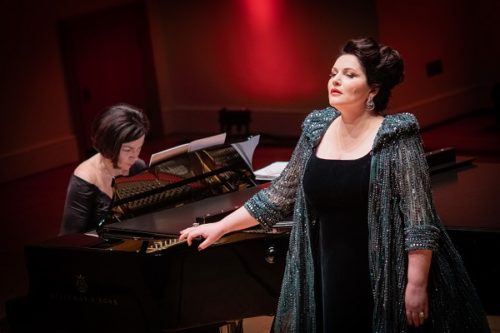 Glinka – 'I remember a wonderful moment'; 'The fire of longing burns in my heart'; 'The Lark'; 'I'm here, Inesilia'
Rimsky–Korsakov – 'It was not the wind, blowing from the heights' Op.43 No.2; 'The flying chain of clouds is thinning in the sky' Op.42 No.3; 'The Song of the Lark' Op.43 No.1
Tchaikovsky – 'It was in the early spring' Op.38 No.2; 'Softly the spirit soared up to heaven' Op.47 No.2
Rachmaninoff – 'Lilacs' Op.21 No.2; 'The Migrant Wind' Op.34 No.4; 'Child, thou art as beautiful as a flower' Op.8 No.2; 'They answered' Op.21 No.4
Donizetti – 'Piangete voi … Al dolce guidami … Coppia iniqua' (from Anna Bolena)
Hahn – 'À Chloris'
Verdi – 'Pace, pace, mio Dio!' (from La forza del destino)
Fauré – 'Après un rêve'; 'Le papillon et la fleur'
Bellini – 'Casta diva' (from Norma)
Time for the oft-repeated phrase about London buses and how you wait a long time for a particular number and then there are two coming at the same time. It has been like that for me and song recitals this week. A few days before I got to see and hear Lise Davidsen in the Barbican Hall (review click here) and now at the Cadogan Hall a somewhat more established soprano, Hibla Gerzmava, made a welcome return to London for a recital with her long-time pianist partner Ekaterina Ganelina. London audiences will get to hear Gerzmava again in June at Covent Garden when she sings Elizabeth of Valois in Verdi's Don Carlo. Based on the thrilling sounds we heard throughout this recital that will be something to look out for.
The Abkhazian/Russian soprano's programme was an eclectic mix of songs and Italian arias. The operatic fireworks were to come after the interval and Gerzmava began with four pieces by Glinka, three by Rimsky-Korsakov, two by Tchaikovsky and four by Rachmaninoff. Although their titles are translated above, all were sung in Russian and the texts were by some of that nation's best-known poets, including several by Pushkin and Tolstoy. Their subject matter was mostly love and desire or nature used as a metaphor for it. They were all impressively sung and a quick glance every so often at the translations in the programme revealed how well Gerzmava was conveying – through her wide-ranging voice, imperious presence, some minimal gestures or occasional swish of her gown's cape – the meaning of each song and so bring them to life.
There were two immediate highlights for the musical partnership of Gerzmava and Ganelina in Glinka's 'The Lark' which had a languid, plaintive quality with the pianist's nimble accompaniment imitating a lark thrilling. Also, the pair combined to create some Spanish heat for the same composer's dance-like serenade 'I am here, Inesilia'. Rimsky-Korsakov drew from Ganelina some more virtuosity especially in the first of his three, 'It was not the wind, blowing from the heights. Here you could almost feel a rustling breeze from the piano as Gerzmava sang with an ardent longing. Tchaikovsky's 'Softly the spirit soared up to heaven' was noticeable for its restrained ecstasy. Ganelina had further opportunities to shine with the opening music and postludes to the Rachmaninoff set of songs. 'Lilacs' had a palpable tender fragrance and 'They answered' had rather more urgency than some of the earlier songs and there was an exquisitely held 'Lyubite!' ('Love') to provide a perfect ending to an engrossing first half.
It was now time for those aforementioned 'operatic fireworks' which began with extracts from the closing scene of Donizetti's Anna Bolena. Imprisoned Anna is losing touch with reality and imagines it is again her wedding day ('Piangete voi?'). It was heart-rendering stuff from Gerzmava. In a deeply poignant performance, she sang her lines with great refinement punctuated by the occasional anguished cries of someone who knows that death is near. Throughout the recital the audience were often so desperately keen to clap Gerzmava that no pause in the music went without applause starting and so to overcome this – in collusion with the ever-supportive Ganelina – Gerzmava raced on to the cabaletta 'Al dolce guidami' as Anna imagines she sees Percy. Now we could experience the full splendour of Gerzmava's legato and coloratura. 'Coppia iniqua, l'estrema vendetta' concludes this final scene of the opera in which Anna vehemently denounces Henry VIII and Jane Seymour. As the scorned woman, Gerzmava's vengeful voice was pushed to its limits in impassioned outbursts from a soprano at the height of her powers.
Hahn's 'À Chloris' was the vocal palate cleanser before Gerzmava launched into 'Pace, pace, mio Dio!' from Verdi's La forza del destino. Here there was some superb vocal shading, great control and beautiful phrasing. Two dreamily reflective Fauré songs followed with 'Le papillon et la fleur' allowing both pianist and soprano to be rather more playful with their music than anywhere in the rest of the programme. During 'Casta diva', the radiant prayer to the moon from Bellini's Norma, there was further dignified, effortless and controlled singing and it brought everything to a triumphant conclusion.
The first of two encores was Ernesto De Curtis's classic Neapolitan song 'Non ti scordar di me' and an enthusiastic audience lapped it up. No one who was at this recital will indeed forget it nor Gerzmava's talent. She then created even more excitement with a rousing Russian folk-dance number 'Travushka-muravushka' which thrilled the large number of her compatriots amongst those filling the Cadogan Hall.
Jim Pritchard