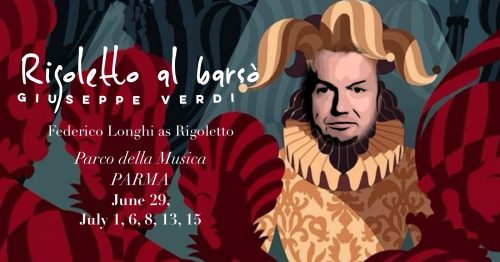 After the success of his debut as Conte di Luna in Il trovatore and his missed debuts (due to the Covid-19 pandemic) as Roberto Devereux at Teatro Massimo Palermo and as Nabucco at Erfurt DomStufen-Festspiele, and also his awaited return to Nice Opera House for Lucia di Lammermoor, Italian baritone Federico Longhi returns on the stage with one of most significative role of his repertoire, Rigoletto, in an extraordinary context, the Music Parc of Parma, in front of the Paganini Auditorium, home of the Philarmonic Orchestra Arturo Toscanini.
The project by Teatro Regio di Parma named Rigoletto al barsò (term that in parmesan dialect means arbor) will mark the music renaissance of the city under the sign of Verdi and the sharing of his art.
Twelve performances from June 29 to July 16: Longhi will perform on June 29, July 1, 6, 8, 13 & 15, alongside Giulia Bolcato as Gilda and David Astorga as Duca di Mantova. 
On the podium of Philarmonic Orchestra Arturo Toscanini there will be Maestro Alessandro Palumbo, while the production will be directed by Roberto Catalano with the lighting design by Fiammetta Baldiserri. Staging elements come from Teatro Regio di Parma Archive.
The access to the performances is allowed to only 190 spectators to guarantee the respect of all the rules starting with the social distancing.
Federico Longhi, whose Rigoletto is defined by the crtitics as 'ideal', 'incredibly nuanced, incredibly authentic', explained: 'Being in Parma to sing this great role that already gave me incredible satisfactions in Italy and abroad, is a strong emotion. Returning singing for a live audience is an inexplicable happiness, and returning to do that with this character so steeped of humanity and with a human psychological complexity so huge is really a gift. In this period of silence I continued to take care of my voice, studying and deepening roles that are already part of my repertoire and others that I hope to sing in the future. I'm looking forward to sing for the parmesan audience and work at this project that brings opera outside the theatre to embrace the city and share with it our love for music and beauty'. 
Federico Longhi began his musical studies as flautist at the Musical institute of Aosta. He then continued into singing studies under the guidance of G. Valdengo, A. Pola, Franca Mattiucci, B.M.Casoni and actually with Alida Ferrarini. He improved his voice techniques at the Accademia Musicale Catalani of Senigallia, at the Toscanini Foundation of Parma, at the Rossinian Accademy of Pesaro and at the International Accademy for Lyrics Katia Ricciarelli in Parma. Winner of numerous International Competitions, in 1995 Federico Longhi started his professional career in Operas that since year 2000 has seen him performing in multiple roles, singing with international celebrities such as Katia Ricciarelli, José Cura, Francesca Patanè and Renato Bruson. After this production in Parma, Longhi will star the closing concert of DomStufenFestspiele in Erfurt.
For more information about Rigoletto al barsò click here.