United Kingdom Live from London Christmas – Winter Tales: VOCES8. Livestream (for information click here) from the VOCES8 Centre, London, on 23.12.2020. (CC)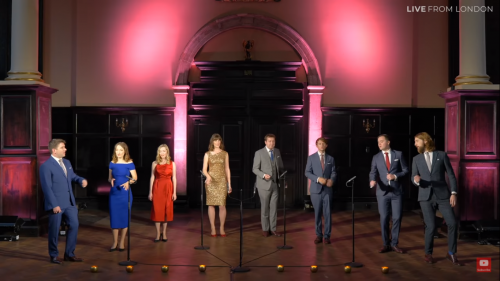 Bach – O Jesulein süß, BWV 493
Trad. – Gabriel's Message (arr. Clements)
Scheidt – Puer natus in Bethlehem
Sweelinck – Hodie Christus natus est
Britten – Corpus Christi Carol (arr. Brough)
Stopford – Lully, Lulla, Lullay
M. Praetorius – Magnificat Quinti Toni (incorporating Joseph, Lieber Joseph Mein and In Dulci Jubilo)
Rathbone – The Oxen
Pickthall – Christmas Lullaby (arr. Moore)
Trad. – Silent Night
Coots/Gillespie – Santa Claus is Coming to Town
Styne – Let it Snow (arr. Clements)
Plus: Ola Gjeilo – Northern Lights (Voices of Singapore / Darius Lim)
and Smith/Holst – Thaxted (VOCES8 and the VOCES8 Scholars)
The final VOCES8 concert in this season, Winter Tales, brought with it two stocking fillers. First up was a performance of Ola Gjeilo's Northern Lights by the Voices of Singapore under Darius Lim, a performance notable for the beauty of the top voices. A lovely, luminescent piece heard in a properly unhurried performance.
That opened the stream; to close was a new commission written by Paul Smith performed by VOCES8 and the VOCES8 Scholars from across the UK and US, to the words O God beyond all praising, written in commemoration of Stephen Cleobury. The text is by Michael Perry; Anna Lapwood was on organ, delivering a terrifically exciting organ part oscillating with the choirs. VOCES8 was shown singing together, with a Zoom-like display for the other voices. The big tune is Holst's hymn that features also in 'Jupiter' of The Planets; the solo section for the VOCES8 Academy voices worked really beautifully, as did the ecstatic nature of the closing measures.
The programme proper began with a sacred song, Bach's O Jesulein süß (O little one sweet, to use the VOCES8 translation), a lovely strophic song in two verses, given with a beautiful tone here. Intriguingly, the move to Jim Clements's arrangement of Gabriel's Message was more of a shift of emphasis than a shift of gears; it also featured a lovely solo from soprano Eleonor Cockerham.
A lovely pair of pieces by Scheidt and Sweelinck followed (appropriate they should function as a pair, as Scheidt was a pupil of Sweelinck). The spring in the step of Scheidt's Puer natus est imbued a real celebratory aspect. A piece that allows individual members of the group to solo, it ceded to Sweelinck's Hodie Christus natus est, (as the spoken introduction hinted, it is so easy to imagine this played by brass group, with its shining textures and bright upward-bound gestures).
Harvey Brough's 2013 arrangement of Benjamin Britten's Corpus Christi Carol, written for VOCES8's Eventide album, exudes the warmth VOCES8 so excels at, with Philip Stopford's Lully, Lulla, Lullay as the perfect partner (given that that very phrase is a key part of Britten's piece), the perfectly judged major-mode arrival at the end beautiful.
Back in time again, to Heironymous Praetorius's Magnificat. Chris Moore sang the first verse to a Christmas tone of plainsong, the group responding with eight-part polyphony. The piece is arranged into two choirs of four parts each, divided into upper voice and lower voice quartets so Praetorius can contrast Earth and Heaven. Two macaronic texts are inserted in amongst the verses of the Magnificat. There was a superb purity of the upper voices, particularly perhaps that of Andrea Haines. Hearing the familiar strains of In Dulci Jubilo give way to Moore's delivery of plainsong and antiphonal writing that makes such good use of the upper and lower-voice choirs was to experience a real treat of musical sleight-of-hand in a Renaissance setting. This performance encapsulated all the celebratory power of the season alchemically melded with complex processes to create something larger than both.
It is a long way to the harmonies of Jonathan Rathbone's The Oxen, a sort of choral equivalent to spiced mulled wine. David Pickthall's Christmas Lullaby is a tricky piece, so all credit to VOCES8's pinpoint pitching.
Thomas Elwin's arrangement of Silent Night allowed Euan Williamson's tenor to shine, his and other solo lines heard against a wordless background. Two Christmas sing tunes in the manner of Michael Bublé rounded off the event: an incredibly slick Let it Snow and Santa Claus is Coming to Town.
Colin Clarke