United Kingdom Rosenblatt Recitals at Home in aid of Target Ovarian Cancer – Verismo: Available as audio and video streaming if you click here. (JPr)
Leoncavallo – Pagliacci: 'Vesti la giubba' – Bryan Hymel (tenor) & Jonathan Szymanski (piano); 'Stridono lassù' – Serena Gamberoni (soprano) & Davide Cavalli (piano)
Puccini – La bohème: 'Che gelida manina' – Ivan Magrì (tenor) & Massimiliano di Fino (piano); 'Sì, mi chiamano Mimì' – Ailish Tynan (soprano) & Iain Burnside (piano); 'Donde Lieta' – Rosa Feola (soprano) & Carlo Feola (piano); Tosca: 'Vissi d'arte' – Angel Blue (soprano); Gianni Schicchi: 'Oh mio babbino caro' – Irini Kyriakidou (soprano) & Jonathan Szymanski (piano): Madama Butterfly, 'Un bel dì vedremo' – Eleonora Buratto (soprano) & Luca Capoferri (piano); Turandot, 'Signore ascolta' – Rosa Feola (soprano) & Carlo Feola (piano); 'Nessun dorma' – Joseph Calleja (tenor)
Ian Rosenblatt OBE, the founder of Rosenblatt Recitals, introduces his 'at Home' series as follows: 'Rosenblatt Recitals at Home aims to bring some much-needed sunshine from artists' homes to those of music lovers around the world. The majority of singers had to film and record themselves and all were socially distanced; at the outset, we didn't really know what to expect. The result is beyond anything I could have wished for and a wonderful celebration of the voice on the twentieth anniversary of Rosenblatt Recitals. I do hope that the eight programmes will raise everyone's spirits as well as provide much needed funds for this amazing charity, Target Ovarian Cancer.'
Annwen Jones OBE, Target Ovarian Cancer's chief executive, explained (in an interview) now during the various lockdowns their normal face-to-face service had to stop so they moved everything online and 'built ovarian cancer communities and we've seen so much interaction and engagement. Although it's not the same as face-to-face but we have reached so many more women, so many more families […] we've also had a nurse support line too, so women can call and get specialist advice […] or they just want to have a chat.' In praise of the Rosenblatt fund-raising initiative, Jones said how it is 'a lifeline' for the charity.
Firstly, I must emphasise that it is all in an excellent cause as proceeds will be donated entirely to the charity (click here), and secondly, that this series is a musical treat that must be one of lockdown's best kept secrets because I have read (too) little about it elsewhere. I joined it for the fifth of the eight programmes – Verismo – featuring a selection of those 30 singers, all former Rosenblatt recitalists.
Given the circumstances under which this programme – and I assume the others – was created it is very well presented thanks to Simon Weir of Classical Media. There is some background information to what we see and hear from two familiar presenters, Suzy Klein and Petroc Trelawny. (My only concern is that the eloquent Trelawny always has the mien of someone who might have heard the music he introduces rather too often.)
For Verismo we are in the USA, Italy, UK, and Malta, often in white-walled or book-lined music rooms and Trelawny tells us that 'Verismo is the Italian word for truth, for realism; a new style of opera that came to life at the end of the nineteenth century. Forget gods, myths, kings and queens, instead the focus turns to working men and women and their problems, generally of a sexual, romantic, or violent nature.'
There is so much to enjoy, and this is not something to be too critical about because of all the goodwill and good intentions. Also, it must be remembered that the conditions in which the singers are being heard are often far from ideal. Kudos of course to all the accompanists: Iain Burnside, Luca Capoferri, Davide Cavalli, Carlo Feola, Massimiliano di Fino, and Jonathan Szymanski who play a variety of pianos; grand, baby grand, or upright.
From New Orleans, Bryan Hymel led the way with his burly tenor managing to convey the raw emotions of Canio's 'Vesti la giubba'; followed by more from Pagliacci as Serena Gamberoni (in Genova, Italy) captured well Nedda's desire in her 'Bird Song' to escape, though her voice was a little steely and with insufficient vocal agility – on this occasion – for 'Stridono lassù'. We looked out onto Ivan Magrì's Italian garden in Francavilla al Mare for Rodolfo's 'Che gelida manina' sung with solid musicianship and a nice bloom in his upper register. Ailish Tynan in London seemed a little self-conscious having to sing 'Sì, mi chiamano Mimì' in such intense close-up and was not entirely at ease. This segment was intriguing because of (I assume?) – the otherwise concealed – Iain Burnside's bare legs seen below the piano!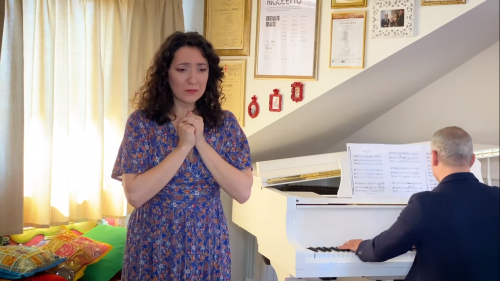 Back in Italy – though this time in Caserta – Rosa Feola, sang Mimì's soft and poignant Act III aria ('Donde Lieta') expressively and with an expertly controlled soprano sound (her brother Carlo played the piano). Angel Blue's 'Vissi d'arte' was recorded in New York and was something of an oddity as she sang to an orchestral backing track in front of a projection of a Rococo-style living room with (fake?) roaring flames in the ornate fireplace. Blue's plea to God was as convincing and heartfelt as we have all come to expect from this wonderful soprano. Also in New Orleans, Irini Kyriakidou rendition of the very familiar 'Oh mio babbino caro' was an honest one but it failed to engage me as some of the best can. From a piano shop near her Italian home Eleonora Buratto's 'Un bel dì vedremo' was a stagier affair, though her 'One Fine Day' was full of yearning, exquisitely phrased, and with barely a hint of strain. The young Rosa Feola gave further evidence – with Liù's 'Signore ascolta' from Turandot – that hers was the best voice we heard as a refined legato and tender feeling combined touchingly.
The final aria of an entertaining 45 minutes stood apart from some of the other – slightly more sophisticated – technical wizardry and we saw Joseph Calleja at home in Malta recorded on his phone singing 'Nessun Dorma'. It was an accomplished and impassioned performance, though it looked – rather peculiarly – as if he were sitting at the piano and accompanying himself, though it must have been a recording he sang to.
Jim Pritchard