United Kingdom Tchaikovsky, The Nutcracker: Dancers of The Royal Ballet, Orchestra of the Royal Opera House / Koen Kessels (conductor). Encore screening (directed by Peter Jones) at Everyman Cinema, Chelmsford, of the 9.12.2021 performance at the Royal Opera House, Covent Garden, 13.12.2021. (JPr)
Production:
Choreography – Peter Wright (after Lev Ivanov)
Choreography Act I Battle Scene – Will Tuckett
Adapted Arabian Dance – Gary Avis
Production and Scenario – Peter Wright
Original Scenario – Marius Petipa (after E.T.A. Hoffmann's Nussknacker Und Mausekönig)
Designer – Julia Trevelyan Oman
Lighting Designer – Mark Henderson
Cast included:
Herr Drosselmeyer – Christopher Saunders
Clara – Isabella Gasparini
Hans-Peter/The Nutcracker – Luca Acri
The Sugar Plum Fairy – Yasmine Naghdi
The Prince – Cesar Corrales
I am hoping to be back to the English National Ballet's Nutcracker soon and that is something I have especially enjoyed because we see all the fantasy and romance of the timeless ballet as Clara's dream as hormones are kicking in and puberty is fast approaching. Regardless, Wayne Eagling's version still lacks something in dramatic coherence. I have returned to Sir Peter Wright's 1984 iconic production after a gap of some years and here too you need to read his synopsis revealing how 'the wicked Queen of the Mice cast a spell over Drosselmeyer's nephew, Hans-Peter, which transformed him into an ugly Nutcracker Doll.' The 'timeless magician and creator of mechanical toys and clocks' had eliminated half of the mouse population in a royal palace and that was her revenge. To break the spell the Nutcracker must commit an act of great bravery by defeating the Mouse King and – despite his appearance – be redeemed by the love of a young girl.
I saw Peter Wright's The Nutcracker first in 1984 and several times since and as enjoyable as it still is I was strongly reminded at the Royal Opera House's Encore screening – the first of theirs at the cinema for about two years – how little of this is explained both onstage and in its presentation. For the select few in Chelmsford it was assumed they knew the story and no cast sheets were offered. Overhearing some of them that was not the case, and they did not entirely follow what was going on. There is also the extended mime for the Nutcracker in Act II which is ok for me as I understand the gestures, but it can be meaningless for some (most?) watching without additional explanation. Nevertheless, it remains the glittering (sometimes literally!) showcase for the talents of The Royal Ballet who – on the evidence of what I have seen on their ongoing return after their pandemic hiatus – are on their very best form.
E.T.A. Hoffmann's original tale (The Nutcracker and the Mouse King) is quite a dark affair and open to reinterpretation, particularly, in a Freudian way or as the stuff of nightmares. In 1968 Rudolf Nureyev brought a psychoanalytic dimension to his Nutcracker for The Royal Ballet and for him Drosselmeyer and the Prince were one and the same person. They represent the ideal man of Clara's dreams as she is ready to leave her childhood behind and become a teenager. My first Nutcracker at Covent Garden was when I saw Nureyev perform this dual role in 1977. Over the years I did believe this was the best solution for the story but, of course, in 2021 there might be connotations here that perhaps should not be put before the typically young audience this ballet attracts. Perhaps best to leave it as how Eagling shows it at ENB with the Nutcracker and Clara becoming the Prince and the Sugar Plum Fairy. As for The Royal Ballet's The Nutcracker repeated series of performances with umpteen cast changes are virtually guaranteed to sell-out each year (even in these difficult times) and so, I guess, 'if it ain't broke don't fix it'.
Peter Wright (who turned 95 years young at the end of November) sets his Nutcracker in fairy-tale bygone times when children were allowed still to be children, and – thinking about 2021 again – grown-ups weren't afraid to bump into each other under the mistletoe at Christmas festivities in case they could be accused of something inappropriate! There are Royal Ballet students aplenty in the first scene (with a particularly well-characterised spoiled brat from Sasha Dobrynin-Lait as Fritz) though they were conspicuously absent – due to Covid precautions – during Will Tuckett's lowkey rechoreographing of the Battle Scene.
Julia Trevelyan Oman's designs in closeup – in Peter Jones's exceptional direction for the screen – are clearly showing their age after 37 years. Initially we see the Stahlbaum's party for family and friends, somewhere not far from the Black Forest in picturesque mid-nineteenth century Germany. There is lots of twee domestic cosiness, though there is an anarchic St Nicholas Eve parade that invades the house and Drosselmeyer is at the centre of everything that transpires at the Christmas party; from entertaining the guests with his magic, to attempting to orchestrate the rescue of his nephew, Hans-Peter, from his fate as the Nutcracker.
Drosselmeyer uses a Christmas Angel he has made for the top of the Christmas tree to watch over Clara, as a greater force for good than he is. The tree grows to a dizzying height (still a captivating stage effect) and he draws Clara – perhaps shrinking Alice-like – into some surreal, dream-like adventures. Drosselmeyer has puts the Nutcracker doll in Clara's care and I am not sure I spotted before her putting it to bed in – what looked like – a gingerbread house that we see will see come on stage larger-than-life as Clara helps toy soldiers and the Nutcracker battle the evil mice. She vanquishes the Mouse King by beating him over the head with one of her slippers and so as she proves her bravery and love for the Nutcracker by saving his life, Clara can grow up. Snowflakes fall and Clara and the Nutcracker are transported to the Sugar Garden in the Kingdom of Sweets for all the set-piece choreographic bonbons we expect.
With the spell broken Hans-Peter tells his story to the Sugar Plum Fairy and there follows a series of delectable – though contentious – divertissements. The dances – Spanish, Arabian, Chinese and Russian – could all be accused of, at best, exoticism or, at worst, cultural appropriation. This is revisionism of course of something that has been relatively unchanged for most of its 129 years. The Arabian Dance has been adapted by Gary Avis and Melissa Hamilton captivates with her sultry slinkiness in her duet with Lukas B. Brændsrød, The Chinese Dance has also been simplified from when I last saw it and is just an acrobatic affair for Leo Dixon and Calvin Richardson who – understandably – have none of the makeup of previous times.
It was wonderful that – as The Royal Ballet's Director Kevin O'Hare revealed – Isabella Gasparini and Luca Acri now had the opportunity to been seen on screen (as Clara and Hans-Peter/The Nutcracker) that they were denied by the pandemic last season. Gasparini whose dancing was as spirited and her acting committed; as a result she was almost perfect as the heroine Clara, for whom the world is full of wonders. There was an appealing chemistry with Acri's bewitched Nutcracker who also acts with boyish conviction, and we believe in their wholesome romance. Acri's technique is clean and precise with light buoyant jumps. As the master of ceremonies Christopher Saunders performed all his magic tricks with great assurance and was an unthreatening and avuncular Drosselmeyer. As a result he was less domineering than some and thoroughly deserving of the heart-warming reunion at the end with Hans-Peter.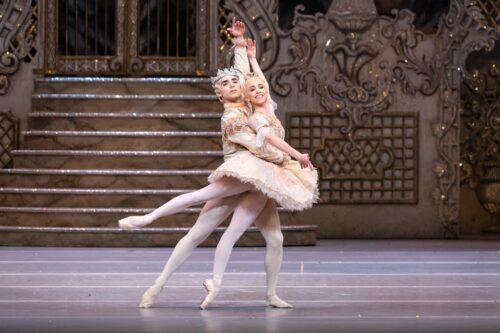 Before the fireworks of the grand pas de deux the pure dancing we see when we reach the Kingdom of Sweets showed the company at its very best. The corps de ballet who scintillated as snowflakes were suitably fragrant during the 'Waltz of the Flowers' while the eye-catching Yuhui Choe was quick and precise as a delightful Rose Fairy. If Yasmine Naghdi has danced better than she currently is I would have loved to have been there and – with her best years still ahead of her – she has been exceptional in all three performances I have seen from her in less than two weeks; some contemporary dance from Wayne McGregor (review here), as Giselle (review here) and now as the Sugar Plum Fairy. The smile rarely left Naghdi's face and she genuinely seemed to be enjoying herself. Her movement around the stage seemed entirely natural, and Naghdi's dancing was luminous, stylish and exquisitely musical. Cesar Corrales looked as if he had been let of the leash for his solo dancing as her Prince and he brought back memories of what an exciting dancer he was in his formative years at ENB. Corrales's leaps defied gravity and were landed cleanly, and he circled the stage with all the zeal I remember from before. However, Jones's closeup camerawork was a little unforgiving and Corrales's tentative partnering of Naghdi (who had replaced an injured Akane Takada) did reveal how they had only one previous performance together in this Nutcracker.
Resounding through the cinema loudspeakers Tchaikovsky's sumptuous score rarely has sounded better than it did for this performance from the Royal Opera House orchestra under their Music Director Koen Kessels. Kudos to Kate Shipway who during the interval introduced us to her celesta solo and during Naghdi's crystalline Sugar Plum Fairy variation it did indeed sound like the 'drops of water shooting from a fountain' Petipa requested from Tchaikovsky.
Jim Pritchard