United States The Townhouse Series: Angel Blue (soprano), Dashon Burton (baritone), Anthony Roth Costanzo (countertenor), Toyin Spellman-Diaz (oboe), Clare Monfredo (cello), David Shifrin (clarinet), Daniel Schlosberg (piano), Cantata Profana, The Merz Trio. The Frederick R. Koch Foundation Townhouse, New York, 13-19.12.2021. (RP) (The entire series is available for streaming on the Foundation's website, Facebook, Instagram, YouTube and Vimeo.)
If you are looking for something to brighten up January, look no further than The Frederick R. Koch Foundation's gift to music lovers everywhere: The Townhouse Series, curated by Daniel Schlosberg. The Foundation is streaming, free of charge, seven concerts performed in December at their historic townhouse on New York's Upper East Side.
The Foundation's mission is to support the work of emerging scholars, performers and other creative artists; the preservation of collections and historic properties that Koch acquired during his lifetime; and the use of those properties for performances and other activities that further the arts and humanities, civil discourse and the common good. Just providing work for performing artists at present checks most of these boxes. Music-making of this caliber kicks it up to an entirely new level.
The late Frederick R. Koch (1933-2020), a member of one of America's richest families, was a philanthropist and connoisseur who collected art, literature, music and grand homes. He's not to be confused with his brother David, who gifted $100 million for the renovation of The New York State Theater at Lincoln Center, which was subsequently renamed in his honor.
Frederick Koch never sought the limelight. In the 1980s, he provided the funds for building the Swan Theatre in Stratford-upon-Avon but wished to remain anonymous. Queen Elizabeth II, who presided at the opening, thanked the 'generous benefactor' who stood beside her, but did not mention him by name.
Among the grand houses that Koch collected was Sutton Place in Surrey, which was built by a courtier of Henry VIII and had been the home of J. Paul Getty, once deemed to be the richest man in the world. Koch also owned Blühnbach, a castle in the Austrian Alps near Salzburg that was the hunting lodge of Archduke Franz Ferdinand, whose assassination sparked World War I. The neoclassical, white marble townhouse in which this series was filmed was built by 'Five-and-Dime' magnate Frank Winfield Woolworth for one of his three daughters.
The concerts feature an array of artists, ranging from renowned clarinetist David Shifrin, whose career stretches back to when he was the principal clarinetist of the American Symphony Orchestra under the baton of Leopold Stokowski, to cellist Clare Monfredo, who is currently pursuing a Doctor of Musical Arts at the CUNY Graduate Center. What unites them is their excellence as performers and having been tapped by Schlosberg for this series.
Schlosberg is a composer/pianist whose music has been performed in the US, Europe and Asia, as well as a Renaissance man. His musical pursuits run the spectrum from co-director of Heartbeat Opera, which presents cutting-edge chamber arrangements of the classics in English, to appearing as the pianist in the new film version of West Side Story.
In The Townhouse Series, Schlosberg performed alongside Monfredo and Shifrin, as well as soprano Angel Blue, countertenor Anthony Roth Costanzo and oboist Toyin Spellman-Diaz. His skills as a pianist are on the same level as his taste in music and musicians. To paraphrase Costanzo, there aren't many pianists who can play both Liszt and Gershwin to perfection. Of course, Brahms, Debussy, Poulenc, Rachmaninoff and others have to be added to the list.
Spellman-Diaz described her program as a wonderful array of music: her performance of an arrangement for oboe of Bach's Sonata in G minor is one of them. Her words apply to the entire series, but each of the concerts had a moment that resonated, as did her performance of the Bach.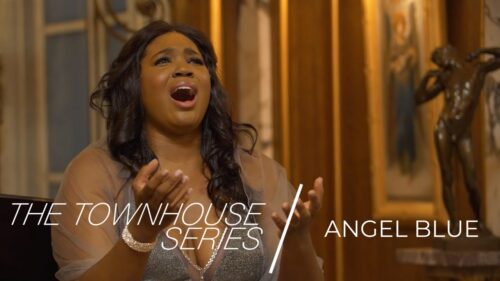 Angel Blue's recital was in essence a tribute to Leontyne Price. Practically every song was in some way linked to the great American soprano, especially 'Ride on, King Jesus' with which Blue ended the recital, as Price did many of hers.
Gregory Spears composes in a style that Costanzo described as an exquisite mix of the Baroque and Minimalism. The countertenor's performance of 'Fearsome This Night' from Spears's opera/ballet Wolf-in-Skins was spellbinding.
Two of the most soothing performances of the entire series were Shifrin's performance of Brahms's Clarinet Sonata No.2 in E-flat major and the Merz Trio's performance of the same composer's Piano Trio No.1 in B major. In wasn't only Brahms's melodies that instilled a sense of calm, but also the depth of emotion with which the artists played.
The first music heard in each of the videos is from Carolyn Shaw's in manus tuas, based on a sixteenth-century motet by Thomas Tallis played by Monfredo. The spiky opening notes are evocative and grab one's attention. Moreover, the work sums up the ethos and ambitions of The Townhouse Series, which is also the mission of Cantata Profana – to breathe life into classical music by carefully weaving together rarely heard works from every chapter of music history and reveling in how it all fits together.
Rick Perdian