Spain Verdi, Giordano, Massenet, Thomas: Plácido Domingo (baritone), Sonya Yoncheva (soprano), Teatro Real Orchestra / Jordi Bernácer (conductor). Teatro Real, Madrid, 17.7.2022. (JMI)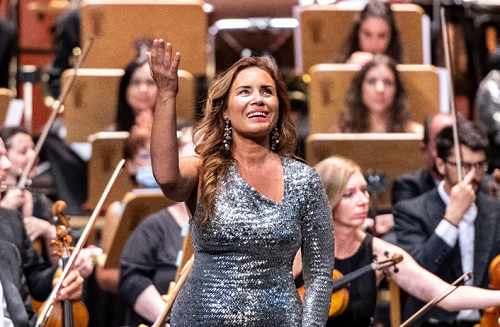 Verdi – Sinfonia, 'Pace, Pace mio dio' (La forza del destino); 'Pietà, rispetto, amore' (Macbeth); Sinfonia (Luisa Miller); 'Madamigella Valéry?' (La traviata); 'Ciel! Mio padre!' (Aida)
Giordano – 'Nemico della patria' (Andrea Chénier)
Massenet – 'Pleurez mes yeux' (Le Cid); 'Méditation' (Thais);
Ambroise Thomas – 'O vin, dissipe la tristesse' (Hamlet)
Plácido Domingo has returned to sing in his native Madrid, although it was a performance organized by a private entity. The artist is officially banned from Spain as a result of a sex scandal, prompted by accusations that have not yet been proven. Thus, the concert was an homage from his fellow citizens, without the presence of authorities in the theater. Domingo had not performed in Madrid in the past three years, when he sang in a concert of Verdi's Giovanna d'Arco.
There is no doubt that we are talking about one of the great singers of the past 50 years, a true vocal miracle: it is not easy to understand how a person over 80 years of age can maintain the freshness. There is no question that his voice is not that of his golden years, and neither is it the one he exhibited when I heard him three years ago, but he continues to attract attention and has not lost anything that has always characterized him.
This was an occasion for Madrid opera lovers to show him a true tribute of affection and admiration. It must also be said that there was an important economic background too: the prices were truly stratospheric.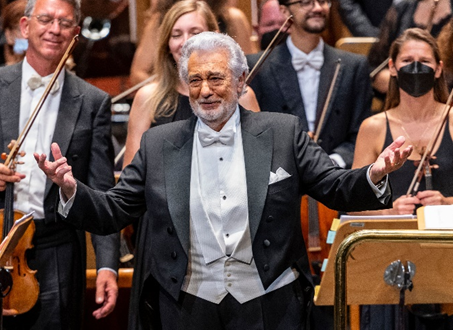 As soon as he entered the stage, Domingo received a triumphant reception, with the audience standing and offering a long ovation. From then on he continued to receive great applause from the audience after each of his songs, three arias and two duets, to which should be added a zarzuela aria and duet in the encores. Obviously, his voice has lost some brightness and amplitude, and he is now more baritone than tenor of course, but he is still an artist on stage.
He was accompanied here by soprano Sonya Yoncheva, who sang two arias in addition to the duets with Domingo. She also surprised us by singing zarzuela in the encores.
The performance began with Plácido Domingo interpreting 'Nemico della patria' from Andrea Chenier, where he was not particularly brilliant. It continued with Sonya Yoncheva, who sang the aria 'Pace, Pace' from La forza del destino, where she showed her beautiful voice although her interpretation did not seem extraordinary to me – I miss the pianissimi of Montserrat Caballé in this aria. Domingo continued with an aria from Macbeth, 'Pietà, rispetto, amore', where I found him much more convincing than in Andrea Chénier. The first half of the concert ended with the duet of Violetta and Germont père from La traviata, where both were impressive.
The second part began with Yoncheva doing 'Pleurez mes yeux' from Le Cid, where, in my opinion, she offered the best singing of the evening. Domingo then sang 'O vin, dissipe la tristesse' from Hamlet, and they finished the 'official concert' with the Act III duet of Amonasro and Aida, which both sang very well.
The encores were dedicated by both artists to zarzuela. Sonya Yoncheva interpreted the romanza from La Marchenera by Federico Moreno Torroba, which she sang with gusto. Domingo followed with 'Amor, vida de mi vida' from Moreno's Maravilla, and he was excellent. They finished with the duet of Soleá and Rafaelillo from El gato montés by Penella.
The Teatro Real Orchestra, conducted by Jordi Bernácer, accompanied the stars with care and attention, in addition to playing the overtures of La forza del destino and Luisa Miller and the 'Méditation' from Thais, where the orchestra's concertmaster stood out in a special way.
José M. Irurzun