United Kingdom Rossini, The Barber of Seville: Soloists, Chorus and Orchestra of the Royal Opera House / Rafael Payare (conductor). Broadcast (directed for the screen by Peter Jones) from the Royal Opera House, Covent Garden, London, to Cineworld Basildon, Essex, 15.2.2023. (JPr)
Production:
Directors – Moshe Leiser and Patrice Caurier
Set designer – Christian Fenouillat
Costume designer – Agostino Cavalca
Lighting designer – Christophe Forey
Chorus director – William Spaulding
Fortepiano continuo – Mark Packwood
Cast:
Rosina – Aigul Akhmetshina
Figaro – Andrzej Filończyk
Count Almaviva – Lawrence Brownlee
Don Basilio – Bryn Terfel
Doctor Bartolo – Fabio Capitanucci (acting), Grant Doyle (singing)
Berta – Ailish Tynan
Fiorello – Josef Jeongmeen Ahn
Ambrogio – Charbel Mattar
Officer – Dawid Kimberg
Notary – Andrew Macnair
The Barber of Seville was composed extraordinarily quickly – taking only three weeks and has a recycled overture – and was premiered in 1816 causing great controversy, yet it has become one of the most loved operas of all time. Why was it controversial? Well, firstly it was far from original, as Beaumarchais's 1772 play had already attracted another composer, Giovanni Paisiello, whose 1782 opera was a big hit. When Paisiello's admirers found out about Rossini's new work they caused a commotion at the first performance which did not go well and things looked fairly bleak for Rossini.
In the end, however, his version soon surpassed the rival one in popular appeal throughout Europe and beyond. In 1825 it was the first opera to be sung in Italian in New York, and Rossini was arguably the most popular composer in the world at the time. As it happens, The Barber of Seville can now feel like quite a modern idea because, from films and TV, audiences are more familiar with the idea of 'prequels' than people in the early nineteenth century would have been. Beaumarchais followed up his original play with The Marriage of Figaro in 1778 and this 'begat' Mozart's wonderful opera eight years later – and thirty years before Barber was composed – featuring the continuing story of Rossini's characters.
The opera buffa plot was rather formulaic even in Rossini's own time because Beaumarchais's characters have their roots in the commedia dell'arte tradition which dates back to sixteenth-century Italy and was still popular in much of Europe 200 years later. Figaro, Count Almaviva (in one of his three disguises as a soldier) and Doctor Bartolo reflect the 'stock' characters of the cunning servant, the braggart soldier and the duped, doddery old man. The main story is the extraordinarily familiar one in opera of a pair of young lovers being united after overcoming a number of – seemingly insurmountable – obstacles.
Since most of Barber takes place inside Bartolo's house Rosina is confined in – and the story of the opera is simply to free her from that confinement – directors Moshe Leiser and Patrice Caurier stage most of the action within Christian Fenouillat's simple box-like set whose walls and floor are covered in brightly coloured stipes. These colours – now even more garish – extend to Agostino Cavalca's costumes, notably Figaro's red and white barber's pole-like top worn under blue dungarees, and the yellow ruffled shirt and red suit Count Almaviva – when not in disguise as a soldier or Don Antonio – wears. Rosina is also in red and yellow whilst Bartolo has a shiny brown waistcoat and green trousers. There is an overall cartoon-like appearance to everything which is augmented by the false noses for the bewigged band of musicians in the first scene and Leiser and Caurier's Keystone Cops.
For Act I, Scene 1 the box is open at the back and all we see is a gnarled olive tree, a crescent moon and Rosina's balcony with its prison bars. This allows for the arrival of Almaviva's servant, Fiorello, at the back with his small orchestra. Elsewhere, the rear wall will lift to reveal the policemen later in Act I and again near the end of the opera as the happy ending approaches when they will be accompanied by heart-shaped balloons (appropriate for the day after Valentine's Day). For Scene 2, Rosina is imprisoned within a box with only one chair, later there are doors, windows and other furniture – such as a harpsichord and tall dresser – when needed by the plot. During the second act's stormy interlude everything on the stage gets a battering from Rosina when she thinks she has been betrayed by Lindoro (Almaviva in his first disguise) who she truly loves. For all the total confusion Rossini has created at the end of the first act there is a veritable coup de théâtre from Leiser and Caurier as the entire box starts moving about mimicking the characters' bewilderment. (I initially thought Peter Jones was shaking his cameras like they do in Star Trek!)
I must admit here that due to local technical difficulties much of Scene 2 was missing for those watching in Basildon from after Rosina's cavatina, 'Una voce poco fa' until the last minutes of ensemble craziness, yet Act II was a triumph which needs to be acknowledged. We did lose Don Basilio's 'La calunnia è un venticello'), a Figaro and Rosina's duet, and Bartolo's aria 'A un dottor della mia sorte'. It was a shame that this was the scene affected and not the first one which could mostly be cut apart from Lindoro/Almaviva's 'Ecco, ridente in cielo' and, of course, Figaro's famous entrance aria.
All was well then for what turned out to be a brilliant second act when most of the physical comedy was pure slapstick. It was odd to hear from the directors Leiser and Caurier – who oversaw this fifth revival – that 'One of the most important things for us when we approach a comedy is to tell the singers "Don't play comedy, play the situation, don't play funny.' Well, for me, after the dull opening scene this Barber succeeded because a sense of character went out the window – had there been any in the set! – and the cast simply played it for laughs.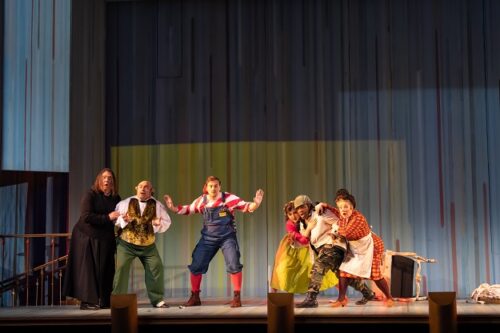 Musically and vocally, I am aware that what I write is about an incomplete performance but I am certain I saw and heard enough to comment. It must be remarked that we were told that this was Lawrence Brownlee's 23rd production of Barber since his debut as Almaviva in 2002. We were shown him working with conductor Rafael Payare but it was more a case – in the nicest possible way – of the master (Brownlee) coaching the pupil (Payare). Not that Brownlee was entirely at his ease acting or singing on this occasion, and notably while his tenor voice was suitably sweet-toned and elegantly phrased there seemed some tightness at the top of his voice. Aigul Akhmetshina's Rosina was suitably flirty, flighty and her fit of jealousy when she wrecked the furnishings in Act II was impressive. Her mezzo-soprano had the darker (contralto-like) sound many prefer in the role while I like a lighter voice with more sparkle.
Andrzej Filończyk was a charismatic Figaro and oozed personality, he particularly had great fun making his first appearance through the stalls for a showstopping 'Largo al factotum'. With more than a hint of Don Pasquale about him, Fabio Capitanucci brought a fine sense of comic timing to the ageing, lecherous Bartolo's increasing desperation to marry the much younger woman. Grant Doyle was singing for him offstage and revealed a fine baritone voice with excellent diction. The precision of the miming – Covent Garden are becoming experts at this now it seems – was remarkable. Ailish Tynan's harried, sneezy Berta overcame a false nose and exaggerated costume to make her Act II aria ('Il vecchiotto cerca moglie') another showstopper on this evening. Even most of the smallest roles were equally well cast, though I wasn't quite as happy with Bryn Terfel's cameo as Don Basilio. I would prefer to remember him for the great Wagner roles he was always destined to sing from the start of his career and may not – physically or vocally – be able to sing now. Terfel's voice has much of the resonance and focus we remember, though character-wise there was too much gurning for my liking.
Rafael Payare is music director of San Diego Symphony and Orchestre Symphonique de Montréal and was a rather diffident figure on the podium but his account of Rossini's score from his accomplished orchestra – as heard through loudspeakers – was radiant, brisk and a display of musical joie de vivre.
Jim Pritchard