United Kingdom Steel Magnolias (a play by Robert Harling): Palace Theatre, Westcliff-on-Sea, Essex, 7.3.2023. (JPr)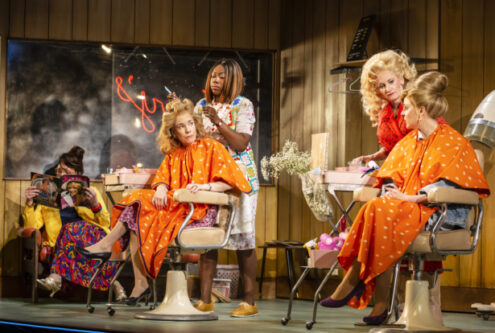 Creatives:
Director – Anthony Banks
Set Designer – Laura Hopkins
Costume designer – Susan Kulkarni
Wig designer – Richard Mawbey
Lighting designer – Howard Hudson
Sound designer and Music – Ben and Max Ringham
Cast:
Laura Main – M'Lynn Eatenton
Harriet Thorpe – Ouiser Boudreaux
Diana Vickers – Shelby Eatenton-Latcherie
Lucy Speed – Truvy Jones
Caroline Harker – Clairee Belcher
Elizabeth Ayodele – Annelle Dupuy-Desoto
I won't compile a list though I have watched several things in the theatre based on famous movies I have never seen. Steel Magnolias is the latest, but actually the play came first before Hollywood (starring, amongst others, Dolly Parton and Julia Roberts). Robert Harling's play – first seen in the West End in 1989 – was based on events in his own family and the death of his sister from complications of diabetes after the birth of his nephew and the failure of a kidney transplant donated by a family member. As John Good wrote in the programme his sister 'enjoyed the undying support of an exceptionally strong network of female friends and family of varying ages and circumstances, as portrayed in Harling's play.' We also learnt how 'Once the play opened in the mid-1980s in New York, Harling soon realised he had written a comedy. "When the first preview audience came in, there was all this laughter, and we had no idea. We were completely thrown because we thought we had been rehearsing a drama.'
Magnolias are the state flower of Louisiana and Harling has said now they 'are fragile and bruise easily … qualities often attributed to Southern women … if you look underneath, they possess a tensile strength stronger than anything I could muster. Their strength, joy and laughter rang out no matter what life threw at them.'
So there you have it, and Steel Magnolias introduces us to six women, who regularly come together at Truvy's hairdressing salon: Truvy Jones admits she is built for 'comfort not speed' and is the owner of the salon; at the start of the play the young Annelle Dupuy-Desoto is applying for a job with Truvy who becomes a surrogate mother to Annelle, her 'semi-daughter'; Clairee Belcher is the former 'First Lady of Chinquapin' and has been recently widowed and her husband was the former Mayor of the town; Shelby Eatenton-Latcherie is the 'prettiest girl in town' and the daughter of M'Lynn, a career woman who worries a great deal about her headstrong daughter and the two frequently clash over Shelby's life choices; whether baby's breath in her hair or her decision to have a baby despite her diabetes; and Ousier Boudreaux who is a bit of an old curmudgeon with 'more money than god', though we discover her heart is in the right place.
Harling explores the friendship of the six women who provide a wonderful support network for each other in whatever they are going through in their lives which often seems to involve various feckless men. Throughout the play's three-year span all the characters have their moment in the spotlight and go through a journey, none more so than M'Lynn. Laura Hopkins gives us just a single set which shows quite a naturalistic neon-lit salon which we see from the perspective of the mirrors for the first act and in reverse after the interval. Susan Kulkarni's costumes are redolent of the Southern United States in the early 1980s and Richard Mawbey's bouffant wigs – and the hairdressing skills of Lucy Speed as Truvy and Elizabeth Ayodele's Annelle – are both mightily impressive.
With photos of Dolly Parton – who played Truvy in the film – on the walls Lucy Speed heads the cast as the owner of the salon and hers is an out-and-out impression of Dolly and none the worse for that, though it is only her you imagine particularly when Truvy says, 'There is no such thing as natural beauty … My ladies get only the best. Do not scrimp on anything. Feel free to use as much hairspray as you want … Just look at me, Annelle. It takes some effort to look like this.' It is her plain-talking that can bring the others back to earth and although the rapport is slow to build among the cast – particularly in the long drawn out first half – we begin to bond with them all over the sacrifices they must make and the emotional toll it has on them, although there is still plenty they find to laugh at.
Amongst a strong ensemble with considerable theatre, TV and film credits, Elizabeth Ayodele is delightful as the rather naïve Annelle who is shy to begin with and ends up finding her own voice, whilst Diana Vickers gives another of the standout performances as Shelby (Julia Roberts played her in the film). Vickers's Shelby is the epitome of a free-spirited – if rather innocent – young woman willing to takes her life in her hands when she gets pregnant despite doctors' advice. The formidable Ouiser gets a less-nuanced performance from Harriet Thorpe who relished lines like 'I'm not crazy – I've just been in a bad mood for forty years' and – about her patronage (significant in a less-than-sold out Palace Theatre) – 'I'll write a check for the little theatre. I will support art. I just don't want to see it. Let's get one thing straight. I don't see plays because I can nap at home for free.' Caroline Harker brought excellent comic timing to the self-deprecating Clairee especially at the poignant end to the play when Harling orchestrates a (the one?) real laugh-out-loud moment. (Unfortunately, Harker's is the least convincing American accent.) Actually, timing of punchlines was a problem and director Anthony Banks could have made more effort to stop his cast gabbling some of their more significant words and this would have generated more laughs, which were a little lacking on this evening.
Absolved of this was Laura Main's M'Lynn who cares deeply for Shelby and who gets a heartrending tour de force of a monologue about her daughter's death which concludes 'I realised as a woman how lucky I was. I was there when this wonderful person drifted into my world and I was there when she drifted out. It was the most precious moment of my life thus far.'
Steel Magnolias is distinctly a play 'of two halves' and because it ends with the perfect blend of what can be funny and what can move you, hopefully you will not think your two hours in the theatre will have been a waste.
Jim Pritchard
For details of the remaining performance on the tour click here.