United Kingdom Tchaikovsky, Shostakovich: Nobuyuki Tsujii (piano), Royal Philharmonic Orchestra / Vasily Petrenko (conductor). Royal Festival Hall, London, 7.6.2023. (JR)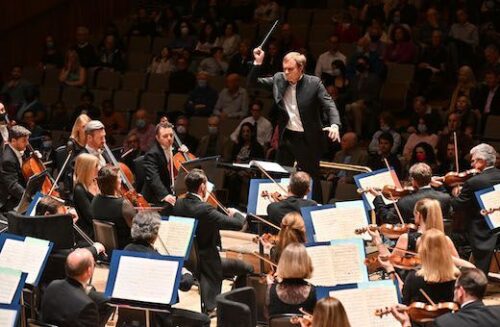 Tchaikovsky – Piano Concerto No.1, Op.23
Shostakovich – Symphony No.8, Op.65
London's large classical-music-loving Japanese community came out in force for this concert to witness a phenomenon – pianist 'Nobu' Tsujii, blind since birth. Decades ago, the Japanese would turn up in numbers to see Herbert von Karajan with the Berlin Philharmonic; today younger Japanese have formed a Nobu fan club. He appears already to be a National Treasure in his homeland. He won a Joint Gold Medal in the Van Cliburn International Piano Festival in 2009 and has subsequently developed an international career, playing with several leading orchestras. He has a large mainstream repertoire and one cannot fail to admire him, bearing in mind the technical challenges he must surmount. He has never seen a keyboard in his life. Learning a new piece is his greatest challenge; after all, once memorised, many pianists hardly look at the keyboard and may keep their eyes closed as they play. Unless Nobu can get hold of a braille score (there are apparently few of those), he must ask assistants to record sections of a work on cassette tape and he then listens to them and practices. To keep in time with the conductor is his challenge in performance: he says he listens to the conductor's breathing (his hearing must be extremely acute) and is also very aware of the musical goings-on which surround him. Before he starts, he must measure the keyboard to know where to start placing his fingers.
The performance of the Tchaikovsky was fine, though a mite heavy-handed. It was perhaps rather devoid of nuance and flourish. There was nothing tentative about his attack and we all watched with wonder and amazement at his skill. But were we all caught up with the marvel of it? It would be churlish to say the performance did not stand up against greater interpretations (Martha Argerich and Daniil Trifonov spring to mind) but, suffice to say, Nobu's playing is certainly remarkable by any standards. The concerto is an audience favourite despite its occasional brashness – Arthur Rubinstein had a point. The Japanese section of the audience went completely wild at the end. Nobu beamed and waved a fond goodbye as he was led off the stage guided by the conductor.
Vasily Petrenko was in his element in this all-Russian programme. His interpretation of Shostakovich's mighty Eighth Symphony was shattering. From the softest of strings to the shrieking of the woodwind, the orchestra impressed across the board. The climaxes were deafening, Petrenko unleashing the full might of the Red Army in the long opening movement. This is music you should not listen to at home, unless you have very thick walls and don't want to annoy the neighbours; it thrills in the concert hall. The cor anglais (Patrick Flanaghan) was suitably baleful, the piccolo flawless (Diomedes Demetriades). The sounds of war were compelling, explosions in the percussion section, bringing to mind gunfire and shelling – a deeply saddening reminder of the current calamity in Ukraine.
Petrenko never held back, never reduced the volume. The trio of trombones were most impressive, the principal trumpet (Matthew Williams) first-rate. Timpanist Tom Lee was acrobatic, bass clarinet (Kate Ayling) characterful. The viola section frequently caught the eye and ear, led by ever-watchful Abigail Fenna.
As the symphony died away to mesmeric effect (with personal memories of the late, lamented Bernard Haitink holding up a balled handkerchief to try to stop uncovered coughing intruding and spoiling the effect), Petrenko kept the audience on tenterhooks, and they were stunned into absolute silence. Hopefully some of the Japanese will have discovered a penchant for Shostakovich.
Next season at the Royal Philharmonic looks enticing, with concerts including Tchaikovsky's Iolanta, Elgar's First Symphony, Verdi's Requiem, Poulenc and a Wagner Grand Festival. Watch this space.
John Rhodes