Argentina Donizetti, Anna Bolena: Buenos Aires Lírica. Soloists, Chorus and Orchestra of Buenos Aires Lírica, Conductor: Rodolfo Fischer. Teatro Avenida, Buenos Aires. 21.3.2014. (JSJ)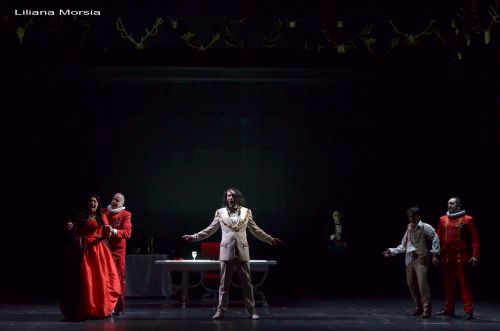 Cast:
Enrico VIII: Christian Peregrino
Anna Bolena: Macarena Valenzuela
Giovanna Seymour: Florencia Machado
Lord Rochefort: Walter Schwarz
Lord Percy: Santiago Ballerini
Smeton: Luciana Mancini
Sir Hervey: Mauro Di Bert
Production:
Director: Pablo Maritano
Sets: Andrea Mercado
Costumes: Sofía Di Nunzio
Lighting: José Luis Fiorruccio
Chorus: Juan Casasbellas
Buenos Aires Lírica has made its mission to bring some of the little performed (or unperformed) operas to the local stage, including works by Handel, Monteverdi and Donizetti. The latter's have included Belisario in 2010, Lucrezia Borgia (which unfortunately I missed) last year – and now to open the company's – and Buenos Aires' – 2014 opera season, Anna Bolena.
Believed to be last performed at the Teatro Colón in 1970 (with the untimely death last November of lawyer César Dillon, Buenos Aires has also lost its foremost authority on local opera production history) Anna Bolena from 1830 was the opera that brought Donizetti to the international stage.
As its name suggests, the work is loosely based on the last days of Anne Boleyn's life, as Henry VIII plans to be rid of her so that he can marry his new mistress, Jane Seymour. It has all the elements that Donizetti portrays so skillfully – drama, emotion, a mad scene, and powerful vocal ensembles. Other participants are Anne's brother Rochefort, her first love Percy, the page and household musician Smeton, and a court official Sir Hervey.
Pablo Maritano's production, which received a mixed reception, was straightforward in concept, set in a black space with the most basic of scenery – a single four-poster bed in the first part of Act 1 for example, and in Act 2 a beheaded stag hung by the hind legs – clearly a portent of the fate awaiting Anna – and with just the subtlest of background markers indicating the Tudor era, very much allowing the drama to speak for itself. Less satisfactory however, was the costumery, with an uneven mix of the modern, such as Enrico's white suit, with the more period dresses of Anna and Giovanna.
Chilean Macarena Valenzuela (now resident in Madrid) gave an accomplished performance as Anna, and Florencia Machado was an intense and powerful Giovanna. Tall and slim – quite unlike the traditional image of Henry – Christian Peregrino was agile and expressive as the brutal Enrico, while Walter Schwarz as Rochefort and Santiago Ballerini as Percy also both excelled.
Also highly praiseworthy was Chilean/Swiss mezzo Luciana Mancini's Smeton, sung with depth and clarity, and hopefully she will be seen more on local stages.
The chorus trained by Juan Casasbellas sung with its customary excellence, while the orchestra played well under Rodolfo Fischer.
With Anna Bolena showing a surge in popularity during the last few years its revival in Buenos Aires was timely and it made an excellent start to the 2014 season – and for the company as it starts its second decade, Bravo Buenos Aires Lírica!
Jonathan Spencer Jones