United Kingdom  Rodgers & Hammerstein: Oklahoma!: Edinburgh Festival Theatre, 25.4.2015. (SRT)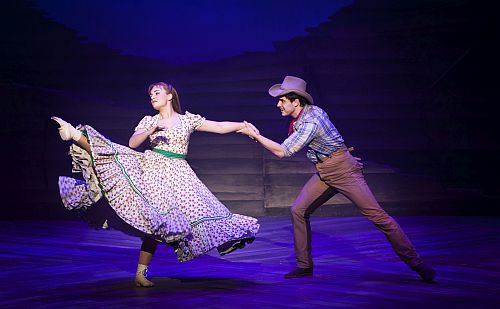 Cast:
Ashley Day – Curly
Charlotte Wakefield – Laurey
Belinda Lang – Aunt Eller
Gary Wilmot – Ali Hakim
Nic Greensheilds – Jud
Lucy May Barker – Ado Annie
James O'Connell – Will
Production:
Director – Rachel Kavanaugh
Choreographer – Drew McOnie
Costume and set design – Francis O'Connor
Musical director – Stephen Ridley
Oklahoma! was the first collaboration between Rodgers and Hammerstein and, while it has a lot of colour and sparkle, you can tell they hadn't quite hit their best form yet.  It's very clumsily plotted, the denouement arrives with barely any preparation and passes off with little tension, and the problematic figure of Jud, the most interesting and troubled of all the characters, is treated like a stock, one-dimensional figure without any of the psychological probing that Rodgers and Hammerstein would later hit.  There are plenty of Rodgers' good tunes, though, and the local colour of the Oklahoma territory in 1906 covers over a lot of clumsiness.
This production argues as good a case for it as you're likely to find.  They embrace the setting for what it is, and I liked the way Francis O'Connor's sets successfully evoke the outdoors.  Aunt Eller's farm, with its wooden house and gently turning windmill, seems to glow in the sunshine of the prairies, while Jud's smoke house feels claustrophobic, and the box social seems to take place amidst the frame of the schoolhouse for which they are raising money.  Drew McOnie's choreography was also direct and straightforward, while being properly impressive when it needed to be.  The box social felt like a proper hoedown, and he handled the difficult dream sequence that ends the first act not only with some beautiful company dances but also with a direct narrative style that told the story clearly and effectively.  The other advantage of the sets was they folded into one another like a set of Chinese boxes, which made the scene changes slick, avoiding tension-sapping interludes.
The cast of principals were very strong too, with excellent Oklahoma accents throughout.  Ashley Day cut a convincing romantic lead as Curley, with a strong stage persona and a rich singing voice to match.  His sparring with Charlotte Wakefield's Laurey was very effective, and their voices were well matched in People will say we're in love.  As the alternative couple, Lucy May Barker and James O'Connell provided not only comic relief but also some convincingly drawn characters, and both Gary Wilmot and Belinda Lang brought their acres of acting experience to their senior roles, though neither were great singers, and Lang was barely audible in the ensembles.  Best of all though was Nic Greensheilds, who cut an imposing, contradictory figure as Jud Fry.  Not only did his hulking stage presence convey a lot of the character's inner difficulties, but his massive singing voice seemed to inhabit a whole universe of trouble.  It's only a shame that Rodgers and Hammerstein didn't explore his complicated psyche a little more!
Simon Thompson