Spain Verdi: La Traviata, Liceu's Orchestra and Chorus, Evelino Pidò (conductor), Theatre del Liceu, Barcelona, 11.7.2015 (JMI)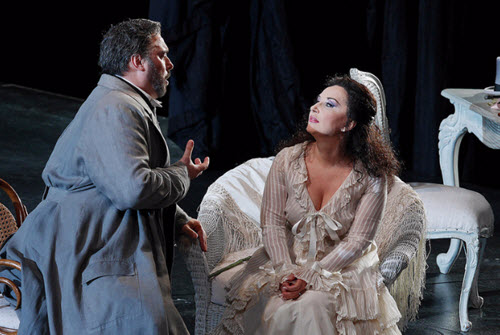 Cast:
Violeta: Elena Mosuc
Alfredo: Francesco Demuro
Germont: Gabriele Viviani
Flora: Gemma Coma-Alabert
Gastone: Jorge Rodríguez-Norton
Douphol: Toni Marsol
Obigny: Marc Canturri
Annina: Miren Urbieta
Doctor Grenvil: Fernando Radó
Coproduction: Liceu, Scottish Opera, Welsh National Opera and Teatro RealDirection: David McVicar
Sets and Costumes: Tanya McCallin
Lighting: Jennifer Tipton
Choreography: Andrew George
In recent years, the Liceu's July programs have featured popular operas from the previous season. Clearly, they are trying to attract the many tourists who visit Barcelona each summer, and I think the effort is largely successful: the presence of foreign spectators in the theater was evident. La Traviata, which was staged last October, now offers the appealing presence of Leo Nucci as Germont, although he was not singing in this performance, the only one that I was able to attend.
The production is the well-known one by David McVicar which I reviewed from Barcelona and from Madrid's Teatro Real. There is really nothing to add to my earlier comments: 2015  and 2014
Musically, this was a mediocre evening. Evelino Pidò is a fine conductor who has made bel canto his specialty. No doubt his is a comfortable baton for the singers, but Verdi needs more than that. I found his reading controlled, flat and dull.
As in October, Violeta was sung by Romanian soprano Elena Moşuc, whose vocal characteristics are far from what Violeta requires. She is one of the best bel canto sopranos today and her voice can be attractive, but the character of Violeta demands something more. Ms. Moşuc seemed comfortable in Act I and had no trouble attacking the E flat in her big scene. However, in Act II there were problems, and her lack of vocal weight for the confrontation with Germont was evident, not to mention in "Amami, Alfredo." Her performance was most artificial in the last act. Here Violeta must express her despair, and hence the drama on stage. "Addio del passato" is a desperate song, as is "Gran Dio, morir si giovine." Elena Moşuc sang all of Act III more in an elegiac way than a dramatic one.
In the character of Alfredo we had Francesco Demuro, from whom I was not expecting much, and one can say that he fulfilled the role. His voice is attractive in the middle, although it is too small for a large house such as this one. One of his weakest points is his lack of expressiveness.
Baritone Gabriele Viviani gave life to Germont and was reasonably good. It is 5 years since I first heard him as Germont, and he is now better suited to the role than before.
The secondary characters were mostly the same as in October. The only new one was Fernando Radó as Doctor Grenvil, and he did well.
José M. Irurzun