United Kingdom Gilbert & Sullivan, The Pirates of Penzance: Soloists and Chorus of the Gilbert & Sullivan Festival Youth Production / Andrew Nicklin (Musical Director), Harrogate Theatre, Harrogate, 15.8.2015 (RJW)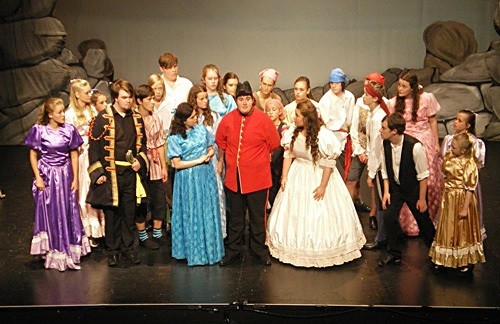 Cast:
Adam Brown: Pirate King
Oliver Embourne: Major General Stanley
Charlie Hodgkinson: Samuel
Dean Parker: Frederic
Samuel Higginbottom: Sergeant of the Police
Phoebe Smith: Mabel
Ashleigh Hamilton: Isobel
Harriet Tyler: Kate
Chloe Phillips Bartlett: Ruth
It is always a joy to attend the traditional youth production at the Harrogate Festival, not only to admire the confidence of the young performers who sing well (and often with mature vibrato), but also portray their roles convincingly. Talking to a few of them I discovered that their show was put together within a week of intensive rehearsal to learn music, dialogue and those dance routines that traditionally go with Gilbert & Sullivan.
Interestingly, the teenagers do not consider that they are learning the lines and music for just another show ­– they actually recognize and enjoy the quality of Sullivan's melody lines and zany accompaniment as being something different.
Their ages range from nine to eighteen, though because the person singing Frederic was indisposed a slightly more mature Dean Parker took over at short notice and made a splendid job of holding things together. His song, "O is there not one maiden breast" was tenderly sung with warm tone and nice vibrato. The chorus were generally strong and well-trained in their double choruses and routines. Of the main characters, Phoebe Smith as Mabel was delightful and like Dean Parker as Frederic helped ensure there was a framework for the others to lock on to. Her "Poor wandering One" was a delight with particularly fine coloratura. Major General Stanley's patter song went without a hitch in Oliver Embourne's delivery of such tongue-twisting lyrics.
The Pirate King (Adam Brown) looked and acted the part, and he was ably supported by Ruth (Chloe Phillips Brown) who ensured a commanding presence. In the "Paradox" trio they sang with Frederic, the carefully modulated voice harmonies was exquisite and made this a highlight of the show. There was good movement on the stage and the chorus were slick with their well-rehearsed dance numbers.
Appropriately bright costumes provided under the supervision by Harriet Ravdin and splendid scenery supplied by the Savoyards, West Yorkshire added to the atmosphere. A reduced orchestra under the able direction of Andrew Nicklin, who has worked with previous youth productions was careful not to drown where vocal lines had limitations. Performing youngsters rarely get an opportunity to sing with an orchestra in school productions so in this luxury lies the beauty of the Festival where such expensive resources can be shared to give good experience.
Full marks all round for a faultless show directed by Pat O'Connell that I much enjoyed. Such an opportunity allows the next generation to know that this precious British heritage exists.
Raymond J Walker