United Kingdom Cole Porter,  Kiss Me, Kate: Soloists, Chorus and Orchestra of Welsh National Opera  /Gareth Jones (conductor), Venue Cymru (North Wales Theatre), Llandudno, 24.11.2016. (RJF)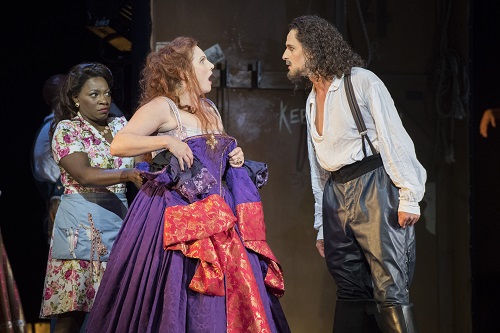 Cast:
Fred Graham/Petruchio – Quirijn de Lang
Lilli Vanessi/Katharine – Jeni Bern
Lois Lane/Bianca – Amelia Adams-Pearce
Bill Calhoun/Lucentio – Alan Burkitt
Hattie – Landi Oshinowo
Paul – Max Parker
Hortensio – Matthew Barrow
Gremio – Jon Tsouras
First Gunman – Joseph Shovelton
Second Gunman – John Savournin
Harry Trevor/Baptista – Morgan Deare
Harrison Howell – David Peart
Nathaniel – Adam Tench
Gregory – Joseph Poulton
Phillip – Louis Quaye
Ralph (stage manager) – Rosie Hay
Stage doorman – Martin Lloyd
Cab Driver – Julian Boyce
Production:
Director – Jo Davies
Set and Costume Designer – Colin Richmond
Lighting Designer – Ben Cracknell
Choreographer – Will Tuckett
Chorus Master – Alexander Martin
The concept of a theme for a season was David Pountney's idea when he took over as supremo at WNO. This season was to be a homage to Shakespeare four hundred years after his death. What is Cole Porter's Kiss Me Kate to do with Shakespeare you might ask? The answer is it is an adaptation of the great poet's The Taming of the Shrew and the opening scene fully illustrated what was in store for Petruchio as Fred Graham, a few slapped faces being the least painful of his indignities. If the resolution of the story here is somewhat banal after Shakespeare and the film, live with it, it's worth it for musical entertainment.
This production was shared with Opera North. The practice of shared productions between the UK's major regional opera companies has always seemed common sense to me, particularly in what are strained financial times for the arts with Arts Council budget cuts meaning reduction of chorus numbers and performances as exemplified at the London based English National Opera. Opera North and WNO have had several shared productions over the years such as The Barber of Seville and L'elisir d'amore having regular outings with each company. When reviewing this production at Opera North in 2015 I prefaced my comments by noting the changed attitude towards so-called musicals in recent years and that noting that besides WNO even English National Opera and Covent Garden had put their toe in the water. Of the regional companies Opera North has led the field presenting works by Kurt Weill, in his American period (see review), and Gershwin (see review) as well as Richard Rodgers and Oscar Hammerstein's Carousel more recently (see review). With appropriate, often spectacular, staging and casts they have put bums on seats as well as providing first class entertainment.
WNO put their toe tentatively in the water with Stephen Sondheim's Sweeney Todd in 2015, hardly a popular topic with mixed results as far as public support was concerned (see review). As for this production of Cole Porter's Kiss Me, Kate public support was evidenced by as full a theatre as I have seen at Venue Cymru since local boy Bryn Terfel came in spring 2008 to sing the title role in Verdi's Falstaff – in a reprise of famous film producer Peter steins 1988 production in sets by his favoured designer Lucio Fanti (see review). That production was widely acclaimed at the time for its detail and sympathy with the composer's creation; the 2008 reprise was filmed and transmitted on Welsh TV, though regrettably and unaccountably it was never transmitted nationwide, nor has it appeared on DVD/Blu-ray. Exactly the same virtues of production and performance are found in this staging and performance of Kiss Me, Kate.
Without exception the singing and acting of all the principals was of a high standard. A careful mixture of singers from opera and musical theatre was only compromised as far as the first of those classes by the use of microphones which meant the likes of Quirijn de Lang had to semi-croon at times so as not to blast out the theatre with his full operatic voice. Jeni Bern similarly provided plenty of acted and vocal spice as the harridan. Other standouts from the Opera North staging included the likes of Joseph Shovelton and John Savournin as tall and short Gunmen. They were examples of teamwork and characterisation at its staged best, which was manifest throughout. All the cast did justice to their roles by their acting and involvement in the action including the evergreen popular songs from the work such as Too Darn Hot, Where is the Life That Late I Led?, and Wunderbar.
Whilst there were one or two slight amendments from Opera North's original staging they were minimal, although I recall ON's dancing as being more memorable. Like everybody else in the full theatre, I departed into the cold night with a song and joy in my heart. The bad news is, as far as I can make out, WNO experienced a different response in Cardiff that puts the future of such items in their repertoire in serious doubt. The multi-coloured glossy advertising flyers for the staging and performances, which proliferated around the town's hotels and in the theatre with the imprimatur of Venue Cymru dominant, may have accounted for the popular support for the performances  I trust the marketing men will assess that reality and take appropriate messages on board.
Robert J Farr