Germany Munich Opera Festival [6] – Offenbach, Les Contes d'Hoffmann: Bayerische Staatsoper Orchestra and Chorus / Constantin Trinks (conductor), Nationaltheater, Munich, 27.7.2017. (JMI)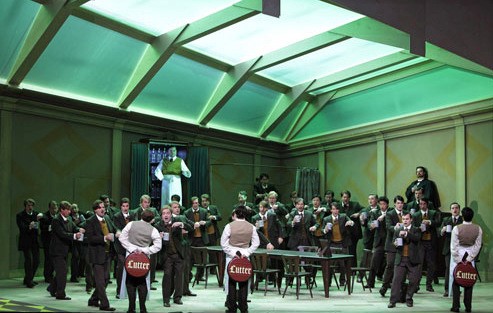 Cast:
Hoffmann – Michael Spyres
Nicklausse/Muse – Angela Brower
Lindorf/Coppélius/Miracle/Dapertutto – Nicolas Testé
Olympia – Olga Pudova
Antonia/Giulietta/Stella – Diana Damrau
Cochenille/Frantz/Pitichinaccio – Kevin Conners
Spalanzani – Ulrich Reß
Schlémil – Christian Rieger
Crespel/Luther – Peter Lobert
Nathanaël – Dean Power
Hermann – Sean Michael Plumb
Wilhelm – Galeano Salas
Voice of Antonia's Mother – Okka von der Damerau
Production:
Director – Richard Jones
Sets – Giles Cadle
Costumes – Buki Shiff
Lighting – Mimi Jordan Sherin
In the months leading up to the performance of this Offenbach opera, there were several cast changes. Initially, Diana Damrau was to sing the four Heroines and Ildar Abdrazakov was to be the four incarnations of evil. Ms. Damrau cancelled a few months ago, as she is not now in a position to sing Olympia. Her replacement was Aleksandra Kurzak, who a few weeks ago cancelled, to be replaced by Diana Damrau but without the role of Olympia. Ildar Abdrazakov also cancelled, and Nicolas Testé took over.
It's an attractive production, which I saw here in March 2015 and wrote about at the time: review. The musical direction was again in the hands of Constantin Trinks, who has become one of the most sought after German conductors. I don't think he is at his best in French opera – he lacks some delicacy and emotion at times – but his reading was very competent. The orchestra and chorus, as always, were excellent.
The poet Hoffmann was interpreted by tenor Michael Spyres, who is well-known for his Rossini roles. His voice is not particularly beautiful, but it is very well handled and he is an outstanding performer on stage. One got the impression that he was tired by the Venice act – his voice did not sound as strong, and he had some difficulties in the Epilogue.
I have had the opportunity to enjoy performances by mezzo soprano Angela Brower several times in Munich. Two years ago she also had the parts of Nicklausse and the Muse; she did not convince me then and something similar happened this time. Her voice did not easily reach the audience in the Prologue and in the act of Olympia. She improved from the violin aria in Antonia's act, but one expects more from this outstanding singer.
Nicolas Testé is perfect for characters like Raimondo in Lucia or Giorgio in Puritani, but the four villains of this opera are a very different sort of animal, and his voice doesn't have enough weight. I missed Abdrazakov.
Diana Damrau interpreted Antonia, Giulietta and Stella. She was superb as Antonia, triumphing both as singer and actress in a more than remarkable performance. The role of Giulietta is not as important as Antonia, and I guess her presence here had to do with the version chosen by the production. She did well in the Venice act, but was not as brilliant as she was as Antonia.
Soprano Olga Pudova was an impeccable Olympia, reaching all the notes and performing well on stage. Nowadays she is great demand for the role of Queen of the Night.
Kevin Conners handled the parts of Cochenille, Frantz and Pitichinaccio very well: he was amusing and did well on the couplets in the Antonia act. Ulrich Reß was good as Spalanzani, as was Peter Lobert, who doubled as Crespel and Luther, and Christian Rieger in the part of Schlémil. Dean Power (Nathanael), Sean Michael Plumb (Hermann) and Galeano Salas (Wilhelm) were always on stage as silent witnesses of Hoffmann's wanderings.
The Nationaltheater was again sold out, and the artists were warmly received, with the biggest ovation for Michael Spyres.
José M. Irurzun