United Kingdom Light Odyssey (Lightpool Festival 2018) – Debussy, Saint‐Saëns, Barber, Bernstein, Copland, Vaughan Williams, Britten: BBC Philharmonic / Eivind Aadland (conductor), Empress Ballroom, Winter Gardens, Blackpool, 18.10.2018. (MC)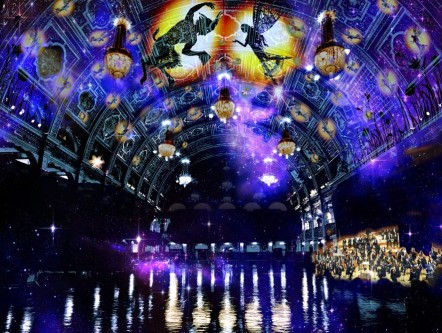 Debussy – Prélude à l'après-midi d'un faune (animation: Matt and Rob Vale)
Saint‐Saëns – Danse macabre (animation: Nick Azidis and Rose Staff); Bacchanal from opera Samson and Delilah (animation: Florian Rabl)
Barber – Adagio for strings (animation: Joe Mason)
Bernstein – Symphonic Dances from West Side Story (no animation)
Copland – Variations on a Shaker Melody from ballet Appalachian Spring; Fanfare for the Common Man (animation: Dan Shorten)
Vaughan Williams – English Folksong Suite (no animation)
Britten – Four Sea Interludes from opera Peter Grimes (animation: Ruth Taylor (Dawn, Sunday Morning) and GSMD (Moonlight, Storm)
Blackpool has been described as U.K.'s entertainment capital and it certainly knows how to put on a show as testified by tonight's Light Odyssey, launching Lightpool Festival 2018, featuring BBC Philharmonic conducted by Eivind Aadland. Whilst I have friends who can remember back to some of the country's finest orchestras regularly visiting the seaside town, in recent decades Blackpool has been pretty much starved of orchestral classical music.
The event described as 'Pushing the Boundaries of Light, Space and Sound' in the enormous space of the Empress Ballroom, an architectural jewel that can hold up to three thousand people, BBC Philharmonic performed nine popular classical works most of which were accompanied by spectacular visual content, designed by several renowned international animators, projected on the ceiling and walls.
The programme consisted of relatively shorter, well-known scores of a quality which has lasted the test of time was ideal for those audience members who might have been new to classical orchestral concerts. Cleverly selected, the works inhabit a myriad of moods ranging from Debussy's Prélude à l'après-midi d'un faune (Prelude to the Afternoon of a Faun) the enchanting depiction of a mythical faun playing his pipe in the forest to Bernstein's infectiously rhythmic Symphonic Dances from his popular musical West Side Story. Clearly relishing such a large and enthusiastic audience the orchestra members played with a smile on their faces. The rather festive and relaxed atmosphere in the house including occasional audience noise didn't distract, the standard of performance from BBC Philharmonic remaining as adept and steadfast as one has come to expect. All but two of the orchestral works were accompanied by visual effects that the designers had tailored to each individual work. Stunning in design and colour the panoply of images swept across the immense space sometimes matching the tempi and dynamic of the music and often just the mood. Everything came together successfully, and the audience reaction was enthusiastic, giving a standing ovation at the conclusion.
As a multi-purpose venue, over the years the iconic Empress Ballroom part of the Winter Gardens complex has hosted an unbelievably wide range of events and Light Odyssey with BBC Philharmonic fitted the bill perfectly. Entertainment is Blackpool's maxim which was delivered in spades and it would be hard to imagine anyone in the audience not wanting a return concert.
Michael Cookson