United Kingdom Handel, Berenice: Soloists, London Handel Orchestra / Laurence Cummings (harpsichord). Linbury Theatre, Royal Opera House, Covent Garden, 1.4.2019 (CC)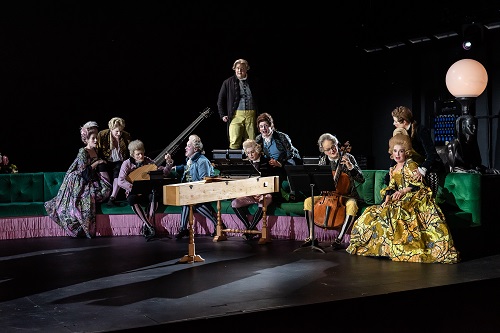 Production:
Director – Adele Thomas
Designer – Hannah Clark
Movement director – Emma Woods
Lighting – D. M. Wood
Cast:
Berenice – Claire Booth
Selene – Rachael Lloyd
Alessandro – Jacquelyn Stucker
Demetrio – James Laing
Arsace – Patrick Terry
Fabio – Alessandro Fisher
Aristobolo – William Berger
As part of Michael Church's excellent booklet essay Revisiting the Eighteenth Century, Lawrence Cummings states that 'you can be deeply moved without necessarily being able to explain all the details of the story'. And convoluted that story certainly is in Handel's Berenice, not helped for contemporary audiences, perhaps, by a bit of gender-fluidity. As we walk in, the cast is already on the stage, sipping tea (miming sipping tea, actually). The set is dominated by a single garish lime green and pink sofa, while a continuo group of cello harpsichord and lute is in full view (each sporting a wig, and some rouge is also in evidence; there is some interaction between the group and the principal players over the course of the evening). From these admittedly colourful bare bones, magic is made.
The staging is inspired by the power dynamics in Handel's own rehearsal room. There are, therefore, few hints that the plot centres on political and personal intertwinings between Egypt and Rome. Power struggles emerge, too, between the two main divas, Berenice and Selene. Director Adele Thomas has managed somehow to balance on a tightrope the serious and the slapstick; our emotions can move from one to the other in no time at all.
It has taken time – a lot of it – for Berenice to properly make itself known to us. It was premiered in May 1737, on the same turf as the present-day Royal Opera House. The University of Keele revived it in 1985, starting a slow turn of the wheel, and there are recordings from 1995 (Newport Classics, Rudolph Palmer) and 2010 (Virgin Classics, Alan Curtis), plus various performances. One hopes this production, following on from last year's unstaged Solomon led by Christian Curnyn (review click here), is only one more in a long line of Handel resurrections, and that Berenice will now have a lasting place in audiences' affections.
The orchestra itself is limited to strings, a pair of oboes and bassoon in addition to the continuo instruments. Yet the invention remains gripping throughout, helped by the devotion of the present cast. The opening to the third act has a distinct resemblance to Music for the Royal Fireworks. There is deliberately ham acting aplenty, especially perhaps from the wonderfully camp Patrick Terry as Arsace. The Queen Berenice of the title, a first century BC Queen of Egypt, certainly has an iron will, not to mention a positively chaotic court. Resonances to the UK currently cannot be missed, and there were certainly some knowing chuckles from the audience this particular night. There are inevitable love conundrums. Berenice is in love with Demetrio, but has to marry Alessandro, a Prince of Rome; sadly, the love is one way, and that way is not from Berenice to Alessandro. So, Alessandro may have to marry Selene instead, who is in a love triangle with Demetrio and Berenice. The happy ending, the coming together of Berenice and Alessandro (also her stepson) is, of course, too good to be true but that's all part of it. Remembering Cummings's sage advice, it is perhaps best not to go into all the details of how we get to the ending (these include Berenice ordering Demetrio's decapitation), in which Berenice declares she does love Alessandro, after all.
All of this in English, in a translation of Antonio Salvi's original by Selma Dimitrijevic with no surtitles. The diction was not always up to the mark, especially early on in this particular performance, and given the plot's twists and turns, it would be good to be able to follow the nuances even if Cummings is right; it is possible to glean what's going on without reading or doing too much homework.
The part of Berenice demands a singer who can radiate the resolute: such is Claire Booth, her first aria (which begins with four repeated 'No's, as an indication of her backbone) an indication of things to come. The fury after she read a significant letter at the beginning of the final act that confirms Demetrio's deceptions is palpable, while she displayed real beauty of line at 'Look away now, eyes of sorrow'; her cries of 'Die, Dimitrio, die' sent shivers up the spine. She was matched – perhaps more than matched at times – by the superb Selene of Rachel Lloyd, who even managed to negotiate the steamy scene with Demetrio while still retaining Handelian style and dignity, if not retaining her physical dignity. As Demetrio himself, countertenor James Laing was splendidly clear.
Jacquelyn Stucker's superbly sung Alessandro and Patrick Terry's Arsace threatened to steal the show in different ways, with Stucker glowing vocally and Terry's combination of voice and acting an absolute joy. British tenor Alessandro Fisher, winner of the 2016 Kathleen Ferrier Awards, was making his Royal Opera debut in the role of Fabio, the Roman messenger, strong voiced and with bags of presence. Baritone William Berger's full, rich voice enlivened the role of Aristobolo.
The orchestra was fabulous throughout, with solos seeming more prevalent in the final act, wherein an oboe obbligato (James Eastaway) and a solo violin in duet with the on-stage cello added variety. The hours flew by in this bright, yet thought-provoking, production.
Colin Clarke