United Kingdom Britten, Peter Grimes: Soloists, Bergen Philharmonic Choir, Edvard Grieg Kor, Royal Northern College of Music Chorus, Choir of Collegiûm Mûsicûm / Håkon Matti Skrede (chorus master), Bergen Philharmonic Orchestra / Edward Gardner (conductor). Royal Festival Hall, London, 30.11.2019. (JPr)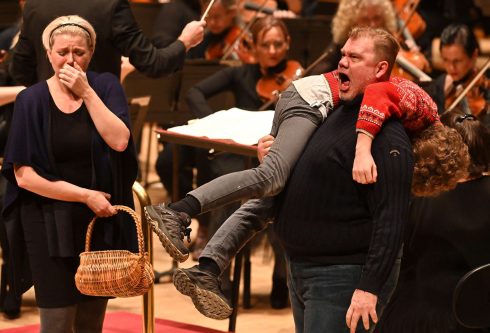 Britten – Peter Grimes
Stuart Skelton – Peter Grimes
Erin Wall – Ellen Orford
Roderick Williams – Captain Balstrode
Susan Bickley – Auntie
Catherine Wyn-Rogers – Mrs Sedley
Hanna Husáhr – 1st Niece
Vibeke Kristensen – 2nd Niece
Clive Bayley – Swallow
Marcus Farnsworth – Ned Keene
Robert Murray – Bob Boles
James Gilchrist – Reverend Horace Adams
Barnaby Rea  – Hobson
Samuel Winter – John (boy apprentice)
Stage direction – Vera Rostin Wexelsen
Peter Grimes was premiered at Sadler's Wells nearly 75 years ago on 7 June 1945 and John Lucas in his book Reggie – about the conductor Reginald Goodall who conducted that first performance – recalls how: 'The first night … took place amid great nervousness from everyone, including Guthrie [administrator of the opera company at Sadler's Wells]. "Whatever happens," he said to Joan Cross [the first Ellen Orford], shortly before curtain up, "we were absolutely right to do this piece." Guthrie worried that the theatre's central chandelier, back in place for the first time since the air-raids, might come crashing down on the heads of the musical world assembled in the stalls below – Ralph Vaughan Williams, Sir George Dyson, William Walton, Michael Tippett, John Christie of Glyndebourne, Yehudi Menuhin (in Britain to give concerts for American forces), Albert Coates. The house was sold out, "with more evening clothes and fur wraps than have been seen in the theatre since the war began". … Britten ("a young man with disordered hair", reported the News Chronicle the next day) paced up and down at the back off the stalls during the performance. He was too nervous to sit down.'
The rest – adapting a hackneyed phrase – is musical history, and despite its downbeat subject matter it was the first of Britten's operas to gain him both critical and popular success. Britten and his partner, Peter Pears, had been in America since 1939 and were in California when they read George Crabbe's 1810 poem The Borough. As a native of Suffolk – like Crabbe – Britten strongly identified with the tragic story of Peter Grimes, an Aldeburgh fisherman. Britten and Pears returned as conscientious objectors to England in 1942. Not long after, Montagu Slater was asked to write the libretto and – with input from Britten and Pears – Grimes retained a dark side, but also, becomes victim of cruel fate and the society in which he lives. It was, as Britten later pointed out, 'a subject very close to my heart – the struggle of the individual against the masses. The more vicious the society, the more vicious the individual.'
Peter Grimes has never rated particularly highly in my list of favourite operas, mainly because I am not convinced that Grimes is innocent of the deaths of his apprentices, and I have always found that troubling. In the post-Savile era, barely a day goes by when there are not headlines involving young people who have been abused physically and/or sexually. Also, Richard Wagner is never left alone by the 'experts' because it is their view that a composer must always include his private thoughts in his works and if we apply that to Britten – and his life-partner Peter Pears (the first Grimes) – then there is much to ponder on regarding this opera. Surely they were 'outsiders' in a world were homosexuality was illegal and there was also much consternation about their opposition to the war. Like in the opera, this led to much prurient intrusion by a wider community into their private lives when theirs were probably no better themselves.
Who Peter Grimes actually is involves further long debate. Peter Pears (who, like Goodall, I met late in his life) could never have been the brute – with mental health issues – Stuart Skelton was here. This owed more to Jon Vickers's famous portrayal that I saw at Covent Garden 38 years ago. The tortured fisherman is supposed to have the nature of a poet and visionary alongside his violent outbursts; just think of his Act II 'Now the Great Bear and Pleiades'. However it was exactly at that moment I remembered the great 'lost' Grimes of Alberto Remedios who was forever covering Vickers but got few opportunities to sing it, except for a few significant performances in South America and in concert, including that particular scene for a televised English National Opera Royal Gala (YouTube click here). Whilst possibly not the greatest actor – but fully capable of both anger and poetry – Remedios had the complete voice to cover Grimes's extreme range. Unless he was suffering from an unannounced illness, Skelton's voice is sadly in decline – or in need of a long rest – and now only has two gears; a first, a refined and eloquent head voice, and a fourth, a robust stentorian heroic sound. What is lacking is anything to link both of these and when his singing came under intense pressure there were too many cracked notes. Skelton is a 'great bear' of a man in his own right and very clearly showed a mind at disarray and not at one with the world around him.
Vera Rostin Wexelsen's semi-staging was first put on at the 2017 Bergen International Festival and then was seen at that summer's Edinburgh Festival. It has now been revived for further performances, as well as, a Chandos recording. In broad strokes it adequately shows how the outsider (Grimes) could be hounded to death by a seaside community ('Borough') reeking of hypocritical self-righteousness. Costumes for soloists and enlarged chorus were an eclectic mix of fairly modern – and often practical – ones looking as if they had been sourced from charity shops in costal fishing ports. In front of the orchestra were several barrels and some small steps which singers were asked to negotiate on their entrances or exits. The highlight – if that is the correct term? – was how Wexelsen makes the apprentice's 'cliff fall' firmly the result of the community pounding on Grimes's door, and full credit to Skelton for a full-length dive offstage as the long rope securing the screaming John (Samuel Winter) slips from his grasp.
For all else, Wexelsen and the conductor Edward Gardner were content to let the music talk for itself and – if I ignore the soloists – I don't think I have ever heard a better sounding Peter Grimes. The four combined vocal ensembles made the chorus in this opera a 'character' in its own right, with their extra-loud cries of 'Peter Grimes' being both visceral and unnerving. Occasionally because this chorus was so huge the soloists and orchestra – however loudly they sang or played – were overwhelmed.  Among many orchestral highlights was the palpable frisson as the all-too-familiar power of mob rule sets about – literally – drumming Grimes out of town. The Bergen Philharmonic played Britten's score virtuosically and Gardner's conducting was rich, brooding, and tempestuous by turns, with a brilliant balancing act between all the vehemence, as well as, passages of exquisite tenderness.
Among Grimes's peers – who themselves prove mostly unworthy to judge him – there were some wonderfully well-sung and acted vignettes; particularly from Roderick Williams as a most sympathetic – and far from the grizzled old seadog of yore – Balstrode, and Clive Bayley's disreputable coroner, Swallow, who nearly stole the show. Among some other strong performances; Susan Bickley's Auntie was the suitably fearsome landlady, Catherine Wyn-Rogers seemed ideally cast as the snooping – Mrs Bucket-like – laudanum addict Mrs Sedley; and the two Nieces (Hanna Husáhr and Vibeke Kristensen) tartily and enthusiastically endured Swallow's unsavoury interest in them. Unfortunately, Erin Wall's singing as – a more youthful than usual – Ellen Orford was not as accomplished as some of those around her and she didn't always get the words over clearly. Nevertheless, her acting showed that – almost to the very end – Ellen really did have hope of something good happening between her character and Grimes. As we have all had cause to appreciate recently, there are some people who will never change their ways.
Jim Pritchard
For more about the Bergen Philharmonic Orchestra click here.