United Kingdom LPO Summer Sesssions [2]: Rossini, Mozart, Janáček: London Philharmonic Winds. Reviewed as streamed on YouTube from Henry Wood Hall, London, 29.7.2020. (CC)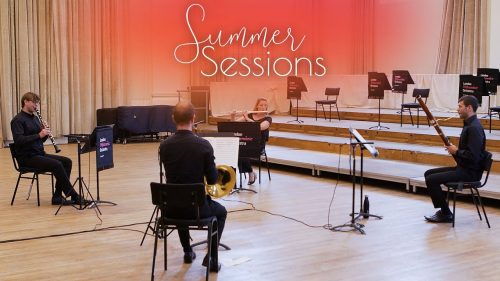 Rossini (arr. Berr) – Wind Quartet No.1 in F
Mozart – Serenade in E flat, K375
Janáček – Mládí
This is the second of the London Philharmonic's Summer Series, broadcast via internet from London's Henry Wood Hall. While the first concert had focused on the strings, here it is the wind section and horns that get to shine in a programme perfect for a balmy summer evening. From comments on YouTube, the audience was by no means only UK-based: listeners from Missouri in the USA and Lyons in France were among the commentators. Social distancing meant more separation than usual between the instruments, but the decision to play in a circle aided communication for these impeccably sculpted performances. The video was excellently managed; split screen (two or three panels) did bring back memories of 1970s cop shows, but maybe we have a 'new normal" coming in video, too …
Rossini's first Wind Quartet (arrangements of movements from the String Sonatas by Frédéric Berr) is deliciously infectious, as one might expect from this composer. Fresh as a daisy, the performance breathed serenity, the central Andante a heavenly serenade. One almost felt we could be in an interlude of a Rossini opera at times. Special mention for the expressive bassoon of Jonathan Davies perhaps, but the spirit of egalitarian chamber music was everywhere.
Talking of serenades, Mozart's in E flat, K 375 continued the tradition of excellence. Particularly noteworthy was the oboes' relishing of dissonances, something that, in retrospect, seemed to link to the horns' dissonances in next movement's Trio. After the stresses and strains of the recent months, the sheer joy of performance shone; and preparation was clearly considered, from the perfect timing of tutti silences in the first movement to the passing of melody over gently pulsating chords in the slow movement. The finale was busy without rushing, pure joy.
An inspired decision to close with Janáček's Mládí (Youth) for wind sextet; and how we the audience felt the pungency of the composer's language after the Mozart. Challenges ae many in this work, not least some of the French horn lines, expertly negotiated by John Ryan. The LPO Winds' achievement of moving seamlessly from one composer's world to another's was remarkable. From the piquant harmonies to the realisation of the composer's juxtapositions of tender and quirky, this was a performance that could hardly be bettered.
Fuelled no doubt the opportunity to play together again – something all too easily taken for granted pre-COVID – these were performances that exuded life and happiness. Programme notes were freely available thanks to the Issuu website.
Colin Clarke
For more about LPOnline click here.