United Kingdom Rattigan, The Deep Blue Sea: National Theatre at Home, 9.7.2020. (CS)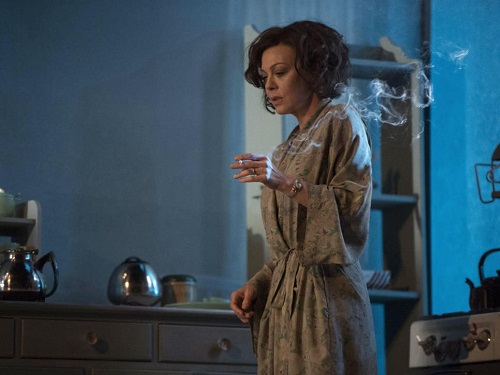 Creative Team:
Director – Carrie Cracknell
Designer – Tom Scutt
Lighting Designer – Guy Hoare
Music – Stuart Earl
Sound Designer – Peter Rice
Movement Director – Polly Bennett
Fight Director – Kate Waters
Cast:
Hester Collyer – Helen McCrory
Freddie Page – Tom Burke
William Collyer – Peter Sullivan
Mr Miller – Nick Fletcher
Philip Welch – Hubert Burton
Ann Welch – Yolanda Kettle
Mrs Elton – Marion Bailey
Jackie Jackson – Adetomiwa Edun
Ensemble – Andrew Lewis, Siân Polhill-Thomas, Elsie Fallon. Nick Figgis, James Alper, Katy Brittain
Why did director Carrie Cracknell think that Terence Rattigan's 1952 masterpiece, The Deep Blue Sea, needed or would benefit from a thumping aural prelude and accompaniment, one more suited to a Spielberg sci-fi blockbuster or Stephen King horror movie than to a well-made play about the anxieties of post-war British society?  It's a discomforting false note at the start of Cracknell's 2016 National Theatre production, which is currently being broadcast as the latest of the NT's 'At Home' offerings, and a rare one in a production that is otherwise taut and intensely focused.
Tom Scutt's set stretches across the wide Lyttelton stage, recreating the 'dinginess' and 'squalor' of the Victorian mansion block that has now 'come down in the world', and in which Hester Collyer – daughter of a clergyman, wife of a judge, talented artist – rents a large room with her lover Freddie Page, a wartime adventurer who has abandoned his career as an RAF test pilot for a life of golfing weekends and long alcohol-fuelled lunches.
Guy Hoare's dim lighting casts gloomy shadows, and through semi-transparent walls and in the flats above ghostly figures are glimpsed, silently going about their lives.  In the opening moments of the play, Hester's failed suicide attempt – she forgot to put a shilling in the gas meter – brings together a motley group.  There's the working-class landlady, Mrs Elton, garrulous and pragmatic; the young middle-class married couple, Philip and Ann Welch, both office workers; the mysterious former 'doctor', with a slight German accent, struck off the professional register for what we assume were sexual misdemeanours or deviances.  Making up the microcosm of 1950s society is Sir William Collyer, the abandoned husband who refuses to grant Hester a divorce, who arrives in his chauffeured Rolls Royce when summoned by a panicky Philip.
But, while social forces do exert their pressure on Hester's fragile self-esteem, The Deep Blue Sea is not in essence a play about the contemporary social malaise.  Instead, the action, which takes place over a single day, focuses entirely on Hester's psycho-sexual self-destruction.  Obsessed with a man who cannot equal or return the intensity of her love and desire, Hester is trapped in a claustrophobic prison of self-knowledge and self-loathing.  Her attempt to take her own life is a grasping at the oblivion – the deep blue sea – which would end her impotent despair.  (The melodramatic opening was inspired by the suicide of one of Rattigan's former lovers, Kenneth Morgan, whom the playwright had repeatedly refused to allow to move into his home, taunting him with other lovers.)  Her survival is the trigger for those near to her to look more closely at their own lives: Sir William offers to take her back, Freddie realises that he must get away.  Hester floats on the stagnant waters of her own paralysis.
Helen McCrory's performance is one of astonishingly perceptive paradoxes.  Hester is brittle and broken, but still able to summon an ironic wit to challenge those who seek to diminish her.  Seemingly drained of all soul and spirit, she slumps to the floor in silent despair, yet burns with vitality whenever Freddie is in the room, her eyes shining, her movements graceful.  She's an impossible mix of edgy restlessness and numb helplessness.  It is both Hester's resilience and her self-knowledge that make her suffering so heart-breaking; as Mr Miller pertinently observes, "To love with one's eyes open sometimes makes life very difficult."  But, her self-awareness also keep us at a distance: how can she know and understand her own predicament with such clarity, and skewer her own weaknesses with such cool objectivity, and yet still behave as she does?
Of the cast, it is McCrory alone who really appreciates the importance of Rattigan's pauses and silences.  Her pacing is superb, varying as her moods change.  She captures Hester's wry self-honesty, responding to Mrs Elton's motherly concern and reprimands – "Now supposing it had been Mr Page and not you that we'd found lying there this morning, how would you have felt?" – with droll humour: "Very, very surprised." Ye, an underlying tone of sadness and helplessness rings through all Hester's words.  McCrory builds mesmerizingly towards Hester's raw and heart-wrenching collapse at the close of Act 2, as she pleads desperately with Freddie to stay and then, 'weeping unrestrainedly', snatches up his shoes to polish them in readiness for his inevitable departure – a pitiful gesture of displaced futility.  When he twists them from her hands, her whimper, "But I haven't finished them", underlines the depth of her failure.
As Freddie, Tom Burke has the rakish charm of one who wants an easy life and who finds himself out of his depth, burdened by expectations and emotional responsibilities that he neither sought nor welcomes.  Burke has a reckless, rebellious energy which counters the orthodoxy of the Welshes and Sir William: when he waltzes into the room, he brings with him a breathless breeziness which is both invigorating and tiresome: "Hullo, Hes.  How's tricks?  I've just done ninety-three down the Great West.  Alvis – smashing job.  Jackie Jackson gave me a lift."  He's ill-disciplined, irresponsible and a cad, but Burke makes us feel a little sympathy for the former RAF hero who no longer knows his flight path.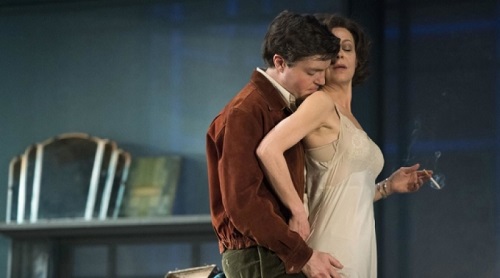 Burke has an occasional tendency to rush through lines.  Sometimes this conveys a devil-may-care indifference, but elsewhere it's less helpful – especially if we lose Rattigan's witticisms in the haste, as when Freddie declares to his friend, Jackie (Adetomiwa Edun), that he's had it with flying and is looking for a new job: "I want something chairborne – not airborne."  Rattigan indicates a 'pause' when Freddie tries to draw his thoughts and words together to tell Hester that he is leaving her, but Burke hastens on.  It's important because we need to appreciate how Freddie is struggling to rise above his habitual RAF slang and wartime clichés and articulate his thoughts clearly.  He may stumble, but his vulnerability introduces a note of pathos: "You always could argue the hind leg off a donkey – and just when I've got things clear in my mind I don't want them muddled up again."  In the end it is Freddie who most lucidly expresses the truth: "It's written in great bloody letters of fire over our heads – 'You and I are death to each other'."  In this regard, Burke brings out the complexity of Freddie's character, which makes him both a more interesting and more sympathetic character.
Sir William is sometimes played as a stuffy old conservative, but Peter Sullivan brings a more suave, dashing quality to the role.  Initially cool and judgemental, when questioning what sort of city job it is that enables Freddie to play golf on Mondays, his tone first quietens when he asks Hester if there is anything he can do to help, and then warms when he admits that he hadn't been looking hard for Hester as "rather foolishly I thought my indifference would hurt your vanity."  The affection between Hester and her husband is plain to see and hear, and Hester's relaxed and good-humoured recollections of their former social set make us both wonder why she left and understand the depth of her soul-consuming passion for Freddie.
Hubert Burton doesn't really capture Philip Welch's need to assert his masculinity or his abject inadequacy in so doing – he panics over the gas taps while Mrs Elton level-headedly opens the windows and runs for Mr Miller; his desire to impress his wife with his heroic decisiveness is undermined by a prevailing hesitancy.  But, Burton does convey Philip's naïve pomposity in Act 3, when – looking all of 12 years old – Philip explains to Hester that his own marital indiscretion has taught him that getting away for a while clears one's mind and is oblivious to the archness of her observation about his own 'retreat', Lyme Regis: "A very pretty spot.  I know it."
William, Philip … the men all seem to want to be Hester's rescuer or knight in shining armour.  In contrast, Nick Fletcher's enigmatic Mr Miller wants to help her to help herself.  The disgraced doctor is reserved and curt, but also honest and direct: his advice, "Get beyond hope. It's your only chance", is the best that she receives, and he offers a moral perspective that counters that of the Church and the Law.  McCrory departs from Rattigan's 'instructions' at this point.  The playwright emphasises her growing hysteria in the face of Miller's vision – she responds 'wildly', 'with a despairing cry', and 'at each word she wilts as if at a physical blow' – but McCrory's keeps the extent of Hester's pain within her.
And, Cracknell shifts the emphasis from ambivalence to optimism at the close.  Without giving too much away, let's just say that Hester finds a culinary rather than a morbid use for the gas.  She seems to accept Miller's advice that she should "Get beyond hope" so that she can "face life".  In contrast, Rattigan leaves Hester standing "rigid, her face utterly expressionless", quietly folding Freddie's clothes and packing them into the case that she will forward to Charing Cross Station the next morning.  I don't feel that we really know whether Hester will drown or is saved from the deep blue sea, though Cracknell offers more hope than uncertainty.
Claire Seymour
Click here for this NT production of The Deep Blue Sea which is available until 7pm on 16th July.