United States In Focus / Bonus Episode 1: Sonata and Serenade: Mitsuko Uchida (piano), Strings of the Cleveland Orchestra / Franz Welser-Möst (conductor). Wigmore Hall, London (January 2021); Severance Hall, Cleveland, Ohio (November 2020, reviewed as a video stream). (MSJ)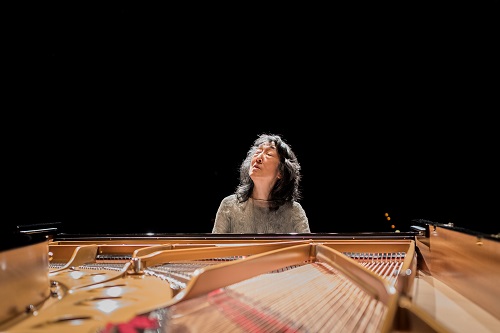 Schubert – Piano Sonata in C major D.840 (unfinished)
Mozart – Eine kleine Nachtmusik K.525
This program is an enterprising bonus to the Cleveland Orchestra's In Focus series of streamed recorded concerts. It includes an extra performance by the orchestra, which we will get to shortly, but it opens with a guest performance by the orchestra's long-standing partner, pianist Mitsuko Uchida, playing from Wigmore Hall in London because she was unable to come to Cleveland due to the current pandemic travel restrictions.
Uchida's performance is an encore, of sorts, to her Severance Hall recital in 2019, when she played three Schubert works including this one. That performance was wonderfully subtle and put the music in the context of Schubert's other works. Here we have a chance to examine it up close, introduced by Uchida who ardently communicates her wonder and awe of this work.
In the first movement, Uchida is particularly adept at riding Schubert's increasingly unpredictable imagination as the work transforms from its simple, bright opening into something more troubled. She has the kind of touch – or should one say mind – that allows the different fingers to create the illusion of separate interacting voices, sometimes with different expressive agendas. One can find the roots of both Bruckner's epic explorations and Mahler's volatile emotions in this music. At the same time, Uchida honors its classical underpinnings with a reserve that allows no exaggeration. This is simply pianism of the highest level, exploring masterful music. The music's obsessive edge feels like a reflection of our world now.
The second movement is darker yet, its ominous atmosphere feeding on itself as it grows. Uchida went into the Andante without pause, demonstrating how its melancholy flows naturally out of the anxiety of the allegro's repetitions. While her playing is often understated, that allows certain moments to stand out in stark relief: the rising scales in the bass become almost threatening without ever feeling forced.
The sound and video from Wigmore Hall are fine, allowing the viewer an unusually intimate experience of sharing Uchida's communion with Schubert.
Returning to Severance Hall, the next bonus is a much more famous and relaxed work, Mozart's ubiquitous serenade Eine kleine Nachtmusik. If the Schubert served to exorcise darker thoughts, the Mozart combines the charm of the Viennese serenade manner with Mozart's comic opera wit to make pure comfort food. Welser-Möst uses the full complement of the Cleveland Orchestra's strings, yet has them dancing with a deliciously light poise in the opening Allegro, inner phrases given shape and life. All repeats are taken.
Welser-Möst keeps the Romanza slow movement flowing, perhaps a little more than is necessary. His springy tempo works best in the two contrasting sections, one coy, the other mischievous. Let us just say this nocturnal rendezvous sounds pretty chaste. I would rather Welser-Möst had transferred some of that energy to the following minuet, which was a little on the stately side, though the trio was handled with loving care.
I do not know to what degree these audience-less performances are edited, but it sounds very much like an awkward edit at 52:48 in the program, an unhappy distraction. Otherwise, the finale is pleasantly poised at a moderate tempo, allowing all the players time to articulate Mozart's turns of phrase.
Mark Sebastian Jordan
Subscriptions to the Cleveland Orchestra's Adella streaming app are available at Adella.Live or on their website (www.clevelandorchestra.com).