United Kingdom Georg Muffat, J. S. Bach, Telemann, Handel, AAM LIVE 2021 Suonare è danzare: Academy of Ancient Music / Lawrence Cummings (director/harpsichord); Bojan Čičíć (violin). Performed at West Road Concert Hall, Cambridge, and livestreamed (click here) on 12.2.2021. (CC)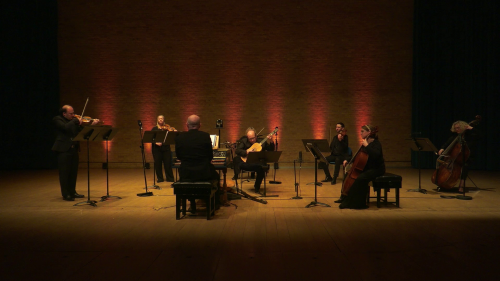 Muffat – Armonico Tributo: Sonata No.5 in G (published 1682)
Bach – Sonata in E minor for violin and keyboard, BWV 1023 (1714-17?)
Telemann – Concerto polonois in B flat, TWV 43:B3 (c. 1715-25)
Handel – Trio Sonata in G, Op.5/4 (1739)
Music and dance were inextricably linked at the time of these works, as Lawrence Cummings, the Academy of Ancient Music's Music Director-designate, explained in his opening speech to this beautifully produced concert.
And what a lovely programme it was, too. It was inspired to begin with a piece by Georg Muffat (1653-1704), with the players beautifully lit on the stage. A continuo supported by theorbo/guitar (William Carter) underpinned the stately textures of the opening Allemande, the first of five movements. This is the exception to Muffat's Sonatas in beginning with an Allemande. The Sonata also includes both a Fugue and a 25-variation Passacaglia. Composed in response to Muffat's meeting with Arcangelo Corelli in Rome in 1681, this is a work of real genius. The brightness of the Fuga in this AAM performance was remarkable, dotted rhythms vital and alive, tossed between sections. But it was that final Passacaglia that was the work's crowning glory. It is, compositionally, anyway; but the AAM performance allowed its unstoppable inventiveness to shine through with an alchemical mix of solid structural understanding, stylistic excellence and an overarching ability to make the piece as fresh as if it were composed yesterday. The grace and gentilité of some of the variations certainly brought forth the dancing part of the concert's title; some terrific ornaments from the AAM's leader, Bojan Čičíć, too, and how the dialogues between leader and violinist Liz McCarthy exploded with joy. Magnificent.
Bojan Čičíć himself introduced the Bach: as he says, this Sonata is less known than many of Bach's works, including the Six Sonatas for Violin and Harpsichord. BWV 1023 is, however, overtly expressive. The extraordinary first movement, an Adagio ma non troppo, features a single held note over which the violin almost seems to improvise. Čičíć's remarkable soliloquising, perfectly in style, was a masterclass in Affektenlehre and in this movement, Bach gives opportunity aplenty for gestures to really speak. And so to the dance: an Allemande, sprightly, with its difficulties brushed away. The continuo, courtesy of Cummings with Sarah McMahon on the cello, was incisive, imaginative and itself perfectly judged. No missing the Gigue basis of the finale, either.
Dating BWV 1023 is tricky: some sources give 1714-17 as a possibility, towards the end of his time at Weimar; the first manuscript copy (not in Bach's hand) is from 1730.
Telemann spent six months in Krakow, Poland, between 1705 and 1707, and was entranced by Polish folk music, which became a life-long influence. Telemann referred to this Concerto polonois as of 'barbaric beauty'. Scored for strings with continuo, it begins with a with a sort of polonaise of rustic beauty, the dance element perhaps deliberately, and certainly wittily, heavy. The subsequent Allegro fizzes with life, calling once more on Čičíć's virtuosity. Telemann also seems to have the ability to take a simple scale and make it electric; interspersing that with some foot-stompingly gruff anacruses and downbeats makes for huge fun. Even the Largo offers no serene respite. A final Allegro plays affectionately with off-beats, its closing gesture almost cheeky in its dismissiveness.
Finally, Handel and that Trio Sonata in G (published 1729), a piece that includes music from his own Terpsichore (1734), the oratorio Athalia (1733) and Alcina (1735) while the central Passacaille (bringing us full circle) is an adaptation from the ballet in Radamisto. (1720) A potpourri then, light as a well-cooked soufflé. The Passacaille is stately, as one might expect, but here bursting with a sort of underlying bonhomie and contentedness. The sense of musical generosity in Handel's piece was reflected, perhaps, the AAM's spirited performance. That Passacaille just exuded space, the brief Gigue that follows a proper Handelian romp, the equally brief concluding Menuet including some lovely dialogues between the violins.
Richard Bratby's notes are a mine of information and beautifully written in the pdf booklet that comes with the concert.
Nice that the stream allows for an option to Chromecast, too. Having performers introduce the music they will play seems to make them more approachable; suddenly it becomes more of a gift to the individual listener. I am not sure why the AAM's own title for the concert is music by 'J. S. Bach, Telemann & Handel' as the Muffat was in some ways the most noteworthy piece; I certainly suspect it will open at least some peoples' ears to this composer's excellence.
Next up is In stil moderno, with Richard Egarr directing music by Castello, Strozzi and Monteverdi on 14 April, while on 21 May, bassoonist/director Peter Whelan will present a programme of Hamoniemusic by Mozart, Beethoven and Krommer, From Field to Table. Mouthwatering stuff.
Colin Clarke