United States Tyshawn Sorey, Save the Boys: John Holiday (countertenor), Grant Loehnig (piano). Opera Philadelphia, Rittenhouse Soundworks, Philadelphia. Available on Opera Philadelphia Channel through 31.5.2021. (RP)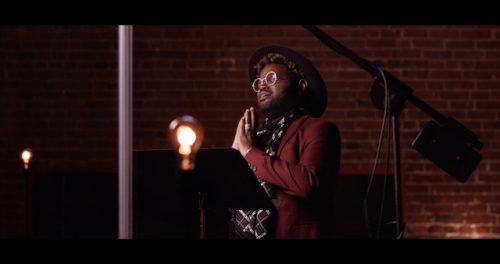 Production:
Filmmakers – Four/Ten Media
Sound – Robert Kaplowitz
Creative producer – Sarah Williams
How opera companies are responding to the pandemic varies and tells a lot about how they tick. North America's largest performing arts organization, the Metropolitan Opera, mines its vault of past performance for daily streams and has basically off-shored its recital series with international opera stars. Others, like Opera Philadelphia, have found ways to offer more varied fare that employs their artists, connects with an ever larger and more diverse audience base and presents exciting, at times challenging, new works.
Tyshawn Sorey's Save the Boys is the first of four digital commissions that will debut on the Opera Philadelphia Channel in 2021. It's tempting to say that Sorey is enjoying a moment in the sun, but in fact it has been shining on him for a while. He went through some challenging times in his formative years which were detailed recently in the New York Times Magazine, but he found his footing and became a major (perhaps transformative is a more apt term) figure in the musical world.
The forty-year-old musician is Opera Philadelphia's current Composer in Residence, and last autumn he assumed a tenure-track chair in composition at the University of Pennsylvania. Save the Boys is Sorey's second work for Opera Philadelphia. The first was Cycles of My Being, a song cycle with lyrics by Terrance Hayes that centers on what it means to be a Black man living in America today. It was premiered by tenor Lawrence Brownlee in 2018 and is available for streaming on the Opera Philadelphia Channel. (For review, click here.)
For Save the Boys, Sorey turned to the work of abolitionist, writer and Black women's rights activist Frances Ellen Watkins Harper (1825-1911). Born in Baltimore, Harper was a prominent abolitionist who contributed to anti-slavery newspapers and helped slaves escape on the Underground Railroad. Known as the Mother of African-American journalism, Harper spent her final years in Philadelphia and is buried there.
In poems such as 'Bible Defense of Slavery', 'The Slave Auction' and 'The Slave Mother', Harper penned heart-wrenching yet lyrical depictions of the brutality of bondage. Other poems were rallying cries to all oppressed peoples, but 'Save the Boys' is the prayer of a dying man imploring that the next generation be spared his fate: the wasted life of an alcoholic. Without changing a word, 'Save the Boys' is as relevant today as it was in 1887 when Harper penned it, although opioids and firearms could be added to the list of seeds which yield 'crops of woe'.
Save the Boys is an extended song for voice and piano. Twenty minutes long, its sonorities and textures are lean and spare. The mood is somber: ominous chords alternate with little riffs in the higher ranges of the piano. The vocal line is predominantly a recitative, with Sorey giving the final pleas a bluesy feel, heard over a Schumann-like postlude. Most beautiful and evocative of all is the music which captures the allure of the substance that destroyed a man's life.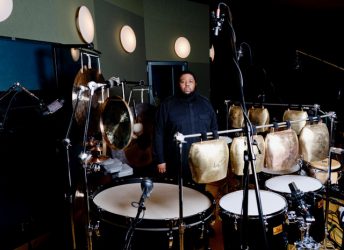 Just as it's impossible to stylistically pigeon-hole Sorey's music, so it goes with the amazing John Holiday, who created the role of John Blue in Opera Philadelphia's world premiere of We Shall Not Be Moved in 2017. (For review, click here.) But for the pandemic, the versatile, thirty-five-year-old countertenor would have made his Met debut this past March as Nirone in Handel's Guilio Cesare. Instead, he wowed international television audiences as a member of John Legend's team on the NBC television show The Voice. Check out YouTube videos of Holiday singing standards such as 'Misty', 'Fly me to the moon' and 'Bridge over troubled waters', as well as hits by Beyoncé and Coldplay.
Holiday gives a penetrating account of the man's furtive prayer. There are moments where his sound is light and beautiful, but mostly it is laser-like in its focus and intensity. In many ways, Save the Boys is a dialogue between the piano and singer, and Grant Loehnig, head of Opera Philadelphia's music staff, engages fully in that conversation. Sitting masked at the piano, Loehnig's arms and hands are every bit as expressive as Holiday's face and body. It was filmed in the dimly lit cellar of Rittenhouse Soundworks, and all that is missing is an audience to create the atmosphere of a sophisticated, subterranean jazz club.
In response to the classical-music world's 'awokening', Sorey is quoted in the New York Times Magazine as saying, 'I personally think it's a day too late and a dollar too short'. And although the pace of change is glacial, could you ever imagine that Justin Timberlake would be apologizing to Brittany Spears and Janet Jackson for not only falling short in his behavior towards them, but for having 'benefited from a system that condones misogyny and racism'?
Opera Philadelphia took me down a rabbit hole with paths that led from Frances Ellen Watkins Harper to Beyoncé on the same day. I am in no position to voice an opinion on what a racial reckoning in the context of the classical music world might look like, but if it means we will be hearing more of Sorey's music, to say nothing of Holiday's stunning voice, the world will be a better place.
Rick Perdian
To watch Save the Boys, click here.