United States Various composers, Apollo's Fire's Tapestry – Jewish Ghettos of Baroque Italy: Daphna Mor (soprano, recorder), Ashlee Foreman (soprano), Daniel Moody (countertenor), Jacob Perry (tenor), Jeffrey Strauss (baritone), Apollo's Fire / Jeannette Sorrell (conductor/harpsichord). First Baptist Church, Shaker Heights, Ohio, on 20-21.3.2021 and reviewed as a concert stream. (MSJ)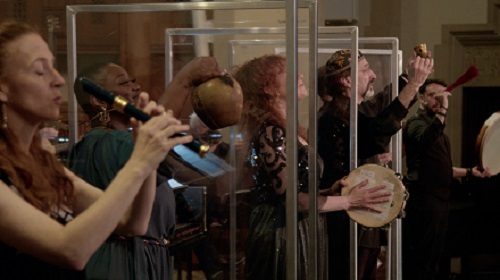 Music by: Salamone Rossi, Claudio Monteverdi, Abraham de Caceres, Benedetto Marcello, Giuseppe Sammartini, Antonio Vivaldi and Alessandro Marcello, plus traditional chants and songs
One of the many strengths of Apollo's Fire is its intellectual restlessness. Where many ensembles paint themselves into a corner by over-relying on audience favorites, founder and music director Jeannette Sorrell has slowly but steadily cultivated audience curiosity over the years. As a result, the audience will fearlessly follow wherever the ensemble goes.
In this program, they explore Jewish life in Baroque Italy, turning up some little-known gems in the process. The concert opens with a set of three pieces by Salamone Rossi, one of Monteverdi's assistants at the Duke of Mantua's court. Digging into the obscure corners of my recorded music collection, I was able to find one CD of Rossi's music, though without the pieces presented here. Listening to that disc and this concert shows that Rossi may not have been on Monteverdi's level, but he was an accomplished professional equal to any other second-tier composer of the period.
What is unusual is that Rossi was Jewish and had to leave the Duke's court every evening to walk to his home in the ghetto, the segregated neighborhood that same Duke forced upon the city's Jews. He maneuvered deftly between two worlds, and one can hear that assurance in his music. It's the kind of music that takes on great life when performed with strong advocacy, and Apollo's Fire gave it wings. Particularly affecting were violin soloists Alan Choo and Emi Tanabe in the second piece, 'Sonata in Dialogo'.
Rossi's boss was represented in all his expressive glory by 'O come, sei gentile', a madrigal sung with both emotion and exquisite control by Jacob Perry and Ashlee Forman. A completely new name to me was Abraham de Caceres, a Jewish composer whose solemn prayer, 'Hamesiach', was sung with warmth and dignity by Perry and baritone Jeffrey Strauss.
Benedetto Marcello was a gentile composer who did not hesitate to explore and evoke Hebraic culture, and the concert included excerpts from two of his Psalm settings which make use of traditional Hebrew chant. The first excerpt, from his setting of Psalm 15, gloriously contrasted countertenor Daniel Moody's arching phrases with Rene Schiffer's darkly expressive playing of the violoncello piccolo. This yielded to a richly rabbinical presentation of the traditional Psalm chant by Strauss. Though it wasn't mentioned in the concert, Jeffrey Strauss has subsequently announced his retirement from singing performance, and his work in this program was a fitting finale for a long legacy of taking listeners by the hand and leading them deeper into the world of the music he performed. His dignity, warmth and class will be remembered fondly.
The first half of the concert closed with an adept performance of Sammartini's Concerto in F for Flautino, dancingly played by Daphna Mor. Anyone who has ever been tortured by schoolchildren shrilly blasting soprano recorders would be stunned to hear the virtuoso musicality Mor can extract from the instrument, particularly when backed by an ensemble sensitive to her every inflection.
The second half of the concert used a vital movement from Vivaldi as a prelude to a concerto grosso by Alessandro Marcello, Benedetto's brother. The work proved highly dramatic, quickly shifting from introspective to fiery and giving the strings a virtuoso workout. The video gives a sense of how closely the players and director have to bond to follow this work's twists and turns. No bland staring at the printed page in this group: everyone's eyes are on the move, connecting with other players and with Sorrell in order to make a million subtle shifts seem inevitable. In truth, such fine coordination is never as easy as Apollo's Fire makes it look.
Of additional importance is the choice of repertory. The quality of the Alessandro Marcello work suggests that perhaps he has been overshadowed by the fame of his brother, and that his music is worth further attention. Benedetto's mastery, though, was demonstrated with excerpts from his setting of Psalm 18, again paired with the Hebraic chant that inspired it.
The final section of the concert turned to the life of the people of the ghetto, starting off with a performance of the Hasidic Passover chant 'Karev Yom', this time featuring Daphna Mor as soulful vocalist. She returned to her recorder to launch 'Coplas de Purim', a Sephardic/Moroccan traditional song, with Ashlee Foreman on lead vocals. All the singers were featured in the closing dance, a song about seven traditional ways of cooking eggplant arranged by Sorrell and Schiffer. It was a catchy and charming ending for a concert of fascinating explorations.
Mark Sebastian Jordan
For more information click here.