United Kingdom Longborough Festival Opera 2021 [3] – Janáček, The Cunning Little Vixen: Soloists, Longborough Youth Chorus, Longborough Festival Orchestra / Justin Brown (conductor). The Big Top, Longborough, Gloucestershire, 29.7.2021. (CP)
Production:
Director – Olivia Fuchs
Designer – Nate Gibson
Lighting designer – Jake Wiltshire
Movement director – Lauren Paulton
Translation – Sir David Pountney
Cast:
Sharp-Ears, the Vixen – Julieth Lozano
Forester – Kieran Rayner
Gold-Spur, the Fox / Dog – Frances Gregory
Badger / Priest – David Howes
Schoolmaster – Gabriel Seawright
Harašta, the Poacher – Aaron Holmes
Mosquito – Laurence Panter
Innkeeper – Edmund Caird
Forester's wife – Rozanna Madylus
Rooster / Jay – Lucy Mellors
Chocholka / Woodpecker – Caroline Taylor
Pepik / Hen – Mimi Doulton
Frantik / Hen – Emma Charles
Owl / Hen – Emily Kyte
Innkeeper's wife / Hen – Joanna Harries
and children playing the roles of frog, grasshopper, cricket, young vixen and a fox cub.
Next time I'll see you are brought up properly, so we won't end up on stage in an opera festival', declares Kieran Rayner, an excellent Forester, as he brings Janáček's very profound contemplation on human life to the close of this astonishingly perceptive production. As Sir David Pountney described in his interview with Longborough's Artistic Director, Polly Graham, 'the opera reflects the cycle of life, it's about death and decline and what it's like to be an older man losing power'.
This is not a comic opera, it is Janáček's careful reflection on life, at the age of 70, when in love with a woman nearly four decades his younger. In his earlier love ballad/opera, Kát'a Kabanová, Janáček's uses a young woman as his focus, so too in The Cunning Little Vixen he concentrates on a young gypsy woman, Terynka, who brings turbulence into everyone's life. She does not appear on stage; the vixen represents her. The Forester dreams of the gypsy woman: Vixen must die so that Terynka can receive her fur as a wedding present. This curious link between the animal and human worlds helped the composer from becoming too sentimental!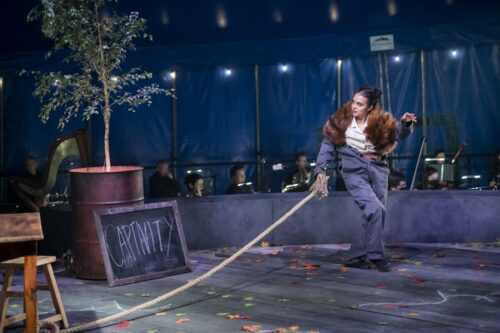 Kieran Rayner uses exuberantly energetic baritone outbursts to fulfil his role as the worldly-wise Forester capable of laughing at himself. Having played the role on three previous occasions, he could consider himself a 'veteran' emerging artist. This performance was a memorable Longborough debut, a very fortunate find. Joining him as another exciting new discovery was the Colombian soprano Julieth Lozano in the role of Vixen Sharp-Ears. A product of the Royal College of Music, she was a finalist in the 2020 Kathleen Ferrier competition. Vixen demands an actress with a bundle of energy and Lozano can be both that bundle of energy and someone who could craft a sensuous performance of 'Humpty Dumpty'. Having escaped the clutches of the Forester, Vixen takes over the badger sett where she accepts the advances of dog fox (Gold-Spur). Lozano's very strong voice attracts attention throughout the opera; animals dance devotedly around her and that voice, like bees around a honeypot.  Hers is a very vibrant performance, never out of breath and competing well with the very big sound from the chamber group, the Longborough Festival Orchestra.
The Big Top has no pit, the musicians are in full view of the audience and Justin Brown works wonders with limited brass. He is well supported by sterling efforts from George Ewart and Barbara O'Reilly, the only two violinists. The very big sound emerging from such a small ensemble is quite a surprise; the answer must be something to do with the sound bouncing off the tent roof.
Director, Olivia Fuchs shows a flair for 'managing more with less', which is exactly what this Longborough season has demanded. On this occasion the tent and the circus ring are used very sensibly, the absence of scenery permitting plenty of space for the numerous frequent celebrations with hens, rooster, owl and woodpecker, including the wedding of Vixen and the taunting of the Poacher as he tries to set a trap. Sadly, the taunting ends in her death.
One silver birch tree keeps the audience in touch as seasons change, spring leaves are transformed to autumnal colours, before the winter lights twinkle – clever thinking by designer, Nate Gibson, to illustrate the continuous renewal of life in nature. Schoolmaster Gabriel Seawright is one of the several admirers of Terynka and, in a drunken exercise in the forest, he spots the illuminated sunflower believing it to be her, only to discover the Vixen is using it to hide behind. Lighting designer, Jake Wiltshire, has few opportunities in a tent to make his mark but he manages to create valued effects, nevertheless.
Lozano and Rayner receive valued support from Frances Gregory as Gold-Spur, the Fox and David Howes as the Badger. The latter's fine bass-baritone voice is best heard in his other role as the Priest. Supporting these leading characters is the very capable Longborough Youth Chorus, mentored by Julian Harris, best known for his work with the St James's Singers.
Rapturous applause greeted the final chord, a production bringing the season to a close; one which proves how resilient the Longborough team can be. Let's hope we all awake from the difficulties of 2020/21 in calmer states of minds, just as the Forester did after his midsummer night's dream. This Vixen was a thoroughly enjoyable and fitting climax to Longborough's summer.
Clive Peacock
For more about Longborough Festival Opera click here.