United Kingdom Hungarian Folk Music: Muzsikás, Kings Place, London, 22.5.2022. (AK)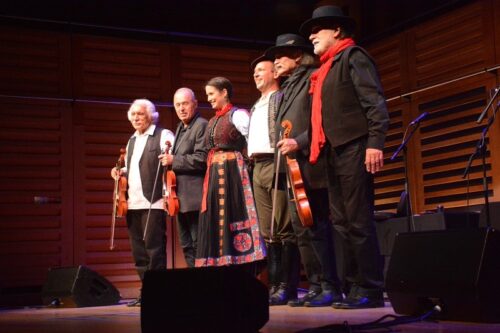 Performers – Muzsikás (Mihály Sipos [violin], László Porteleki [violin, koboz, tambura, vocal], Péter Éri [viola, kontra, flutes, mandolin], Dániel Hamar [contrabass, gardon, drum, presenter]), Hanga Kacsó (singer/dancer), István Berecz (dancer)
Simon Broughton – editor in chief of Songlines but also a film maker and freelance writer – presented a fascinating double bill for those with scholarly interest in Hungarian folk traditions but, crucially, also for those looking for a pleasurable time on a Sunday afternoon and evening. Broughton succeeded in both aspects.
Facilitated in conjunction with Kings Place and within the Songlines Encounters Festival, the double bill consisted of a film and a spellbinding live concert by the ensemble Muzsikás which celebrates its fiftieth anniversary this year.
In the afternoon Broughton presented his film Fly Bird, Fly: The Hungarian Dance House Story, completed in 2020. This one-hour documentary, the result of Broughton's intensive hand-on research in Hungary, tells the story of folk music revival from about the 1970s primarily in Hungary, but Broughton also travels to Poland to see similarities and differences between revival movements in the two countries. Judging by the interviews with Polish musicians, the Hungarian Dance House movement was significantly influential for creating the Polish revival.
The film portrays urban musicians, mostly from Budapest, turning to ancient seats of Hungarian folk music, as Bartók did over a hundred years ago. They, as Bartók, travelled to Transylvanian villages to study archaic but miraculously still surviving songs and dances. Unfortunately, the political situation between Romania and Hungary was tense in the 1970s: traveling to Transylvania (by then belonging to Romania) was fraught with danger.
The urban musicians intensively studied local instrument playing which preserved centuries of traditions. They also observed ancient Hungarian dances which – together with traditional instrument playing – formed the basis of the urban Dance House movement. Broughton's documentary shows fascinating clips from the 1970s but also shows the present. Most gratifyingly, there are people who appear in the 1970s interviews but also thirty years later. Further continuity is provided between some of the interviewees in the 2020 film appearing at the concert now presented by Broughton.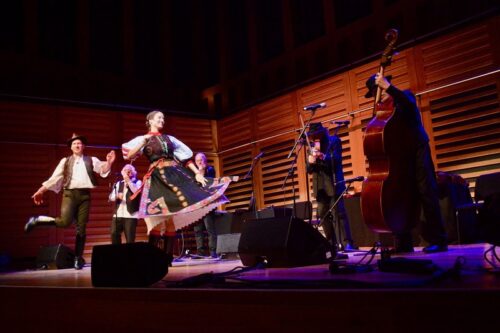 The concert by the four-man band Muzsikás with the addition of singer Hanga Kacsó and dancer István Berecz was spellbinding and informative. However, let me get my negatives out of the way before I go on singing their well-deserved praises.
Most probably I was the only person in the packed audience who would have preferred an absence of mikes. As it was, all four members of the band as well as the singer were amplified, admittedly with excellent technical mastery thus producing a natural sound. However, the 415 fixed seating capacity hall (302 in the stalls, 113 in the balcony) has particularly good acoustics; I cannot help feeling that all music would have been heard clearly without amplification. The dancer was not miked but his shouts of joy and encouragement – parts of traditional Hungarian folk dancing – were crystal clear…at least where I sat in the hall.
Dániel (Dani) Hamar, the bass and lead organiser of the band, explained throughout what we were seeing and hearing. Evidently, he replaced programme notes which I wish we would have had. Hamar is well informed, charismatic, funny and excellent communicator. However, seeing all info in print – and being able to take it home – would have enhanced what was already a wonderful experience.
The one and half hour-long performance without any interval felt as if time stood still and, for sure, we would have been more than happy to see/hear more. The twelve numbers presented drew material from many villages and ethnographical districts; including Kalotaszeg, Szatmár, Békás, Vajdaszentivány, Dunántúl, Gyimes, Mezőség. We heard instrumental music and songs but also saw folk-dances from various regions.
Almost needless to say that the musicians played from memory throughout; the music performed is in their blood, their technical mastery is mind-blowing. Members of the band are not young in age – they have been together for fifty years – but their abilities are timeless.
The band is based on two violins, viola and bass. However, they also play (and played on this concert) a variety of folk instruments: koboz (cobza), tambura, flutes, mandolin and gardon. Their multi-instrumentalism is not a gimmick: it is fully integrated into the genuine folk music experience.
Singer Hanga Kacsó is in her early twenties, dancer István Berecz in his early thirties. Both come from impeccable folk music background. Kacsó is primarily a singer, but she is also a competent dancer. Berecz's dancing is as mind-blowing as mesmerising: athletic with innate musicianship and with irresistible communication of joy throughout.
Bartók was not a fan of bringing folk music out of its original environment. However, such concerts as now presented by Muzsikás may have gained Bartók's approval.
Agnes Kory