Switzerland Bruckner: Sächsische Staatskapelle Dresden / Christian Thielemann (conductor). Tonhalle Zürich, 24.5.2022. (JR)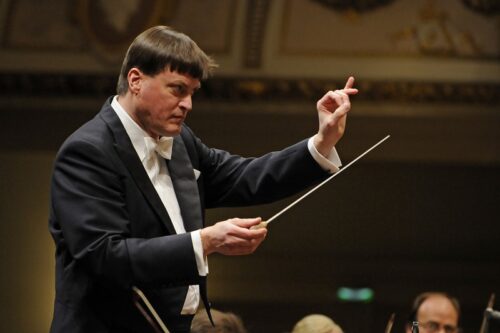 Bruckner – Symphony No.9, WAB 109
Bruckner never managed to complete the last movement of this, his final grandiose symphony; lengthy fragments remained and many versions have been made of the movement and recorded – some consider this should not be heard and is a 'let-down'. (Bruckner lovers should, however, make their own judgement, of course; Sir Simon Rattle's recording of the latest version – the result of almost 30 years work by a quartet of Bruckner scholars – has been generally well received). Wisely, though, Christian Thielemann opted for the original three movement version and neither preceded the work with a frippery (such as a Mozart piano concerto) or took away its effect with any encore (such as a Wagner overture). Thielemann is a man of the soundest musical judgment.
One should not compare orchestras, but the sight of the Dresdners in their coats and tails, starched white shirts and bow ties, shiny patent leather shoes and Thielemann, with an elegantly held baton, and no score, sporting his usual pocket handkerchief rather put – without further comment – the recent visitation of the City of Birmingham Orchestra to the KKL in Lucerne to shame. And one ought not compare the sound of the two orchestras: the Dresdners (one of the oldest orchestras of the world) sound utterly luxurious in all departments, above all rich strings across the board, fault-free strong brass and a blended woodwind section. On this showing, under this conductor, they are very hard to beat.
If Bruckner had managed to complete this marvellous symphony, we would probably hear it even more often in concert. It is one of the glories of the symphonic repertoire and the pinnacle of Bruckner's output.
Having heard this magnificent orchestra under its stellar conductor, one can only be puzzled as to why the cultural authorities in Dresden have been unwilling to extend Thielemann's contract after 2024; apparently, the musicians wanted him to stay. Thielemann can rest easy; he will have no shortage of invitations to guest conduct and some other great orchestra may soon be lucky enough to have him as their Principal Conductor.
The very first brass onslaught in the first movement was overwhelming. Thielemann never held back the volume, and even at the very back of the shoebox Tonhalle, the hall vibrated. Thielemann crouched down low to bring the strings down to ppp and leapt up to signal fff – dynamic shading brought off to great effect. The Scherzo was a delight: jaunty, jagged – no hint here of a dying man. The final Adagio is Bruckner's tribute to Wagner and to God; his final cry, near the end of the movement, a huge dissonance where Thielemann pulled out all the stops.
The shout of 'Bravi' were loud and continuous – thoroughly deserved for both orchestra, individual sections and their Principals – the young Principal horn and Prof. Uwe Voigt's trombone stood out – and of course for Christian Thielemann himself.
The orchestra continues on their European tour to Budapest, Graz, Vienna and Paris. Catch them if you possibly can.
Gianandrea Noseda was spotted in the audience; Paavo Järvi might also have been there as he had recently been in Zurich announcing the Tonhalle Orchestra's next season (including Bruckner's glorious Eighth and Third symphonies). Watching Thielemann and the Dresdners in this music was a masterclass for all concerned.
John Rhodes