United Kingdom Half Six Fix: French Connections – Berlioz, Debussy, Takemitsu, Ravel: Peter Moore (trombone), London Symphony Orchestra / Sir Simon Rattle (conductor), Barbican Hall, London, 14.9.2022. (KMcD)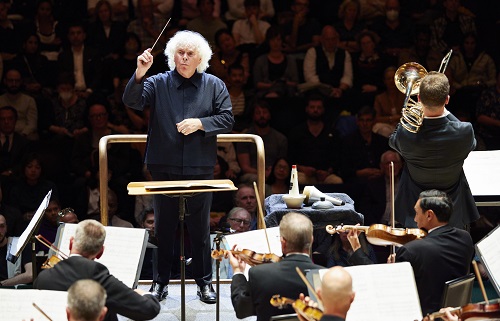 Berlioz – Overture, Le corsaire
Debussy – Fanfare and Le sommeil de Lear from 'Music to King Lear'
Tōru Takemitsu – Fantasma/Cantos II
Ravel – La valse
Introduced a couple of seasons' ago, these 70-minute concerts with a 6.30pm start time have evidently been a hit with the concert-going public, if this well attended – mostly French – programme was anything to go by. Aimed at those who do not necessarily want to hang around too long after work, or may have family commitments, they have a more relaxed feel about them – noticeable by how many concertgoers had their (mostly impeccably-behaved) children in tow.
The evening proceeded without an interval, drinks were allowed in the hall, but happily this did not lead to any perceivable lapses in concentration on behalf of the audience. Indeed, everyone listened with a rapt intensity, no doubt aided and abetted by Sir Simon Rattle's erudite introduction to each of the works on the programme.
After the now obligatory national anthem, Rattle and his musicians launched into a rollicking account of Berlioz's overture La corsaire. The pinpoint accuracy of the strings, and the ebullient woodwind were breath-taking in this whirlwind account that certainly got the evening off to a thrilling start. After being thrown about on Berlioz's stormy seas, there was a complete change in mood with Debussy's Fanfare and Le sommeil de Lear from 'Music to King Lear'. Written in 1904, when Debussy was short of money, Rattle highlighted the background to this commission, and although short in length – the fanfare is a mere 90 seconds – these two extracts emphasised the French composer's skill at creating the perfect musical ambience within a very short space of time.
Although not French, Rattle told us that Japanese composer Tōru Takemitsu had drawn on a wide and varied array of musical influences, from Debussy and Ravel to Gershwin and Puccini, yet his Fantasma/Cantos II never sounded like a mere carbon copy of these all-time greats. His distinctive musical voice came across newly minted thanks to the sensational playing of trombonist Peter Moore. Who would have thought that the trombone could be at turns declamatory, languid and sensuous? His playing was quite simply spellbinding, ably supported by Rattle's idiomatic baton and playing of the London Symphony Orchestra. For an encore Rattle gave us a taste of his exemplary keyboard skills as he and Moore delivered a moving and eloquent rendition of Gershwin's 'Someone to Look Over Me'. Given the events of the last week, its poignancy wasn't lost on the audience, and in context proved to be a fitting inclusion in the programme.
What is Ravel's La valse about? The composer always maintained it was a tribute to the waltz, which had been commissioned by the ballet impresario Sergei Diaghilev for Vienna, although it was never performed as intended. Rattle reminded us that Ravel was an ambulance driver in the First World War, and while Ravel always denied that this influenced La valse one can't help but get the sense that the piece sounds like civilisation waltzing to its own downfall. That was certainly the impression after hearing Rattle's coruscating account of the work, in which each section of his perfectly attuned orchestra gave its all. Decay positively dripped from every bar – I do not think I have ever heard such a terrifying performance of this ambiguous work.
'Do you have five minutes to stay and listen to some Stravinsky?' Of course we did. The LSO strings shimmered, barely audible in the penultimate section ('Lullaby') of The Firebird, which led into a spine-tingling finale, complete with thrilling brass. This was hair-raising stuff, setting the seal on 70 minutes of exalted music-making. Rattle takes his leave of the LSO next year. He will be missed.
Keith McDonnell