United Kingdom Johann Strauss II, Die Fledermaus: Royal Northern College of Music Opera Chorus and Orchestra / David Parry (conductor). RNCM Theatre, Manchester 13.12.2022. (MC)
Production:
Director – Stephen Barlow
Designer – Yannis Thavoris
Lighting design – Jake Wiltshire
Choreographer – Zoë Vallée
Chorus master – Kevin Thraves
Cast:
Alfred – Yihui Wang
Adele – Katherine Glinka
Rosalinde – Olivia Tringham
Eisenstein – Conrad Chatterton
Blind – Samuel Horton
Falke – Adam Jarman
Frank – Callum McCandless
Prince Orlofsky – Dominic Mattos
Ida – Anusha Bobby
Special guest – Sir John Tomlinson
In the fiftieth anniversary year of the Royal Northern College of Music (RNCM), Manchester this new production of Die Fledermaus is one of several highlights from the college's exceptional public performance programme.
When I learned that students at the RNCM were to stage Die Fledermaus by Johann Strauss II using a new English translation and not the original German I admit to feeling disappointed. My first thoughts were why interfere with an undoubted masterpiece which is likely the greatest operetta ever created. The premiere of Die Fledermaus took place in April 1874 at Vienna and when the British premiere was given in December 1876 it was actually sung in English, so there is a significant precedent.
Strauss's richly romantic score features dance, notably the waltz, and some of the most irresistible melodies ever written for musical theatre with Karl Haffner and Richard Genée providing the entertaining German libretto. Like many others I see Die Fledermaus as reflecting a lost 'golden age' of Vienna music life. Entirely fanciful, the libretto containing flirting, jealousy, disguise and mistaken identity, retribution, practical jokes and as stated in the programme 'lots of champagne' resulting in intoxicating exuberance.
It was opera stalwart David Parry who completed a new English translation of the libretto, combining for this new production of Die Fledermaus with stage director Stephen Barlow and set and costume designer Yannis Thavoris. For the updated spoken dialogue, I notice that Parry and Barlow worked in partnership. Originally set in late-nineteenth century Vienna this production moves forward to London in 1999 at the time of the end-of-millennium celebrations. The much-loved characters remain and essentially the sung libretto hasn't altered although the situations have a 1990s take. One of many such examples is from Act I when the inebriated plastic surgeon Dr Falke is at London's Sloane Square tube station. Falke is lying on a platform bench dressed in fancy dress as comic book hero Batman being tricked by Eisenstein who is decked out as his nemesis the Joker and arrested by the Metropolitan Police. This results in the shocking front-page headline in The Sun newspaper 'Going Batty? Posh Doc Shock. Plastic surgeon to the stars caught going off the rails at London tube station'.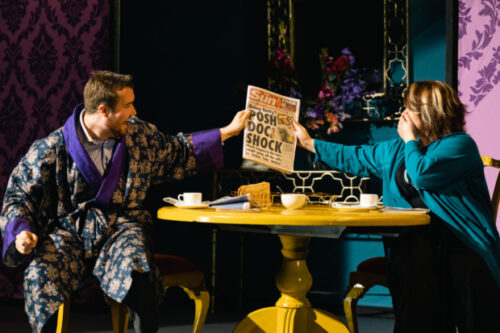 With a practiced eye designer Yannis Thavoris has worked wonders with the sets using the same modular system consisting of five linked scenic flats for each of the three acts. As usual with RNCM productions Thavoris's costumes are first-class. In the first act, Eisenstein's well-appointed London Thames-side apartment is the set for their dastardly scheming and duplicitous activities. A breakfast room is decorated in purple themed flock wallpaper and the lounge area has bold red, white and black striped paper with a large picture window. Hung on the walls Eisenstein and wife Rosalinde have a portrait each, designed in the manner of an iconic Warhol silkscreen print.
In Act II, Orlofsky's New Year's Eve party with all its high jinks and champagne popping is set on the Russian oligarch's magnificent superyacht berthed on the Thames. On the superyacht there is a great view of the Millennium Dome the iconic London landmark (which actually held a New Year's Eve party and opened officially on New Year's Day 2000 as an exhibition space). Amid the partygoers on deck, catching the eye in the sofa-filled curved lounge, is the spa-style sunken bathtub. Amongst the superyacht partygoers I wondered if I had spotted Boris Johnson (the editor of The Spectator at the time) and brothers Liam and Noel Gallagher of Oasis. For Act III it's the early hours and the festive party atmosphere spills over into Chelsea Police Station with its duty room, prison cells and barred gates. Here the plotting unravels, albeit in a somewhat confusing manner, but there is no shortage of fun and frolics from the partygoers.
As usual the production run is double cast, and I attended a performance by the red cast. Standing out from the cast is Olivia Tringham in the role of Rosalinde. A woman looking for excitement in her humdrum marriage to Eisenstein, Rosalinde has set her sights on plumber Alfred. A highly assured actor and singer, Tringham certainly makes a considerable impression. I am left with the memory of Rosalinda attending the party in a scarlet ball gown as Miss Budapest. Conrad Chatterton prospers as the Viennese gentleman Eisenstein who is characterised by immaturity and silly blunders. I have seen Chatterton perform in opera twice previously and most noticeable here is his increased confidence and improved acting with his baritone developing in impact.
Dominic Mattos seems to embody the role of Russian oligarch prince Orlofsky. In what is usually a trouser role the voice of countertenor Mattos does take some getting used to at first. Nevertheless, I soon warm to Mattos who thrives resulting in a rewarding performance. After a slightly unsteady start tenor Yihui Wang shines impressively as Alfred the singing plumber, who is having or is hoping to have a passionate affair with Rosalinde. Especially memorable is the lovely tone of Wang's voice. A real ball of energy Katherine Glinka is ideal for the part of Adele the confident young maid who aspires to greater things. Certainly, an adept actor Glinka makes a strong impression with her bright soprano. Doing all that was asked of them enthusiastic cast members Samuel Horton (Blind), Adam Jarman (Falke), Anusha Bobby (Ida) and Callum McCandless (Frank) added to the success of the operetta.
A special alumni guest is appearing at each of the five performances and tonight it was renowned bass Sir John Tomlinson, who serves as RNCM president. No doubt in honour of Orlofsky, to the delight of the audience Sir John gave an entertaining rendition in English of the Russian 'Song of the flea' by Mussorgsky. Making his mark conductor David Parry pulled the sections of the college orchestra together adroitly and the audience was treated to some fine playing. Under the coaching of Kevin Thraves I thought the chorus sounded particularly splendid.
In its anniversary year this RNCM's production of Strauss's Die Fledermaus was a champagne occasion that just fizzed along. This is a new production that has lots of mileage and I could easily watch it again.
Michael Cookson