United Kingdom LSO's Half Six Fix – Weill, Beethoven: Eric Lu (piano), London Symphony Orchestra / Marin Alsop (conductor). Barbican Hall, London, 8.2.2023. (CC)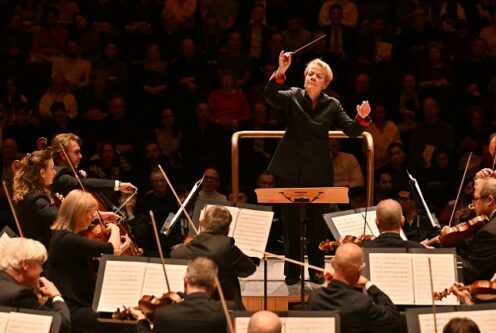 Weill – Symphonic Nocturne from 'Lady in the Dark' (1940/41, concert suite, arr. Robert Russell Bennett, 1949)
Beethoven – Piano Concerto No.4 in G, Op.58
Both Beethoven and Weill had problems with (different) tyrants, as Marin Alsop pointed out as part of her engaging introductions to these two works. The Half Six Fix, truncated, concerts are proving highly popular, with their closer contact between conductor and audience and their shorter time frames. This one was all but sold-out from what I could see.
Alsop has recorded the Weill Symphonic Nocturne in a fine performance for Naxos (with the Bournemouth Symphony Orchestra and coupled with the two symphonies). The London Symphony Orchestra's performance was more disciplined than the Bournemouth recording, and the Barbican orchestra's bright sound suited Weill's music to a tee.
There are six movements, the first of which, 'My Ship', is based on a song that Julie Andrews claimed was her favourite of all time. The tune is indeed an earworm, and the music as slinky as can be. There is a moment that the music threatens to turn into a Rachmaninov symphony; Weill turns away from such temptation through a snippet of trumpet song followed by a vitally rhythmic passage. A lot happens in a short space of time; the lighter 'Girl of the Moment' follows in the first dream sequence (Weill's version of George Gershwin's An American in Paris sprung to mind). There really was the feeling that the LSO was enjoying itself hugely, particularly the percussion in this second movement. Surely the Boléro, 'This is New' is half-bolero, half Holst 'Mars' from The Planets until the suavest of tunes, which could only be by Weill, arrives. There is a touch of Stravinsky, perhaps, for the Allegro alla marcia – certainly, there is more than a hint of the circus here. There is a lot of fun to be had in this piece in its misdirections: there is a moment in this music that sounds for all the world as if it will launch into 'A Spoonful of Sugar' from The Sound of Music. 'Dance of the Tumblers,' with its gritty low strings, so well delivered here, was beautifully balanced by Alsop and full of energy. Finally, 'The Saga of Jenny' with its brilliant brass solos, rounded off a whole lot of entertainment. Weill really is a fabulous composer, as his symphonies attest.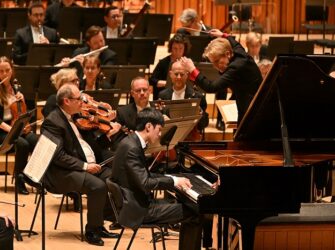 Eric Lu is a fine pianist. His debut album on Warner Classics of Chopin and Schumann was warmly received and every time I have heard Lu previously, he has impressed, as he did here (with the exception of the encore). His Beethoven is finely honed, with an emphasis on clarity. His performance of Beethoven's Fourth Piano Concerto from the Leeds Competition is also available on Warner Classics (Hallé / Edward Gardner). It is a work for which Lu clearly has great affinity, and the detail he presents is astonishing – wonderful left-hand accent, crystal clear articulation, and rapt concentration throughout. Alsop was with him like a shadow, encouraging the LSO woodwind to myriad moments of magic. Poetry and strength went hand-in-hand, something we heard in microcosm in the first movement cadenza (the first of the two available by the composer). Despite one slightly early violin entry in the slow movement, the piano's taming of the orchestral beast was well achieved, and the close was hushed and serene. The beginning of the Rondo (Vivace) finale was remarkable, though. One gets so used to hearing the strings ever so slightly sluggish at the very opening. Not here: completely on the ball, as was Lu – and there was excellent solo cello playing by Principal David Cohen, too. A cheeky left-hand glissando seemed part and parcel of Lu's sense of achieving complete congruence with this music.
A fabulous concert. One encore: Chopin Waltz in C sharp minor, Op.64/2, just a touch soporific. But the Beethoven was incredibly memorable.
Colin Clarke