Note For Note: Bewitched, Bothered and Bewildered
An interview with author and amateur pianist, Howard Smith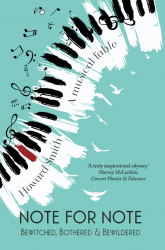 Howard Smith has had a top-flight career in the world of computing and computer programming. On approaching retirement, he decided to leave his career and try something completely different – learn to play the piano. Howard had started the learn to play the piano as a child but was uninspired by the rigid approach adopted at that time and did not continue with his studies. In his book, Note For Note – Bewitched Bothered and Bewildered he describes the new and creative approaches which his teachers adopted to enable him to engage with the process of learning to play.