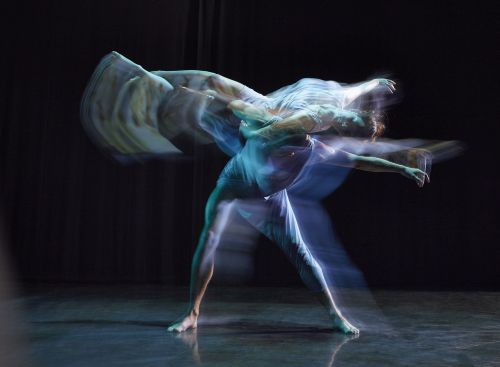 United Kingdom   Amar, Cowton, Mukul, Satie, Still Current: Russell Maliphant Company/Sadler's Wells, Sadler's Wells, London, 5.6.2014 (J.O'D)
Dancers:
Still      Dickson Mbi, Carys Staton
Traces   Thomasin Gülgeç, Russell Maliphant, Dickson Mbi
Two       Carys Staton
Afterlight (Part One)   Thomasin Gülgec
Still Current     Russell Maliphant, Carys Staton

Production
Direction and Choreography: Russell Maliphant
Lighting Design:  Michael Hulls
Composers:   Armand Amar, Andy Cowton, Mukul, Erik Satie
Animation:  Jan Urbanowski
Costume Design:    Stevie Stewart
Video Programmer:    Andy Downie
Collaborative Assistant:       Dana Fouras


During a 'Body Language' talk at Sadler's Wells that he and choreographer Russell Maliphant took part in last year the award-winning lighting designer Michael Hulls (for whom light and dance are 'indivisible') said he had recently been working on projection and animation which would allow light to move while the body of the dancer remained still. And that is exactly what happens at the start of Still, the piece that opens this programme of five works by Maliphant (three of them new), lit by Hulls (with animation by Jan Urbanowski). Bars of intense white light flicker at speed across the naked back of a motionless Dickson Mbi. The effect produces a 'bewilderment of vision' (to borrow a phrase from the governess of Henry James's The Turn of the Screw, a woman who knows a lot about looking).
Dickson Mbi is a dancer whose background in popping and boogaloo styles has, according to the programme, brought 'new movement' to the fifty-two year old Maliphant (whose choreography already mixes classical ballet with contemporary dance, capoeira and tai chi). In the solo that follows Mbi leans backward and to one side from his bended knees, so that his torso is almost parallel with the floor. The work's second surprise is the appearance, from out of the shadows, of the dancer, Carys Staton. In halter-neck top and voluminous trousers of pale blue, she enters the square of alternating light and dark to perform a contactless duet with Mbi, her willowy frame matching his bulkier one strength for strength.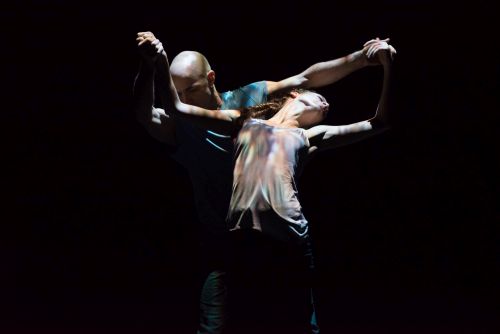 In contrast to the venetian blind/bar code strips of Still, the light for Traces (the piece that follows) falls in nine, static pools. Thomasin Gülgeç, Dickson Mbi and Russell Maliphant himself move about in it tracing lines on the floor with sticks. After the thrill of the preceding piece, Traces seemed rather lacking in contrast and climax. The dancers are hampered by the sticks (Gülgeç dropped his at one point). And in the only work of the five in which men dance together, they do so in a way that resembles martial arts (with the sticks as weapons).
Carys Staton returned for Two, the solo famously performed by Sylvie Guillem. In its later version (Two x Two) this has served as a striking end piece in mixed bills at both Sadler's Wells and the London Coliseum. Staton dances as if the work were being performed for the first time. Starting off by raising one elbow, then the other, as she turns slowly on the spot in Michael Hulls's 'box of light', she carefully increases the speed of her revolutions and the expansiveness of her gestures until arms, hands and feet flash in the beams that enclose her. All this dancer's strength is expressed again in the final, frontal, fully-illuminated, split-second pose.
Thomasin Gülgeç showed none of his earlier uncertainty in Afterlight (Part One), a work inspired by the circles in the drawings of Vaslav Nijinsky and which he danced at Sadler's Wells a year ago. Arching backwards from the waist, he begins to turn in a circle of revolving, dappled light to the music of Erik Satie's Gnossiennes 1-4. The light falls only on his upper body, leaving his legs in shadow. Since he turns in the opposite direction from the light, a 'bewilderment of vision' is again produced. (As Hulls himself said in the 'Body Language' talk: 'The senses have to sit up and take note.') The movement progresses to tours, then tours en l'air. Like Nijinsky in Le Spectre de la Rose, Gülgeç spins while wrapping his arms around his body and entwining them above his head. Like the Chosen One in The Rite of Spring he ends with a final leap, in his case for light as darkness swallows him up.
The final work, Still Current, is danced by Maliphant and Staton; Hulls provides them with squares of mottled light that extend, on occasion, to the edges of the stage. The piece seems long. By now there has been almost a surfeit of painterly blackness, zenithal beams, and figures moving in circumscribed or expansive ways between them. But in the lifts (Staton's closed legs extending into the air) and balances, Still Current resembles a pas de deux. When they walk, the dancers are like the man and woman in the 'Emeralds' section of Balanchine's Jewels. When Maliphant puts his arm around Staton's shoulder, they are like the couple in Ashton's Rhapsody. There is a sense that in this work the 'still current' Russell Maliphant acknowledges the passing of time.
John O'Dwyer