United Kingdom Tchaikovsky et al,  Juliet & Romeo: Soloists and corps de ballet of the Royal Swedish Ballet, Royal Swedish Ballet Orchestra / Alexander Polianichko – conductor (recorded),  Sadler's Wells, London, 24.9.2014. (JPr)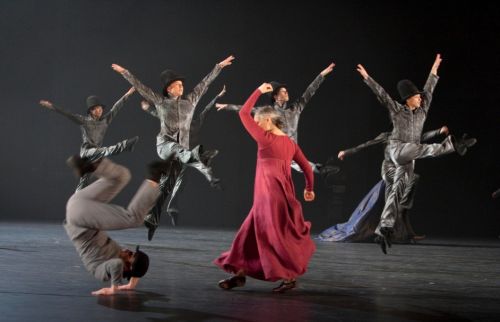 Dancers
Juliet: Mariko Kida
Romeo: Anthony Lomuljo
Tybalt: Dawid Kupinski
Benvolio: Hokuto Kodama
Mercutio: Jérôme Marchand
Father: Arsen Mehrabyan
Mother: Marie Lindqvist
The Nurse: Ana Laguna
Paris: Oscar Salomonsson
Prince: Jan-Erik Wikström
Rosaline: Daria Ivanova
Peter: Jörgen Stövind
Production
Choreography: Mats Ek
Music selected by Mats Ek, adapted and arranged by Anders Högstedt
Scenography and Costume: Magdalena Åberg
Light design: Linus Fellbom
As Gerald Dowler's programme note suggests, when we think about Sweden it is all 'flat-pack furniture, crime fiction, cinnamon rolls and meatballs' … but perhaps not dance. In fact the Royal Swedish Ballet is the world's fourth oldest company and was founded in 1773; but as Dowler admits 'longevity does not automatically equate to distinction' Mats Ek, dancer, choreographer and theatre director is the son of Ander Ek, one of Sweden's most celebrated actors, and Birgit Cullberg, choreographer and artistic director for the ballet company that took her name. In 1980 she passed on the directorship of Cullberg Ballet to her son, and although he relinquished that in 1993 Mats Ek remains a master in reinterpreting the great classics as contemporary dance. He himself has said that, 'All great stories through time must be taken care of so they remain significant in our time'.
Ek has had a long association with Royal Swedish Ballet and his 2013 Juliet & Romeo is not the ballet we are familiar with from the memorable Prokofiev music but a re-envisioning based on the source of the story and Shakespeare's first draft that was indeed called Juliet & Romeo. He clearly believes (to quote the Bard) 'For never was a story of more woe than this of Juliet and her Romeo'. For him it is Juliet's ballet. She is the one who defies her family over her pending forced marriage for true love and in the end pays the ultimate price. In the publicity for Juliet & Romeo it mentioned we were seeing a city in crisis, indeed there is some hint of a subjugated citizenry resorting to gang-warfare and a ruling state but this seemed under developed to me; as more importantly was the emotional heart of the story. There was – never for me – any feeling of real passion between Juliet and Romeo. For me Ek never seemed to have enough interest in the two lovers who are now slightly peripheral figures in the story. It might have been called Carry on Nurse or Mercutio because these were more rounded characters. I must admit I did find it an enthralling work to sit through … once! It was never dull and his angular, stylised movement was energetic, restless and often amusing. Yet whether it did justice to the narrative I am not so sure. Occasionally it was difficult to tell who was who and what was happening. I was also a little bemused by the Riverdance­-style steps the women occasionally displayed.
Magdalena Åberg provided stage pictures (atmospherically lit by Linus Fellbom) that were mostly grey or black with some muted pastel shades for the women's cloaks in the ballroom scene which was the only hint of the Renaissance we got. (Unfortunately for those of a similar older generation the tall hats the men wore reminded me of Ken Dodd's Diddymen.) Everything was timelessly abstract with individual scenes framed by a changing arrangement of some grey metallic mobile walls – part climbing frames, part shipping container – and originally suggesting the maze of alleyway that are patrolled by a militia who move around on Segways. This is a recurring 'motif' of Ek's staging and they are there to quell the populace who seem to be spoiling for a fight.
The relationship between the Nurse and her charge is shown in a traditional way, Mariko Kida is believably immature and fun-loving as Juliet fully embodying the innocence of youth and the Nurse is typically comical and caring and it seems quite natural for Juliet to hide beneath her skirts at regular intervals. Ana Laguna (who I understand is Ek's wife) as the Nurse revels in the attention of the young men in the market scene having entered on her own Segway wearing a yellow crash helmet and led on by Peter (Jörgen Stövind), holding aloft flashing blue light!
Romeo seems to have little to do with Mercutio and Benvolio but Mercutio makes an astonishing impression in this version. The shaven headed, tall figure of Jérôme Marchand is a considerable presence on stage. 'Impression' is an appropriate word because with his long legs and acrobatic high-stepping he reminded me of John Cleese and the 'The Ministry of Silly Walks'.) This Mercutio could switch from charm to menace in an instant and there was clearly something ambiguous about his sexuality. When he confronts Tybalt in the ballroom he is bare-chested and wears a black tutu skirt over his leather trousers yet more often than not he is in a hoody out in the streets: Benvolio (Hokuto Kodama in a puffer jacket) is his reliable companion. Although there is an undercurrent of pent-up anger for the street scenes and everyone seems ready for a brawl nothing it too explicit so consequently the deaths of Mercutio and Tybalt are rather underplayed. Mercutio is slammed against the proscenium of the stage and slumps down – Tybalt shows his contempt by urinating on his corpse. Romeo later kills Tybalt by jumping repeatedly on him. Nevertheless the overwhelming consequences for the lovers of these two pivotal deaths remains obvious even in Ek's reworking of the tale.
The balcony scene pas de deux was undermined by some quirky visual humour and I never truly believed at any time in the chemistry between this Romeo and his Juliet. Ultimately Mariko Kida as Juliet was very affecting as she dies by dancing herself to death and visibly sinking into a grave. Perhaps I will be alone in finding Anthony Lomuljo's Romeo seemingly disengaged from what he was portraying; it was as if he has danced the role too often already. I was not certain about the ending, and again Mats Ek's propensity for finding comedy in tragedy undermined the ballet's denouement as after Romeo and Juliet have disappeared below the stage it is just their legs that remerge from the open grave. The ensemble pay homage by lying on stage and raising their own legs. It was a very strange final tableau.
Of the smaller roles Marie Lindqvist caught the eye during her overlong scene as she mourns the death of Tybalt, (a suitably intense performance by Dawid Kupinski) but everyone danced with conviction. Overall however, the evening was intriguingly choreographed and if the members of the Swedish Royal Ballet weren't tested enough with the complicated moves Ek demanded from them they also had to shift the scenery around the stage. They did all they had to do with great spirit under the further constraint of dancing to a recording of Classic FM-like highlights of Tchaikovsky originally played by the Royal Swedish Orchestra and conducted by Alexander Polianichko. I would have much preferred the music to have been played live.
Jim Pritchard
Juliet & Romeo is part of the Northern Light Season at Sadler's Wells which runs until 14 November. For more information about forthcoming dance events at Sadler's Wells visit http://www.sadlerswells.com/.